Glen Keane Tangled DVD Interview
Voice Cast: Mandy Moore, Zachary Levi, Donna Murphy, Ron Perlman, M.C. Gainey, Jeffrey Tambor, Brad Garrett, Paul F. Tompkins
Director: Byron Howard and Nathan Greno
Genre: Family, Animation, Drama
Rated: PG
Running Time: 100 minutes

The tale begins with Mother Gothel and a magical flower which holds the key to eternal youth and beauty. Discovering the flower's influence, Mother Gothel hides it for her own selfish needs, until the kingdom initiates a desperate search for the healing plant to cure the sick, pregnant Queen. The glowing flower is found, and Baby princess Rapunzel is born with magical abilities in her golden locks. Still longing for her fountain of youth, Mother Gothel kidnaps Rapunzel and locks her away in a hidden tower for eighteen years, raising her as her own child.

Tower-bound, and led to believe the outside world is a dangerous place, Rapunzel (voiced by Mandy Moore ) has only her 70 feet long golden hair, her dreams, creative spirit, her pet chameleon Pascal and the mesmerising floating lights that she sees from her tower window every year on her birthday to keep her spirit alive.

Her life as she knew it is about to change when the kingdom's handsome outlaw picks the wrong place to hide. In comes Flynn Rider (voiced Zachary Levi), charming and on the run from the law with a stolen jewel. Stunned and caught off guard, Rapunzel does what she knows best and uses her long locks to capture him.

Realising this could finally be her opportunity to satisfy her curiosity for the outside world, she strikes up a deal with Flynn who agrees to escort her to the floating lights that she has forever longed to see.

Going against Mother Gothel's rules, the spirited beauty escapes from the tower with Flynn for the first time in almost two decades and together, the duo embark on a hilarious, hair-raising adventure complete with unexpected heroes, Flynn's unwilling sidekick Maximus and plenty of discovery along the way.

Supported by an amazing cast of voice talents, directed by Byron Howard and Nathan Greno and with music from the award-winning songwriter of The Little Mermaid and Beauty and the Beast, Tangled will have you swinging into a story filled with charm, magic, humour and lots of hair as Disney's first animation release on 3D Blu-ray™ Pack, Blu-ray™ Value Pack and on Disney DVD.

DVD Special Features:
50th Animated Feature Countdown - A video montage celebrating Tangled as the 50th film to join The Walt Disney Studios' prestigious lineup of classic animated features
Two Original Storybook Openings - Versions 1 & 2
Nine Tangled Teasers - A collection of the most unique and quirky commercials made for the theatrical release of "Tangled." Some are spoofs based off of infomercials and/or breaking news, some are teasers and others are simply just funny filmstrips

3D Blu-ray and Blu-ray Value Pack Special Features:
Untangled: The Making of a Fairy Tale - Exactly how long is Rapunzel's hair? How many lanterns were used? Where did Pascal's name come from? Which Disney animated feature first utilised CG animation? These and more will be answered when Mandy Moore and Zach Levi take viewers on a kooky behind-the-scenes tour to learn how the filmmakers styled this film's "Golden Tresses"
Deleted Scenes - Co-directors Byron Howard and Nathan Greno introduce three scenes and illuminate why they were ultimately cut.
The Jaunty Moose
Chemistry Develops
"Vigor The Visionary"
Extended Songs - The complete versions of two great songs are shared in a unique feature that explains the co-directors decision to scale them down.
"When Will My Life Begin"
"Mother Knows Best"
Nine Tangled Teasers - A collection of the most unique and quirky commercials made for the theatrical release of "Tangled." Some are spoofs based off of infomercials and/or breaking news, some are teasers and others are simply just funny filmstrips

Tangled
RRP: $24.95
Blu-Ray Value Pack: $39.95
Blu-Ray Pack: $54.95

Mandy Moore and Zachary Levi Tangled Interview:http://www.girl.com.au/mandy-moore-zachary-levi-tangled-interview.htm
Tangled Review: http://www.girl.com.au/tangled-review.htm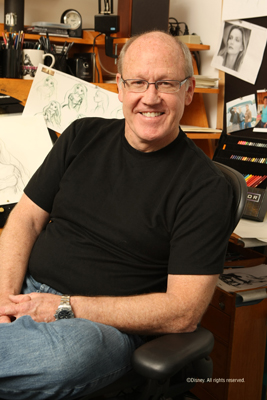 Interview with Glen Keane
Glen Keane is the Executive Producer and Supervising Animator for Tangled.

Question: How did you reach the amazing "organic quality" in terms of the character animation.? Did you have any special tools /techniques to improve that effect, or is it in the end just the hard work of the artists?

Glen Keane: For me it was very important to find what I call "bridge people." These are people who understand computer and hand drawn animation. They are translators in a sense. John Kahrs and Clay Kaytis where my partners as supervising animators. I call us "the triumvirate." And they found ways to pull me in so I could do what comes naturally to me, draw. We installed a cintiq tablet in our dailies screening room and I would watch the animators' recent animation. I could draw over the top of every frame if necessary and the animators would see it large on the screen and those drawings would then appear on each animator's computer back in their offices. That way it was a constant natural mentorship throughout the making of this film bringing the appeal of hand drawn into CG.


Question: Hair animation is still one of the most challenging parts in today's cg animation work. How much effort and research did you need to end up with such perfect effects?

Glen Keane: We started writing software to animate the hair in 2005. Kelly Ward, who has a PhD in animating computer hair, joined our team and was every bit as creative as I am with a pencil as she was with numbers, equations, concepts and the vision to interpret those elements into a beautiful, flowing, organic hair on the screen.


Question: Can you talk about how the casting of Zachary Levi and Mandy Moore influenced your drawings, if they did at all?

Glen Keane: When you are about to animate a character, the voice has a huge impact on the look of that character. For example, if you are speaking to someone on the phone who you have never met, that voice immediately conjures up images of what that person looks like. Maybe when you meet them they don't look like that but that voice carries the visual DNA in it. I had been listening to a lot of different actresses and Mandy Moore has that irrepressible quality in her voice. And that was the specific word we were using to describe Rapunzel, irrepressible. Zachary Levi has a very carefree irreverence in his personality and voice which affected the way the character moved and also the design. For Rapunzel that irrepressible quality came out in the large eyes that are so expressive and for Zachary Levi, this wry smile, the expression that we put into the character really came from listening to Zachary Levi's voice.


Question: You've said in interviews that you modeled Ariel after you wife, Tarzan after your son and The Beast after yourself. Who was Rapunzel modeled after? Is she in anything like Ariel/Pocahontas?

Glen Keane: Using my family for inspiration is really a part of my own creative DNA. It's what my Dad did when he created The Family Circus, the syndicated cartoon which he based on his own family. Dad said that I was Billy in The Family Circus. Dad always told me to draw what you know and there is nobody that I know better than my wife and children. With Rapunzel, she has this irrepressible spirit and right away in thinking through this story I thought, how does she survive in this tower for 18 years? This creative energy in her would have to come out I surmised in the form of artistic expression. I figured Rapunzel would have painted on every square inch of her walls. As I was developing this idea, I realised this was my daughter Claire. When she was 7 years old she was telling my wife that she wanted to paint her bedroom walls and ceiling. She had all sorts of ideas of images to paint. My wife said, "I'm not going to let a 7 year old loose with a paint brush painting the walls of the house" Jump to 13 years later, Claire was attending Academy Julian in Paris, an art school, and when it came time to hire someone to create Rapunzel's artistic style, Claire was the perfect choice. So she started working with me on Rapunzel. When you see Rapunzel paint on the walls you see Claire paint and actually fulfill her dream.


Question: What was it like to work with Ollie Johnston and Eric Larsen? Did they give you any advice that you still use today?

Glen Keane: It's funny, when I started at Disney 37 years ago I was a 20 year old artist who knew nothing about animation. I had the privilege of working with Walt Disney's "Nine Old Men." Frank Thomas, Ollie Johnston and Eric Larsen were my mentors. The things they told me were deeply implanted in my mind and throughout the whole process of this movie I repeated those. I felt like I was passing on the baton. I remember Ollie Johnston saying, "Don't draw what the character is doing, draw what the character is thinking." It was very important in Tangled that the animators would crawl into the skin of the characters and live in them. You can feel it when an animator believes in what he is animating. Eric Larsen used to say all the time, "The key to Disney animation is sincerity." That translates for an actor to mean take something real in your own experience and put it up on screen. So besides the drawing and design elements, this was more of the intuitive or spiritual element I was trying to bring to the animators, the idea of living in the characters we animate.


Question: Bringing Rapunzel to life had to be a big challenge, because she moves in one way but her hair, as another character, has its own life. Could you explain to us the process to animate her? Did you animate Rapunzel first and then her hair? Which steps did you follow?

Glen Keane: The first step in animating Rapunzel was to design the character with all the bells and whistles necessary to animate incredibly subtle emotion. That meant working closely with modelers and riggers, the people that create the entire nervous system under the skin of a CG character. Then the directors issue the scene to the animator. Byron Howard and Nathan Greno would act the scene out so the animator could watch their expression and body attitude. Sometimes I would do drawings at that moment as I would interpret Byron Howard as Rapunzel doing that same action. The animator then would do a rough first pass of the animation and I would do drawing corrections over the top in our dailies sessions. The directors would then make comments about what they wanted to take out or add or push. Once we had the basic movement down we would animate the hair. Sometimes the animator would control the 14 tubes of hair, each with 10,000 hairs in each tube, or we would have the simulation team animate the hair based on the movement the animator had created with the body. The simulation follows the laws of physics with some extra Pixie dust ingredients that our team of hair animators created.


Question: Which one from your many, many past projects was most defining for your career, and why?

Glen Keane: I would have to say The Little Mermaid because I discovered I love characters who have this burning desire inside that they believe the impossible is possible. Since then I have followed that path, now with Tangled. This character of Rapunzel has brought me to a new crossroads. How far can hand drawn affect, or be integrated into, computer animation? I now try to see animation not as CG or hand drawn but simply as filmmaking.


Question: Your background is huge. How hard is it for you to step into that digital world now and in which parts can you count on you massive experiences from the past?

Glen Keane: At first I was very tentative about how I could influence CG with my pencil. I have to say that I don't know how to animate on the computer but I have never been afraid of the computer. John Lasseter and I did the very first computer animation test back in the 80's, so I have always seen computer animation wherever it crosses the path of hand drawn, forcing me to draw better and to think more sculpturally. Drawing on the Syntec over top of computer images was very natural and fluid. I could even animate very quickly live in front of the room full of animators and demonstrate how I felt the action could play. Drawing is an incredibly affective tool to communicate ideas. It really is true that a picture is worth a thousand words.


Question: Would you call "Tangled" a feminist movie? Your female characters, regardless of who they are, good or bad, are strong and persevering.

Glen Keane: I don't think of Tangled as a feminist or non-feminist movie. I think of Rapunzel as an example of the highest qualities of human nature, male or female. I see her as an illustration of every human being who is born with a divine spark, a potential to become something unique. And the walls that surround her, and hold her back, are symbolic of walls in anyone's life, those things that hold us back from being who we really long to be. Yes, that is feminist and masculinist and humanist.


Question: What has been your favorite film to work on for Disney?

Glen Keane: It's a little like who is your favorite child? Every film holds some very special moments in my life. Ariel was a character that launched a renaissance and that will always be perhaps the most special. Tangled in a very similar way is a launching pad for what I hope will be a new renaissance and someday in retrospect I hope to say the same thing about Tangled as I said about The Little Mermaid. I do believe the greatest moments in Disney history have been launched by fairytales.


Question: What´s your opinion about the Disney Animation evolution?

Glen Keane: Disney animation needs to continue to evolve, embracing both its hand drawn heritage and the newest inventions of CG. It's funny but hand drawn animation at Disney has a look that was created out of technical limitations, i.e. painting on cells. CG can liberate us from this restrictive form. It's a future I am anxious to be a part of.


Question: Your Dad drew "The Family Circus," a single-panel comic strip that I enjoyed growing up. I didn't know it at the time, but you were apparently the model for Billy. What effect did seeing yourself as a comic strip character have on you or the way you approach animation?

Glen Keane: When I draw, I become the character that I draw. Perhaps I owe that to seeing myself portrayed in my dad's comics as a child.


Question: How has your father influenced your work in animation?

Glen Keane: My dad is an entertainer. Every dinner with him was an opportunity to tell jokes and entertain the family. I always wanted that opportunity to be on stage and to entertain. At the same time. my dad encouraged me to approach art from a classical standpoint. When I was 10 he gave me a book called Dynamic Anatomy, and I started to study drawing the figure from the inside out: muscles, skeleton, design. These two aspects of entertainer and artist that my dad encouraged have found the perfect blend in animation.


Question: When did you decide to give Rapunzel brown hair in the end? Was that part of the story from day one, or something that came up later in the making of the movie?

Glen Keane: The brown hair developed in the process of telling the story. We needed to show that the hair died or lost its power. Color is the clearest way of doing that. It was difficult at first to imagine Rapunzel as a brunette, but ultimately it reinforced the theme that outward appearances don't define who we really are.


Question: How do you start drawing a character? It is just a matter of inspiration or maybe it implies a long period of study?

Glen Keane: The development of a character for me is a very personal journey. I have an odd belief that the character already exists before I start to draw them. Similar to what Michelangelo describes in setting a figure free from the marble that surrounds it. This liberation may happen quickly or slowly but there is definitely a moment when the character rises out of the paper and I recognise them. It's a wonderful day when that happens.


Question: Which is your favorite Disney character hairstyle of all time?

Glen Keane: The hairstyle is very important because it is like someone's signature. Rapunzel and Ariel vie for that special honor of having the favorite hairstyle for me. They both have the distinctive swoop that I emphasise for the doll makers and the merchandise books to follow. Both hairstyles have rhythm and volume. There is a sensuality to hair that I am fascinated with, it's movement, it's feel and this softening effect it can have on the audience's attraction to that character.


Question: What inspires you in you work? How much time do you need to draw a character?

Glen Keane: I find great joy in experiencing the emotions and physical actions of the characters I animate. The challenge of Tangled was to enjoy that experience through the hands of other animators. I find that I feel like a proud papa in seeing each animator take moments of their own life and put that on the screen, whether it is Mother Gothel, Flynn , Maximus or Rapunzel.


Question: Tangled was first titled Rapunzel Unbraided. It was changed because the story focuses on Rapunzel en Flynn equally. It remained unchanged in parts of Europe however. Do you think Rapunzel isn't just about Rapunzel? And the hair....

Glen Keane: Back in the early stages of Rapunzel, there was a desire to portray the fairytale in a very modern twist, thus the title Rapunzel Unbraided. Ultimately, I wanted to embrace the classic fairytale and set that title aside, as well as that story.


Question: If the loss of her hair symbolised the loss of her power to heal, then how did her tears heal Flynn? Is it an inherent power within her that works even without singing or her hair?

Glen Keane: The healing tear was an important element in the original fairytale. It always symbolised for me that the true nature of Rapunzel's gift came from her heart, not her hair. This dramatic ending allows us to revisit a similar moment from Dumbo. When he loses his magic feather and can still fly, he can fly because that's who he was, a flying elephant. Rapunzel finds that the healing power never left her and is actually released by love. Does she keep healing every time she sheds a tear? I believe that was the last of that power.


Question: How much video reference was done for "Tangled"? I was really impressed at how believably the characters moved in a lot of scenes.

Glen Keane: The animators had the habit of filming themselves. Sometimes in dailies we would critique the live action that they showed of themselves acting out the scenes. You could select key frames and build a very simplified version of their acting suitable for animation and then build on those poses, exaggerating. We would do that by drawing and pushing the curves of the CG figure, enhancing expressions. But the final effect still held its roots in that original performance that the animator filmed in his or her office. Some of the most amazing animators on the film were a team of female animators who really poured themselves into the character of Rapunzel.


Question: This might be a tough question for you to answer, given not just Disney's push but all the studios' collective push for 3D, but if there were no outside pressures or preferences, would your preference have been to make a 2D or 3D film? Can you explain?

Glen Keane: On John Lasseter's first day at Disney Animation as president, he came down to my office and gave me the choice to animate Rapunzel in 2D or CG. I told John if he had asked me three years ago I would have said 2D for sure but for the last three years I had been building a team around me with the idea that there was a better synthesis of the best of 2D and the best of CG possible. We had a new vision of what animation could be and I really wanted to pursue that goal. So I told John Lasseter, let's do it in CG.


Question: A chicken and egg question. How developed were the main characters of Rapunzel and Flynn Rider before you went looking for the right voice talents? Or did the talents come first, with the characters scarcely developed?

Glen Keane: We had the characters very clearly defined before we found the voices. So Mandy Moore and Zachary Levi were the perfect match for what we envisioned.