A STAR IS BORN!
Lucas Till
Calling all Hannah Montana fans! Want all the gossip on Miley's hunky movie co-star, Lucas Till? How did he get the part? What do his friends think of his new fame? And what's Miley really like? Lucas explains all...
Did you always want to be an actor?
Lucas Till
: I have always enjoyed entertaining people, which is something I got from my dad. My family would always be laughing at my dad - in a good way - because he's very entertaining.
How did you catch the acting bug?
Lucas Till
: I never really knew I would get into acting until I got a call from a random acting school asking me to come and try out. That was about eight years ago - and I've loved it ever since.
And now you're a big movie star! How does that feel?
Lucas Till
: It's weird! You know what? The Hannah Montana movie was the first time I've looked at myself on the screen and not been upset with what I saw. I've done loads of projects that I haven't seen yet because I find it really difficult to watch myself. It's really bizarre!
So what's Miley Cyrus really like?
Lucas Till
: Miley is amazing. She is so much fun to work with. It was crazy and unpredictable on the set of the movie - but she is so incredibly entertaining and fun to be around.
Was it weird to see the paparazzi following her everywhere?
Lucas Till
: It was a little crazy - and a complete invasion of privacy. But instead of getting angry about it, I decided to look at it as a big game. It's fun to see what kind of rumors they can come up with in the press. A lot of that stuff is completely made up.
How did you win the role of Lucas in the Hannah Montana movie?
Lucas Till
: I sent in a video from Atlanta, Georgia - which is where I was living at the time. I didn't really expect anything to happen, but then I got a call back to go to Nashville, Tennessee. I couldn't believe my luck!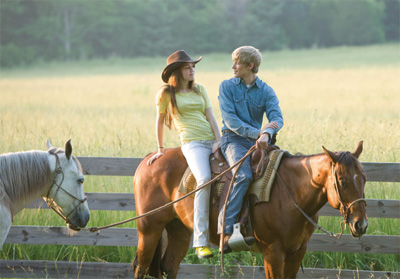 Tell us about the video you sent in...
Lucas Till
: I had to do a couple of scenes from the movie on it. I think one scene was where I tell Miley, "Life is a climb but the view is great." There was also a scene where we reunite and a break-up scene, too. There was a lot on there.
Did you get the part straight away?
Lucas Till
: No, I had another audition after Nashville. I got a call to say I'd be flying out to Los Angeles the following week to screen test with Miley, which was really mad. I couldn't eat for that week because I was so nervous!
How did the screen test go?
Lucas Till
: I got out there and I was expecting Miley to have a big 'pop star' attitude, which made me even more nervous. But then I met her and she was really sweet. She was really cool and so down to earth - and I guess they liked me because I'm here talking about the movie today.
Are you similar to your character in the movie?
Lucas Till
: Travis is a lot like me, so it wasn't too much of a tough role to take on - although I didn't know how to ride a horse before I got the part. I had to learn for a few weeks before we started filming, which was a lot of fun.
So what's next for you?
Lucas Till
: I'm sure once this movie comes out, I'm going to get a lot of requests to do horseback riding movies - but I can't do too many of them because I don't want to get typecast. I've got to watch out for that!
What would be the perfect movie role for you?
Lucas Till
: I want to play some bad guys and I'd love to do some more stunts in movies. I guess I'd also like some more mature roles, but I'll just have to see what comes up.
Is it true you're starring in a movie with Jackie Chan and Billy Ray Cyrus?
Lucas Till
: Yes, it is true. Billy Ray is in another film with me called The Spy Next Door. It's a Jackie Chan movie - and it's really cool. I got to play opposite Jackie Chan, who was my idol when I was a little kid. It's like a dream come true.
Did you have your picture taken with your idol on set?
Lucas Till
: I've got a funny story to tell you about this! I never got the chance to have my picture taken with Jackie Chan, but I badly wanted it. I got upset and depressed about it when we finished shooting - and I was talking about it to some guys when we went out to eat on the last night.
What did they say?
Lucas Till
: Well, a guy walked past and I realized it was one of the Chinese stunt guys from the movie so I went over to say hello - and I couldn't believe my eyes. I walked in to this room and there's a huge long table full of Jackie Chan's stunt guys - and Jackie Chan is sitting at the head of the table!
Did he recognize you?
Lucas Till
: I freaked out because this was my idol - and he just said, "Sit down and eat with us." I couldn't believe my luck! I got to eat with Jackie Chan on the last night and then I got a picture with him. He even signed it for me. I was the happiest person on Earth!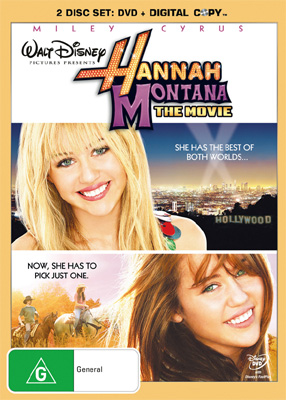 Hannah Montana: The Movie
Cast
: Miley Cyrus, Billy Ray Cyrus, Melora Hardin, Margo Martindale, Barry Bostwick, Peter Gunn, Lucas Till and Vanessa Williams
Director
: Peter Chelsom
Producers
: Billy Ray Cyrus, Alfred Gough, Miles Millar
Rated
: G
Running time
: 98 minutes
The wait is over, watch Hannah Montana: The Movie DVD or Blu-Ray in your living room from 21 October 2009.
Teen superstar Miley Cyrus brings her wildly popular Disney Channel alter ego home to Tennessee when Hannah Montana: The Movie comes to Blu-ray™ Hi-Def and DVD from 21 October. The first-ever full-length Hannah Montana theatrical movie is available for a limited time only in a Three-Disc Blu-ray Combo Pack that includes the film in both Blu-ray and DVD formats, as well as Two-Disc and Single-Disc DVD editions. Both the Blu-ray Combo Pack and Two-Disc DVD include DisneyFile, a digital copy of the movie that can be viewed on an array of electronic devices.
She has the best of both worlds but now she has to choose just one in Hannah's first ever full-length movie, Hannah Montana: The Movie!
Your favourite Hannah Montana cast members and some new soon-to-be favourites are all here for Hannah Montana: The Movie. Starring Miley Cyrus, Billy-Ray Cyrus and Emily Osment along with newcomer Lucas Till, Hannah Montana: The Movie is a fabulously fun and heartfelt family movie with great role models and positive messages.
When Miley Stewart's pop star alter-ego Hannah Montana starts to get too big for her designer-cowboy boots, her father Robby-Ray Stewart, played by Miley's real-life dad Billy-Ray Cyrus, sends her back to her hometown in Tennessee for a dose of reality. For the first time, Miley has to learn to live without the superstar Hollywood life and be happy within herself in a coming-of-age adventure filled with fun, laughter and romance even Hannah Montana couldn't imagine. Will Miley hang up her blonde wig forever and close the curtain on her double life?
Come along for the ride as Miley is forced to leave behind the glamour of Hollywood and rediscover her roots, while having the adventure of a lifetime, with the help of some special friends including Tyra Banks as a Hollywood rival and Vanessa Williams as Miley's publicist. This family movie event also includes special music performances from Taylor Swift and Rascal Flats!
ROCKIN' BONUS FEATURES
The Three-Disc Blu-ray Combo Pack, Two-Disc and single DVD include the following bonus features:
o New Music Video
o Find Your Way Back Home - Miley, Emily, Billy Ray, and other cast members share with us "THEIR" hometowns: the people, places & things that make them special. We'll go to a pottery class with Miley & her sister, visit their favourite ice cream shop and other haunts around the Franklin Tennessee Town Square. Billy Ray saddles up his iron horse to show viewers a firsthand account of the beauty a country town like Thompson's Station Tennessee has to offer. But not everyone is from a small country town. Emily will show us what it's like to grow up in the entertainment Mecca we like to call Hollywood. Perhaps it will inspire us all to find a little reason to brag of our own hailing?
o I Should Have Gone to Film School - Jason Earles is more than Miley's big brother on TV. He is quite the accomplished actor. Here he will put his talents to use by interviewing cast & crew and giving us a true behind the scenes look at how this movie was made. He'll cover the fashion, the music, the stars, lights, camera... action!
o Bloopers
o Deleted Scenes with Director Commentary
PLUS the Three-Disc Blu-ray Combo Pack includes these exclusive additional bonus features:
o The HoeDown ThrowDown Home Experience - everyone in the movie has to learn to do it, and now you can too. Famed choreographer Jamal Sims and some of the Hannah Montana cast will show us all step by step how to do the dance everyone is talking about.
o 7 Music Videos
AVAILABLE OPTIONS
Available from 21 October
Hannah Montana: The Movie
comes in the new 3 Disc Combo Pack which allows you 3 ways to watch the movie.
* 3-Disc Blu-ray Combo Pack which includes, Blu Ray + DVD + DisneyFile Digital Copy
RRP $64.95 (Includes $115 value!)
* 2-Disc DVD Pack, which includes, DVD + Disney-first DisneyFile Digital Copy
RRP $49.95
* 1-Disc DVD edition
RRP $39.95
HANNAH MONTANA THE MOVIE
Available on Disney Blu-ray and DVD!
Order Now from Chaos
Order Now from Sanity
Interviews
Hannah Montana's Emily Osment -
www.girl.com.au/hannah-montanas-emily-osment.htm
Hannah Montana Behind the Spotlight -
www.girl.com.au/hannah-montana-behind-the-spotlight.htm
Miley Cyrus Interview on Hannah Montana DVD Series 1 -
www.girl.com.au/miley-cyrus-interview-hannah-montana-series1.htm
Hannah Montana Volume 2: Pop Star Profile -
www.girl.com.au/hannah-montana-volume-2-pop-star-profile.htm
Hannah Montana Season 2 Part 2 -
www.girl.com.au/hannah-montana-season-2-part-2-dvd.htm
Hannah Montana Free Online Games


www.girl.com.au/hannah-montana-dress-up-games.htm
www.girl.com.au/hannah-montana-oliver-treasure-hunt-game.htm
www.girl.com.au/hannah-montana-dress-up-games-wireless-quest.htm