Hotel Transylvania
Cast
: Adam Sandler, Andy Samberg, Kevin James, Selena Gomez, Steve Buscemi, CeeLo Green, David Spade, Molly Shannon, Fran Drescher
Director
: GenndyTartakovsky
Genre
: Animated Family Comedy
Rated
: PG
Running Time
: 91 minutes
Synopsis
: Welcome to the Hotel Transylvania, Dracula's (Adam Sandler) lavish five-stake resort, where monsters and their families can live it up, free to be the monsters they are without humans to bother them. On one special weekend, Dracula has invited some of the world's most famous monsters - Frankenstein and his bride, the Mummy, the Invisible Man, a family of werewolves, and more - to celebrate his daughter Mavis's 118th birthday. For Drac, catering to all of these legendary monsters is no problem - but his world could come crashing down when one ordinary guy stumbles on the hotel and takes a shine to Mavis.
Hotel Transylvania
Release Date
: September 20th, 2012
Monsters: They're Just Like Us
"Hotel Transylvania is a story about a father and a daughter - it's just that the father happens to be Dracula," says GenndyTartakovsky, director of the Sony Pictures Animation film, Hotel Transylvania. "Like all fathers, he's an overprotective, psychotic, and endearing guy who'd do anything for his daughter, but unlike other fathers, he's the Prince of Darkness."
In Hotel Transylvania, it turns out that the world's most famous monsters - including Dracula, Frankenstein, the Werewolf, the Invisible Man, and the Mummy - are just like regular people, with families and problems and a need to get away from it all… but unlike humans, they have to live in hiding from a world that thinks they're, well, monsters. What better place to hide than Hotel Transylvania, which Dracula himself operates as a sanctuary from the rest of the world and has been human-free since 1898? But Dracula has issues of his own… his daughter, Mavis, is a teenager - in fact, she's about to turn 118 - and as she becomes a woman, the vampire's greatest fear is losing his relationship with her. Well, his two greatest fears are losing his relationship with his daughter and garlic, but that's another story.
"One of the toughest things you have to do as a parent is to let your children go out into the world," says producer Michelle Murdocca, who has shepherded the film since its inception. "You can't protect them forever; you just have to trust that they're going to be able to take care of themselves. It turns out that even Dracula thinks the world can be a scary place sometimes."
"Hotel Transylvania makes these monsters funny - funnier than they've ever been - but the reason these monsters have lasted through the years is that they all have great personal stories," says GenndyTartakovsky. "There's a humanity to them that makes them accessible, likable and friendly. And that's what we've found for our Dracula - there's a great, accessible, bittersweet story, where you see how human the vampire is."
"When I first joined Sony Pictures Animation - right at the very beginning of the studio 10 years ago - and looked at the development slate, I was immediately struck by Hotel Transylvania," says Michelle Murdocca, who also produced Sony Pictures Animation's first feature film, Open Season. "I loved the fun that we could have with all of these traditional characters as we do a whole new take on them. When Adam Sandler joined the project, it really opened up a lot of possibilities about who Dracula could be - suddenly, we saw the potential of it becoming a bigger and broader comedy than we had ever imagined."
In addition to the warm family story, the director is also bringing Hotel Transylvania a unique, fun look. GenndyTartakovsky, a 13-time Emmy Award nominee, is well-known in the animation community, hand-picked by George Lucas to create "Star Wars: Clone Wars" after being the creative force behind "Samurai Jack" and "Dexter's Laboratory" for television. He also conceptualised and storyboarded the final action sequence for Iron Man 2 and provided the stylish and memorable prologue for the film Priest. For Hotel Transylvania, his first feature film, GenndyTartakovsky sought to make an animated feature like no other: in an age when most animated movies strive to get closer and closer to reality, GenndyTartakovsky sought to take advantage of what animation can do by pushing the boundaries. By straying further from reality, he could present a world he describes as "more real than real" - more fun and more emotional than our own. "In feature films, you're constrained to be real. But I wanted to take this film to the extreme opposite by making the animation cartoony and fun and exaggerated," he says. "In television, you're allowed to stylise and use caricature to make each project look unique, and I wanted to bring that to the movies so badly. We pushed the animation style to be very broad and very physical. We wanted to make it super expressive. The movement in the movie is all caricature, unrealistic movement. That's what gives this movie its energy, and energy in a film is everything to me."
"When we say that the animation style is 'pushed,' we mean that facial features are exaggerated, body proportions are exaggerated, and when you see the characters animated, it's fun and unique and most definitely not like real life," Michelle Murdocca explains. "Every aspect of the character design lends itself to this 'pushed' animation style. There's a scene in which Dracula and Jonathan are walking and Dracula's legs look like big, long spider legs. It's unlike anything I've ever seen."
About the Characters
Casting the film helped the filmmakers to focus on the movie they were making and striking the right comedic balance and tone, as GenndyTartakovsky explains. "I think what we've done is to take these iconic characters and reshape them. We had to stay true to the characters, but we wanted a fun movie with monsters, no t a scary movie - we brought comedy, not scares. It's just that our main characters are monsters," he says. "For example, our Dracula is over-controlling and manic and crazy and obsessive - it's taking those elements of his character and pushing them tenfold. The banter is very modern, conversational, and timeless, so it feels very contemporary. The end result is that the characters still have that iconic feeling, but modern, updated, and fun personalities."
Another aspect of the making of Hotel Transylvania that set it apart was the chance to bring several of the actors together into the recording studio to voice their roles together - responding to each other as they would in a live-action film. After all, several of the actors, including Adam Sandler, Kevin James, David Spade, and Steve Buscemi, have known each other for years and acted together in several films, and all were excited by the prospect of working together on a film that everyone in their families could enjoy. "It really doesn't happen all that often in animation that you are able to bring your voice actors together," says Michelle Murdocca. "It was really fun to see Adam Sandler playing off of Kevin James, and Kevin playing off of David Spade. It was the beginning of them creating these characters and personalities together - it helped make the characters really funny and really emotional."
Dracula
All of the qualities that make Dracula the indisputable leader of monsters - his strength, dominance, charisma, and perhaps over-controlling nature - also happen to make him an excellent hotel manager. Problem is, where his daughter Mavis is concerned, he's a softy. Fearful for his daughter's safety, he's kept her in the sanctuary of his hotel her entire life, away from the torch-wielding humans he remembers so well. But now, on the eve of her 118th birthday, he must keep a promise he made to let her see the world for the first time. Unfortunately, in the midst of this, a hotel brimming with monster guests, and the unexpected arrival of the first human ever to set foot in the castle, Drac's well-laid plans start to unravel fast. What is a doting vampire father to do-continue to protect Mavis from the threat of humans, or relinquish control and let her spread her (bat) wings and fly…?
The role is voiced by Adam Sandler, himself a father of two, who leads an all-star comedy cast. "I wanted Adam to redefine Dracula for a new generation," says GenndyTartakovsky. "We've seen the Bela Lugosi Dracula and all the other Draculas; I wanted a performance that would be a new Dracula for our generation."
The character is truly a new take on Dracula. "I'm most proud of Dracula - he's a fun, manic character to watch," says the director. "I love to see how people react to the animation - how crazy and fun it gets. The most important thing is that it never takes itself seriously - it's just so fun."
"Adam Sandler is not only the star of the movie, but has been very involved with the making of the film," says Michelle Murdocca. "Of course, he brings the comedy, but he also has a lot of warmth, which comes out in his scenes with Mavis - he's the loving, doting dad. Then, in the scenes with Dracula's friends, Dracula can be a little controlling - a guy who wants things a certain way. Adam Sandler brings an amazing richness where he can turn on a dime - all of these aspects are part of the same character, the same performance."
Working with Adam Sandler brought an unexpected challenge for GenndyTartakovsky that created a memorable moment. "It was very intimidating when we had our first creative meeting where Adam Sandler and some of his guys would be riffing on some jokes. I sat quietly, nervous to contribute. But then I gathered some courage and jumped in, and when they laughed I felt relieved."
"Dracula is just like any dad, really," says Adam Sandler. "He's overprotective, controlling, manipulative, and slightly insane - but it all comes from a good place: fear of his daughter getting hurt."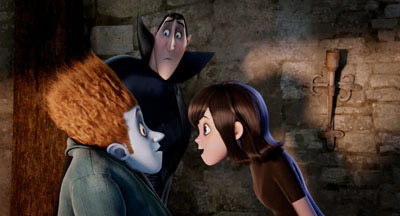 Mavis
Mavis is totally pampered by her father; however, she is headstrong and smart, and in many ways, a typical 118-year-old teenage girl. She's grown slightly bored with the domain of her childhood-she has lived within her father's hotel and its grounds all her life-and she longs to travel, experience life and see the world. Now, she's met a newcomer who could make that a real possibility: but should she leave and risk breaking her father's heart, or remain, and break her own?
Selena Gomez voices the role. "Selena Gomez found a way to play the character that can be sweet and loving to everyone - and also be the only one who can put Dracula in his place," says Michelle Murdocca. "Dracula is a softy who'd do anything for his daughter - and doesn't she know it. Selena Gomez makes her a regular teenage daughter who knows what she wants and she's gonna get it from her dad."
"Mavis is like a lot of teenagers," says Selena Gomez. "She's got the cute hairstyle, dresses stylishly, has a little bit of an attitude, but she's really sincere and cares about her dad - she just kind of wants to have a little bit of independence. It's the same thing a lot of girls my age are going through - she's very relatable in wanting to have freedom, to see what the world is like. Everybody tells her these stories but she wants to experience it for herself and meet new people and be independent."
Mavis is Selena Gomez's first starring role in an animated movie. "I really wanted to do a fun, family movie - not to mention that I grew up watching Adam Sandler, so working with him was super exciting. I'm glad to be a part of it - it's a great movie," she says.
Jonathan
Jonathan is a typical 21-year-old human, backpacking his way across Europe in his continuing worldwide travels. He's confident, full of life, talkative, curious and good-natured-not to mention amazing on a skateboard. His motto is "just roll with it." Now, in his wandering, he's stumbled onto a hotel full of…monsters!? To help him blend in (and keep the monsters unaware of the security breach), Drac disguises him as Johnnystein, Frankenstein's supposed cousin. Drac's plan backfires, however, when his daughter Mavis and 'Johnnystein' hit it off, and Jonathan ignores his earlier promise to Drac, to run at his first opportunity. Because hey, this monster thing is kind of cool - and he's intrigued by a cute teenage vampire girl.
"Jonathan is high on life," says GenndyTartakovsky. "He's got a big personality, he's energetic, and outgoing. When Andy Samberg did the first voice reading, it was like, boom, there it is. It was instant humor, instant magic between him and Adam Sandler - the contrast between Adam Sandler's super-articulate Dracula and Andy Samberg's free spirit was perfect. But Andy Samberg also brought a sincerity to the role - he made Jonathan who he is."
"Jonathan is pretty much based on who I was in high school, and on a lot of dudes I knew growing up in the Bay Area in California," Andy Samberg says. "He's kind of a backpacker, really loves seeing the world, and super positive in the face of adversity, even maybe when he shouldn't be."
"It was really fun to do more animation," says Andy Samberg, who previously voiced a role for Sony Pictures Animation's hit film Cloudy with a Chance of Meatballs. "The fact that this time I got to record with Adam Sandler in the studio was a big plus. On other animated movies I've worked on the actors didn't really get to record together, but I think working together helped us play off each other and gave the characters the right tone."
Frankenstein
Dracula's best friend (and Mavis' favorite "Uncle Frank") is none other than Frankenstein-an oversized working man with an even bigger heart. It's been a long time since this monster stormed through the countryside, frightening villagers and constables alike. Now, he's an unassuming married man who loves his adoptive family, Drac and Mavis. Imagine his surprise when he and his wife Eunice show up for Mavis' 118th birthday party-and he is introduced to a cousin he's never met, Johnnystein (human Jonathan in a last-minute disguise). Well, family is family, even if he looks a little strange, and Frank is happy to get to know his somewhat short and newly discovered relative.
Kevin James voices the role. "He can be funny and loving and endearing and sweet - he shows us the true Frankenstein, who he is at heart," says Michelle Murdocca. "But make no mistake - he is also a big guy who you do not want to mess with. That doesn't come out too often in our movie, but when it does, you better watch out."
"Frank seems like a big, tough guy, but there are times when he goes to pieces," says Kevin James. "I mean literally. Like to travel, he actually comes apart and gets packed in several suitcases... which is not fun at baggage claim."
Eunice
Eunice is Frankenstein's beloved wife. What Frank lacks in forcefulness, Eunice more than makes up for. She's critical, brash and can have an 'in your face' attitude, but underneath it all, she's a loving family woman.
Fran Drescher, famous for her role on "The Nanny," voices the role. "FranDrescher has taken her voice to the next level for this character," says Michelle Murdocca. "She booms, she's funny, she's very commanding. She creates a character who can get in Dracula's face - her Eunice just doesn't care. FranDrescher makes her larger than life."
Michelle Murdocca goes on to say that Fran Drescher's performance as Eunice hits close to home. "Eunice - and I don't mean any disrespect - is my Aunt Theresa," says the producer. "She is a very brassy New Yorker who's going to tell you like it is - and oftentimes, she's right. She doesn't mince words and she has no qualms about being open and honest and telling you what she thinks."
"The best thing I can say about Eunice is that she has very small feet and a nice petite waist," says Fran Drescher. "She's kind of Mavis's godmother. She's very concerned about the fact that Dracula is even considering letting Mavis venture out into the real world - why did he build this hotel if not to protect her? She definitely has her own agenda."
To play the role, the filmmakers encouraged Fran Drescher to go to extremes. "Every time I came in to record, they always wanted me to sound a little gruffer, a little more obnoxious, a little more annoying, but I always want my characters to be likable," she says. "I do think that everyone will love her, in spite of the fact that she's a loudmouth."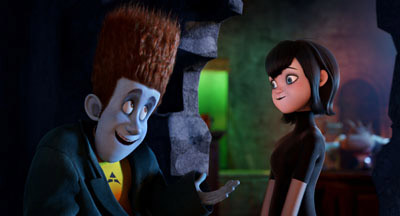 Wayne
Wayne is a werewolf, a miserable data processor by day and a put-upon father by night. He and his wife Wanda have produced litter after litter of pups, and as a result, he barely has the energy to get through a day and has lost most of his sense of smell from a barrage of poopie diapers. So even though he arrives with his misbehaved children and pregnant wife in tow, Wayne can't wait for his vacation at Hotel Transylvania to begin. He can let his hair down and just be himself, and maybe even take in a nap or two. But perhaps the best part about visiting the cavernous old resort is that he might just be able to hide from his kids for most of the holiday.
"The way Steve Buscemi plays it, all Wayne wants to do is go to the pool and relax," says Michelle Murdocca. "He's great at playing the beaten-down dad who just wants to have a quiet moment for himself when that is simply impossible."
"Wayne is the classic dad - the guy who works all day and just wants to come home to a little peace and quiet, only to find that the kids are just getting started and ready to jump all over him," says Steve Buscemi. "OK, that's one thing, if you've got one, two, three kids - but fifty-something?"
Wanda
Wanda - Wayne the Werewolf's wife - is sweet, lovable and very maternal. She'd have to be - as she's a mom to dozens of little pups, with more on the way!
"No matter how many kids Wanda has, she's sweet and loving and it never seems to faze her," says Michelle Murdocca. "I imagine that's how Molly Shannon, who voices Wanda, is in real life, with her own kids - the down-to-earth, low-key fun mom."
"She just loves babies," says Molly Shannon. "She loves being a mom and loves having more babies. Her husband, Wayne, is a tired, hardworking father, very excited to be checking in to the Hotel Transylvania for a little R&R."
Griffin
The infamous Invisible Man has a name, and it's Griffin. He's good at lurking, and because no one can see him, he has a frustrating habit of blindsiding his friends. He's always ready with a funny quip… but while he can dish it out, he can't take it - he's really sensitive, especially about his curly red hair.
"Griffin's problem is that he's often overlooked. But it's not his fault - it's just that he's invisible," says Michelle Murdocca. "He's perfect for David Spade - acerbic, dry, witty, but also really good-natured."
"Griffin loves going on vacation. He's extremely handsome and has a killer body. At least, that's what he tells me, and I'm not gonna disagree," says David Spade.
Murray
Murray the Mummy is a big bandaged guy, who's actually larger-than-life. As a former entertainer to the great Pharaohs of Egypt, Murray is extremely likable, boisterous and always the center of every party. Living most of the year deep inside an Egyptian tomb, every time he arrives at Drac's hotel, he is ready to PARTY! He's a ball of fun, and uses humor to avoid confrontations, which he stays away from at all costs.
"CeeLo Green killed it, right from the first day," says Michelle Murdocca. "He's a really honest, sweet guy, and that comes across in his performance and his character. He's just a big, cuddly, loveable mummy, looking for love."
Quasimodo
The head chef at Hotel Transylvania is none other than Quasimodo, the hunchbacked Frenchman famed for ringing bells and hiding out in cathedrals. Now, he has become quite the gastronomical genius, whipping up wormcakes, stirring steaming vats of slug soup, and making horrible hors d'oeuvres for hotel guests. The temperamental artiste wants everything in the kitchen his way-now he's pushing to add human to the hotel menu, despite the fact that monsters haven't dined on Homo sapiens in eons. Hardly anyone listens to his tirades, with the exception of his loyal assistant, a rat named Esmeralda. The nose knows, as he likes to say, and together they will sniff out the human that he knows is hiding in the castle.
"Jon Lovitz, voicing Quasimodo, is going to serve up his piece de resistance," says MichelleMurdocca. "He's only gotten to cook up monster food, and he's tired of it. For years, he's thought, if only he can get his hands on a human…."
Jon Lovitz says, "Quasimodo is based on Julia Child… If she were an evil man... And short... With a hunchback...But still French!"
About the Production
Hotel Transylvania has a very different look and style from any of Sony Pictures Animation's previous films - and that is just the way they like it. "Sony Pictures Animation's style is to not have a house style," says producer Michelle Murdocca. "We give our directors the latitude to bring with them the style of the movie they're creating. That's what makes the movies we've made here different and distinctive - they don't follow any given pattern."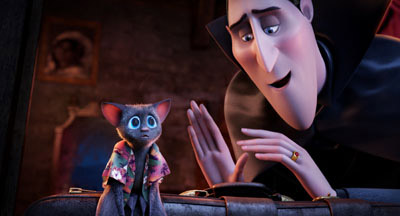 The directorial voice on Hotel Transylvania belongs to GenndyTartakovsky, whose vision for the film influenced the way the characters would express themselves. Given that the movie would be fun - not scary - it was important to the filmmakers that the characters be designed to play for the laughs. "We wanted a very expressive movie," he says. "The characters would have to be very pliable; they go through a range of emotions, from cartoony and funny to more subtle and very humanistic expressions."
"Working with monsters, you can really let your imagination go wild," says Carlos Grangel, one of the character designers on the film. "You can push the envelope, find a design that is gothic and crazy - it's a beautiful opportunity to push those shapes and find the best stylisation for these characters."
For one example, Adam Sandler's vocal performance as Dracula was a direct influence on the design of the character. "The way Adam Sandler plays the character, Dracula is really big and broad, but he can also get really quiet and serene," says MichelleMurdocca. "That makes its way into the physical design of Dracula. He's kind of an upside-down triangle, narrow on bottom and broad on the top - a seven-foot guy with a commanding presence. But the way the character designer Craig Kellman designed him, he can kind of fold up to become the guy who is tender and emotional, and smaller than you think he is."
"If you watch Dracula, sometimes he's completely normal-looking, and all of a sudden, in the same scene, his eyes are three times as big and his head is twice as big," says GenndyTartakovsky. "I don't necessarily want audiences to pick up what we're doing - I want them to feel it."
Pulling that off required breaking some of the traditional rules of computer animation. "Most of the time, in most movies, the animators treat the character model in the computer like a puppet. You can move it around, but whoever is in charge puts limits on how the animator can move it. For me, though, the computer is just a tool, like a pencil is just a tool - we should be able to make it do anything we want to," says GenndyTartakovsky. "That was the philosophy, and luckily, everyone was very supportive and we were able to achieve great things."
One example of that at play is in the design of Dracula's cape, which says as much about the character as his look. "He gets completely covered by the cape and creates a very narrow silhouette," says Michelle Murdocca. "It was a big challenge for the animators and a huge challenge for the cloth team - how they were going to achieve what GenndyTartakovsky wanted to see - and it looks really cool in the movie."
Craig Kellman also designed Jonathan (and his alter ego, Johnnystein), the human visitor who gets more than he bargains for when he stumbles on a hotel for monsters. "Jonathan is the complete opposite of Dracula. He's goofy - if Dracula is very controlling, Jonathan is ultimately out of control, no boundaries. But for the animators, the poses have to be just as strong - we designed him for the personality of Andy Samberg, and his voice and performance really helped define who the character is, as a design," says GenndyTartakovsky.
Carter Goodrich designed Frankenstein. "He created this big, massive, hulking guy - huge shoes, the size of Volkswagen Beetles. He brought to life this enormous character who had so much softness and so much vulnerability - I've never seen a Frankenstein like that before," says MichelleMurdocca.
"It had to be recognisable right away as Frankenstein, but we also wanted to design him in a way that wasn't exactly what you'd expect," says Carter Goodrich. "We found a slightly different angle that we could explore and magnify: it's the broad shapes, the silhouettes, the volume, but it's also the personality of the character - a nice guy who's wrestling with something."
Carter Goodrich was also responsible for designing Griffin - who is completely invisible except for his glasses. And Carter Goodrich didn't have to look far at all for inspiration - less than an inch, in fact, as Griffin's glasses are based on the ones he wears.
The third member of the character design team is Carlos Grangel, who, MichelleMurdocca says, has quite an unusual preference for artistic materials. "We emailed him the list of characters we wanted him to try, and he would send back these designs that had been rendered on cereal boxes," says Michelle Murdocca. "He has everyone at his studio in Spain bring in their old cereal boxes, they rip them open, and he draws on the inside of the cereal box. He does them in layers and then marries them together - he has some crazy system and I don't even begin to understand what that system is, but it's really cool."
Why cereal boxes? "I love the patina, I love those colours," he says. "When I have a blank, white piece of paper in front of me, I don't know what to draw, where to start. The colours help me. Not to mention that if I'm using an empty cereal box, something that was just going to be thrown away anyway, I can do a draft and if it doesn't turn out right, not to worry, just throw it away and start again."
One of Carolos Grangel's biggest contributions was the design of Murray the mummy. "Before Carlos Grandelgot involved, we had always seen Murray as a classic Mummy, skinny and slight, and we were going to do a take on that until Carlos sent in a big, round Murray," Michelle Murdocca explains. "His designs and poses were hilarious, with this big mouth and just an open slit for eyes. He was very expressive, with tiny feet and hands. We had to use his design."
"We could create this overweight mummy, so different from the tradition," says Carlos Grangel. "We could make this character something totally new and fun, a mummy for the new generation."
Carlos Grangel also designed many of the background characters, including the witch maids, the headless driver, and the mariachi skeletons. "Coming from Spain, I'm a bit aware of the Mexican tradition, and I love the great designs and graphic shapes of the Day of the Dead," he says. "I really wanted to make a tribute to that culture and honour it. I studied it as much as I could and got as many pictures as I could for reference. I felt it was really funny and different."
With the characters designed, Marcelo Vignali oversaw the production design of the film. "The hotel, in many ways, acts as the straight man for the comedy that is played out by the characters," he says.
That said, there were certainly opportunities to let the comedy play. "In many old monster movies, they have very theatrical lighting cues. We thought, that's the kind of thing we want to do, but play it for comedy, nothing scary," says Marcelo Vignali.
Like any animated film, the production design represented a huge challenge - one that Marcelo Vignali acknowledges that most audiences never fully comprehend. "The thing about an animated film that maybe people don't realise is that everything has to be designed. On a live-action film, filmmakers can take advantage of locations that already exist. But in animation, we have to design everything--right down to the number of particles we want floating in the air," he says. "How much depth of field do we want, how much light do we want to reflect back up into a character's face? Every little nuance had to be considered."
Marcelo Vignali says that his greatest challenge and achievement on Hotel Transylvania was in the design of the lobby of the hotel. "I've designed a lot of sets, and this is by far the largest I've ever done," he says. "It's 175 feet long. The lobby alone was like designing an entire village, because the walls are divided by columns and each one has a unique feature - archways, windows, door frames, a fireplace, or even a giant organ. I designed it from the top down - first the floor plan, then elevations. Ultimately it was designed it as if it were for a live-action film, with cutaway walls - almost like a dollhouse - so you could see everything. It was a monster of a set (no pun intended). Then, of course, we had to dress the set, we needed to know whether there's a log holder inside the fireplace, how much light comes out of the fireplace, where to hang the tapestries, and even where to place all the cracks in the walls. It was a huge undertaking."
Senior Animation Supervisor James Crossley oversaw 90-plus animators at Sony Pictures Imageworks who brought the characters to life on screen. James Crossley says that realising GenndyTartakovsky's vision in 3D computer animation was a challenge, but one that paid off in the end. "GenndyTartakovsky comes from a tradition of hand-drawn animation. When we met, we talked about the wonderful energy, design, and caricature that are possible in that world, and how could we make it work in computer animation," he says.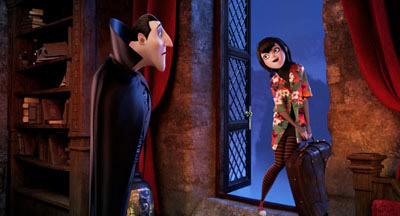 Achieving that required the artists to animate in quite a different way than they were accustomed to doing. Traditionally, computer animation tends to focus on what is physically possible in the real world, but in Hotel Transylvania, all bets are off. "We had to disregard the limitations of what is physically possible - we wanted it to be fun and have a different sensibility," says James Crossley. "We can have a character zip on or off camera, do a crazy scramble and defy gravity"- all traditionally no-nos in CG animation. "The film is all about caricature, we were more interested in design and energy than what is physically possible. Then, if we had to make it more believable, we'd slowly add elements back in."
Throughout the process, GenndyTartakovsky was the guiding hand for the look of caricature that he wanted to see in the film. "When GenndyTartakovsky approaches the animation style of the movie, he's basically thinking of it as a series of 2D drawings that will come to life in 3D," says Michelle Murdocca. "For example, when we do an animation review, GenndyTartakovsky will sit down and he has tablet and we will be looking at the 3D animation, and he'll actually draw overs on a tablet - he creates poses that become guidelines for the animators to hit."
The animators were inspired by the vocal performances by the actors. "You start out with designs, and when the voice comes in, you get so much more out of who the character is. Before Kevin James was cast, I wouldn't have expected the performance of Frankenstein to be the way he delivered it. He brought the comedic sensibility and turned it a different way - it really changed how he was animated," says James Crossley. "Adam Sandler, of course, pushes the voice in really cool ways, too - we can keep the character very stiff and static at times, or mad and scrambling at others, or meek and subservient when he's with his daughter Mavis. And CeeLo Green as Murray - with his performance, we can push the character to be very broad, malleable, we squashed and stretched him a lot. Murray was a great character to animate.""
Sony Pictures Imageworks' Daniel Kramer was also a key member of the team as the Visual Effects Supervisor. Daniel Kramer oversaw some 300 people, with whole departments dedicated to animating clothing, or hair, or effects. However, as with the other elements of the animation, GenndyTartakovsky's vision for the film required a new approach. "We have hair and cloth simulations - software that lets the computer handle the motion and simulate it in a realistic way. If you have cloth rolling off a round shoulder you naturally get a nice round shape," Daniel Kramer explains. "But GenndyTartakovsky is really into crisp fall-offs and sharp lines. He's really driven by what the character silhouette looks like. So with our simulators, the cloth no longer fits the character he's looking for, the crisp edges are too soft. We would go in by hand, frame by frame, to massage it."
"If you have a character zipping off the camera, going 0 to 100 in two seconds, getting the clothes to stay on the character is a real challenge," he laughs.
Hotel Transylvania is presented in 3D, and stereoscopic supervisor Von Williams oversaw the 3D process. "We didn't want this 3D to be in your face - more to make it the next level of viewing, so you feel like you're really there in the hotel with Drac and Mavis," he says.
The challenge for Von Williams and his team was to make the animation style of Hotel Transylvania work well in 3D. "The film is animated in a very fun, flat, graphic style," he says. "That's what GenndyTartakovsky really wanted to do, but he was really open to seeing the movie in stereo, too. In fact, there were some scenes where he really encouraged us to increase the 3D, push it a little more than we'd been doing. It's a fun feeling to work with GenndyTartakovsky on that - he really enjoyed that part of making the movie."
Von Williams' favourite sequence in 3D is the "table sequence," in which Drac and Jonathan ride through the hotel on floating tables. "At one point, it's almost like a surfing or skateboarding competition as they fly down the hall," he says. "That fast movement shows off the animation, the beauty and layout of the hotel, and the 3D - I think everyone is going to enjoy that."
Digital production was overseen by co-producer Lydia Bottegoni, with the animation split between Sony Pictures Imageworks' home facility in Culver City, California, and satellite facility in the strong talent base in Imageworks' Vancouver studio. "We really benefited from the animation talent in Culver City and Vancouver," she says. "We had over 300 artists on the film, with 100 animators during the peak of production just in that discipline alone. The biggest challenge of working with such a large team is to keep everyone on the same page creatively - making sure that everyone understands GenndyTartakovsky's vision and that the personality of the characters are all kept consistent. GenndyTartakovsky comes from an animation background, so he understands working with animators, interacting with all of them directly. It was really a close, collaborative relationship, even though it was such a large team."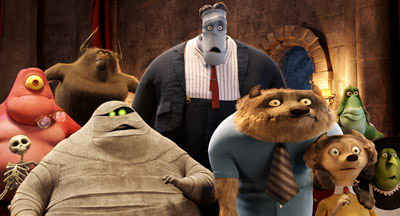 Fun Facts
Trivia:
The address for the hotel is 666 Transylvania Lane, Umbre, Romania. (This can be seen on the back of the itineraries that Dracula hands out to guests.)
Hotel Transylvania has 1,250 rooms, of which 950 are guest rooms.
The left big toe on Frank is attached incorrectly on purpose.
The microphone from the Mavis party is the same one seen in The ChubbChubbs, the Oscar-winning short that set the launch of Sony Pictures Animation 10 years ago.
Wayne and Wanda have so many pups they have lost count. Winnie is their only girl!
A Brillo pad was used as a reference for Eunice's hair.
Andy Samberg co-wrote and performed the song "Sweet 118". He recorded it in his office at "Saturday Night Live" while producer Michelle Murdocca listened on the phone.
The face on Wayne's watch is actually the phases of the moon.
The other half of Winnie's pacifier is actually a bone!
Relatives of director GenndyTartakovsky migrated to Mexico in the 1940s and his uncle is now in the construction business. One could notice that several of the more recent tallest buildings in the country have the "GenndyTartakovskyconstruction" sign on them.
Technical/Production
"One of the things that has made Hotel Transylvania so unique is the combination of very graphically stylised characters and animation with very rich and detailed backgrounds. The character designs have a very simple and clean cartoony style that adds a lot to the humour of the film. The set pieces however have a lot of textural detail and a deep feeling to them that adds a lot of dimension to the frame. Add to that mix a very realistic system for lighting and shading the foreground and background elements together and you get a very unique look: humorous performance with an almost hand drawn feel contrasting with a beautiful palette of old-world materials and some little hints of classic monster movie device, like splashes of light and shadow, underlighting and drifting fog." - Daniel Lobl, CG Supervisor
The technique used to create the gremlins George and Gina's sweaters using short curly hair was inspired by the same technique that was used to create Arthur's sweater in Arthur Christmas.
The Mummy's eyes are made up of 3 overlapping spheres of different sizes.
The environment textures are overlaid with a subtle pattern we called the Neil Ross pattern. Neil C. Ross was a visual development artist who was instrumental to the design of the Hotel Transylvania world. This unifying pattern of overlapping rectangles and squares, of different values and hues, was used to give textures a more painterly and abstract feeling.
There are 1.3 million fireflies in the party sequence.
All of the werewolf pups were made from only four original designs.
The eyelashes for the