by Paul Fischer in Los Angeles.
JACKMAN MAY SAY HE'S NO WORKAHOLIC, BUT
Hugh Jackman may not have changed over the years, but yet he remains one of Hollywood's busiest and most sought after actors. "My wife sometimes jokes that she thinks I'm a little bit of a workaholic, but my definition of a workaholic is someone who can't switch it off, which I can do", the affable Aussie says laughingly. "I work hard and I really enjoy it -- I've always loved acting -- but, I can switch it off." Yet it seems that Jackman goes from one project to the next, with four films alone opening over the next month, including the animated Happy Feet and Flushed Away, plus The Fountain and his latest, The Prestige. Then he has started shooting his first film as a producer, The Tourist, is about to begin work on fellow Australian director Baz Luhrmann' s untitled romantic epic, and yet he is no workaholic, he says, effortlessly balancing this career with his marriage and children. "One of the things about having a production company is to facilitate that balance. To be shooting a film now -- and I only work about three weeks on 'The Tourist,' so you don't have to worry about my work load -- I can now control where we shoot, when we shoot and what we shoot, and that's something that is important to us. I'm very lucky, as you know. I've got a wife who, so far, has been happy to travel with me." His wife, actress Deborra-Lee Furness, is joining Jackman from their New York home for the premiere of The Prestige, a period thriller from Batman director Christopher Nolan, in which Jackman plays an obsessive magician endeavoring to discover the secrets of fellow illusionist Christian Bale.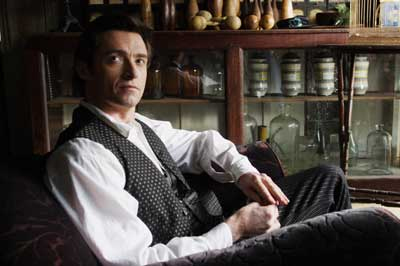 "I was pretty much into The Prestige when I just heard Chris Nolan was directing it, who was certainly on my radar of the top 5-10 directors to work with," Jackman explains, when asked why this film in particular. "Then, I read the script, just loved it and I was kind of shocked at how amazingly close the original script I read was to the film that ended up being made." Despite his busy schedule, he did some research on magic and illusion, such important elements of this film. "I met a lot of magicians, saw a lot of acts and I read a lot. I was actually reading about Houdini, just coincidentally, when the script came. I was interested in that era, which is such a fascinating time, where magic was believed. In America, at that time, spiritualism was a greater religion than Christianity, so magicians who could do séances and things were beyond just tricksters. They were, somehow, medians with the other world and they held this fascination for adults." Jackman denies that he could relate to the obsessiveness of his character, "but I think the roles of Christian and I were tailor made. My character is a very good magician, but Christian's is a great one. My character elevates himself as a magician by his natural ability on stage, and I've had a lot of experience on stage, so that's something that comes easily to me. The character, at the beginning of the film, is fairly optimistic, enjoys his life and is excited by the possibilities. There's a tragedy that happens early on, in his personal life, and then, somehow, he's fueled by this ambition and the anger over what happened, and it turns him into being much darker, more intense and, ultimately, very dangerous person. I wouldn't say that's me, but I think the transformation was a lot of fun for me to play. In terms of the character at the beginning of the film, I think it's fairly similar to me."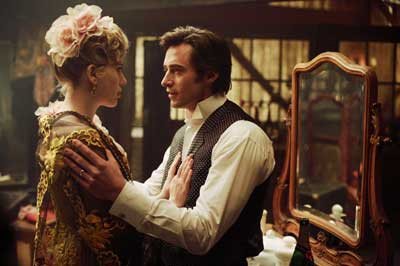 While The Prestige allows Jackman to bring out his darker side, the antithesis can be said of Flushed Away, in which he plays a snooty rat inadvertently sent to the sewers of London where he discovers that there's more to life than class and social mores where he meets a tough sewer rat, played by Kate Winslet. His attraction to this Aardman animated comedy was instantaneous. "I was in drama school in Perth, Western Australia, during 1994, turned on my TV, and saw the last seven minutes of The Wrong Trousers. My brother and I were laughing so hard that we thought, 'We've got to find this.' So, we tracked it down, got a video and used to give it as our standard present to anyone. I thought we'd discovered them, but I think they'd won an Academy Award at that point, but when I was in Perth, I thought we'd somehow discovered them. So, when I got a call from that group, I was totally in. I think it's fair to say it was selfish reasons first, and then I thought of my son afterwards," says Jackman, laughingly.
Jackman smilingly recalls how his Roddy the Rat changed over the course of the two years he worked on the film. "At the beginning, he was more upper class, almost royal with that aristocratic attitude. He had two hamsters who were his servants, so, the whole thing, going down into the sewer, was more, "Oh, you people." It was a little bit removed and snobbish, which actually made him not very likable. So, we changed it from being that to being more sheltered, as he lives in this pampered life, doesn't think of himself as a rat, but as a James Bond character who is having the time of his life." As with most animated films, Jackman worked alone, unlike in Australian director George Miller's Happy Feet. "Nicole [Kidman] and I worked for a couple of days together as we play mum and dad of the lead character and that was fantastic." The actor says he is looking forward to working more extensively with Kidman on the new "Luhrmann film with her and not be penguins will be nice." The Australian epic starts filming on March 26, Jackman confirmed, on location in Sydney, Darwin, and Bowen, near the Barrier Reef. Already compared to the likes of Out of Africa, Jackman laughingly describes the untitled Aussie film as "a combination of Out of Africa, Gone with the Wind, Lawrence of Arabia -- that kind of world, a romantic adventure epic with me and Nicole."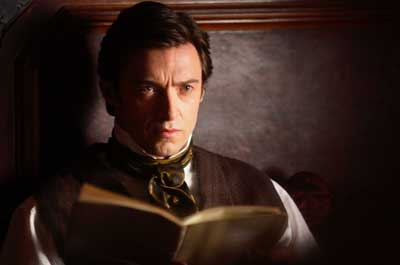 Then, says Jackman, he goes from romanticism to Wolverine, with his X-Men prequel. "We've now signed off on the script and if you know about the history of 'X-Men' movies, that's a revolution for us. We're a year away from shooting the film and we have the script which, by the way, is unbelievable. It's a David Benioff script who's probably the hottest writer going around town, and he was beating down our door to write this movie. So, we have this fantastic script and hopefully I might be able to tell you who the director is by soon."
Jackman is currently shooting The Tourist, the first film out of the gate from his Seed Productions. "Thursday was our first day and it was a great thrill. It's a suspense thriller written by Patrick Marber, and it's very smart and sexy."
It seems that deny it he might, but there's no stopping this boy from Oz any time soon.