JENNA SWAPS HER OFFICE CUBICLE FOR ICY NEW COMEDY.
EXCLUSIVE by Paul Fischer in Los Angeles
In the hit series The Office, Jenna Fischer is somewhat comically demure as insecure office manager Pam. But this daughter of an English teacher seems so much the antithesis of her television alter ego. Born in Fort Wayne, Indiana and raised in St. Louis, Missouri, Fischer developed an interest in performing as a child; no doubt inspired by her mother, who taught acting at the time. Enrolling in her mother's class at age six, she met fellow student Sean Gunn, who was the same age. Years later, Gunn went on to star in 'The Gilmore Girls,' and Jenna Fischer stayed in touch, eventually marrying his brother James Gunn, a writer and director. Jenna Fischer graduated from Truman State University in Missouri, and, while waiting for her big break in acting, worked several administrative jobs, ironically ideal for her future part as Pam.
Her early television roles included bit parts on 'Spin City' , as well as the cult comedy series, 'Undeclared' and 'That 70s Show'. She also appeared on the short-lived Alicia Silverstone series, 'Miss Match', the procedural drama 'Cold Case' and had a two-episode stint in the fifth season of HBO's 'Six Feet Under.' On the big screen, she appeared in a number of small, independent films, including 'Lucky 13,' a comedy starring Lauren Graham, and 'Employee of the Month,' (2004) a dark comedy starring Matt Dillon and Steve Zahn. She also had an uncredited cameo in 2005's 'The 40-Year-Old Virgin,' starring her 'Office' boss Steve Carell. Exploring ambitions behind the camera as well, Jenna Fischer wrote and directed the 2004 independent feature film 'Lollilove,' starring herself, husband Gunn, and Linda Cardellini of 'ER' fame. The 'mockumentary' revolved around a couple hoping to cheer up the homeless by handing out lollipops with upbeat sayings.
In 2005, Jenna Fischer landed the part of her dreams - that of the perpetually put-upon receptionist, Pam Beesly on the American version of "The Office." On the show, Jenna Fischer memorably endured the antics of backbiting, insecure co-workers as well as tolerating boss Michael Scott's (Steve Carell) endless attempts at motivation and humor. Taking on the part inspired by actress Lucy Davis' character in the original BBC version, Jenna Fischer made the role her own - down to the out-of-date hairstyle and matronly sweaters. As the slowly suspecting object of affection of fellow normal officemate Jim Halpert (John Krasinski), she also provided one half of the heart of the show. A "will they or won't they" hook-up interest soon took hold, as fans routed for the characters to get together. At the end of the first full season, Jim and Pam shared a kiss to the delight of viewers. However, Pam turned down his declaration of love and left fans wondering what would happen with their fave couple. During her "Office" downtime, Jenna Fischer also authored a blog (done at her desk and working computer during set-ups amidst the sitcom's production) and landed a part in the 2006 thriller, 'Slither,' under the direction of husband Gunn.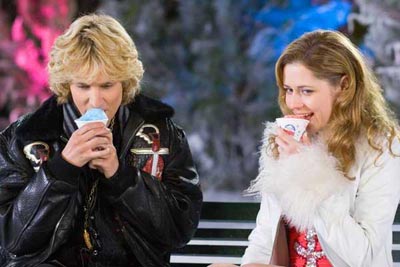 In her newest film Blades of Glory, the effervescent and beautiful actress shares the screen with comic superstars Will Ferrell and Jon Heder as former ice scatting enemies turned partners. Here, Jenna Fischer replaces her dowdy Office attire with negligee and suspenders in a key moment from the comedy. Always willing to chat with an actor whose surname's spelling matches his own, Paul Fischer sat down one on one with an ebullient Ms Jenna Fischer.
Paul Fischer
: You come from a very non-artistic background with your mother being a teacher, so where does the actor in you come from?
Jenna Fischer
: I don't know. That's a good question. I definitely felt like the oddball growing up in my family and felt a little misunderstood. I think my mom though, was very creative and my dad was actually very funny and a good writer. Also, my mom is a great actress and a lot of things I notice when I think back is that my parents were very creative and artistic, even though my parents didn't have artistic professions. For instance, every summer my mom had a new project, like one summer she made home made chocolate, another summer she grew cucumbers and we made home made pickles. So we didn't have a lot of toys either and a lot of our games were like imagination-based. We put on a lot of plays, we did a lot of drawings, so it was just kind of like a lot of role playing type games in the family. We went on a lot of family vacations together to places like Memphis and then we'd just study Elvis all summer, which made my mom very theme based. We'd have like 'King Tut summer' where we learned about King Tut, then we had like 'Elvis summer' where we learned about Elvis. So my mom's just a very creative soul and she always has been and so I think like that was a great outlet for me. I think the difficulty was thinking that I wanted to take that to the next level and have a professionally artistic life.
Paul Fischer
: What aspirations did you have in growing up?
Jenna Fischer
: All I knew was that if you wanted to do this for a living you had to live in L.A., like I had that burned in my brain. So all I knew was that when I graduated from college I wanted to move to Los Angeles and if I had it my way I would have come out after high school.
Paul Fischer
: What did you think about L.A. when you first came here as a young kid?
Jenna Fischer
: I thought it was dirtier than I would expect. I remember driving through Hollywood. I had a college roommate who had been out here for a year and I moved in with him when I came here. He was my first roommate and he already had an apartment. And as I was driving down Santa Monica boulevard toward this apartment number it was like, it just kept getting grimier and more disgusting. So I certainly expected it to be like cleaner and glittery and glamorous, you know, like as if all of L.A. looks like Rodeo Drive. But no, it was alright. Similar to St Louis. St Louis is a city that is really just a bunch of suburbs all connected and it's a driving city and Los Angeles is like that.
Paul Fischer
: And so how tough was it for you dealing with the reality of trying to be an actress here amongst every other girl that was struggling to make it as an actress here?
Jenna Fischer
: It was hard. I mean it was really hard. If I had to do it today I don't think I could do it.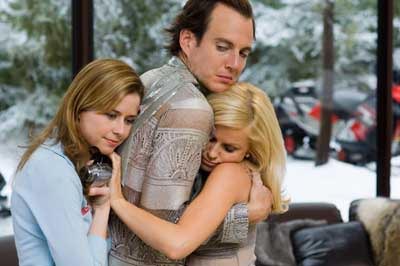 Paul Fischer
: So what kept you going?
Jenna Fischer
: Being naive. You know, just having some sort of thing in me that I was just unstoppable, you know. Every year something happened that was enough of an encouragement that it kept me going. But it was definitely hard. It was especially hard because I had moved out here with kind of a group of people and after two years they had either made it or moved away. And I was kind of the one person that was doing neither.
Paul Fischer
: Now comedy wasn't necessarily something that interested you as a primary acting tool right? It was something that you ended up being comfortable with or stumbled onto?
Jenna Fischer
: Well when I was in college I would get cast a lot in the comedies or in the musical comedies so it was something that I did tend to gravitate toward. I felt like I had sort of a little bit of a knack for it. And then when I moved to L.A. I was just really willing to do anything and I ran into a manager who said 'I would really like to represent you. I think you'd be really great in television comedy and I have a lot of connections in the comedy world' and she said 'I think your future is in television comedy'. And she was right. And that was seven years before The Office. She managed me from the very beginning.
Paul Fischer
: I remember talking to Steve before The Office pilot aired. He'd just finished shooting the pilot and I said to him 'You're very brave for taking this on because at the time the British version was so successful, you know, critically acclaimed and everything and I thought, you know, everyone thought he was an idiot to do this and there had been so many British imports translated into American television that were terrible. And he said - he is a very unassuming guy as you know - and he said 'I think it's going to be funny. I think we can do it'. What kind of expectations did you have with that show when it came your way? Were you also a little bit wary about treading onto some fairly dangerous territory?
Jenna Fischer
: Well I was already a fan of the British show when they called me to audition. I had seen it. My husband had brought it home on DVD and we watched it and I fell in love with it. And I actually had this whole thing in my living room where I was talking about 'Why don't we make more shows like this in America?' 'This is brilliant, this is exactly the kind of thing that I want to be on' and then they called me to audition. And part of my first audition was me auditioning the producers of the show to see if there were going to make a great version of The Office or if they were going to make a sloppy shit kind of version of The Office because there was no way with my love of the original, that I was going to be part of an American spin-off that was awful. You know, I just didn't want to do that to what was my favourite television show.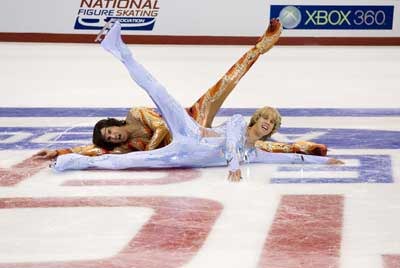 Paul Fischer
: Were you surprised that given that television can be very dumbed down for American audiences that it's as clever as it is?
Jenna Fischer
: I was surprised that Greg Daniels got his vision on the air. You know, it was Kevin Riley and Jess Hooker took a chance on us. They rallied for our show. Kevin Riley, more so than anyone, put his neck on the line and put his job on the line by fighting to keep our show on the air. And I'm so grateful and he really let Greg Daniels do what Greg Daniels does best and when we made those first six episodes of the show, it felt magical. It mean it felt like we were doing something that hadn't been seen on American television before and it felt good and we were laughing so hard. I mean I would just laugh all day. And one time I said to one of the directors, 'I don't want to go home at night. I just want to stay here. I want to sleep in my trailer. I don't want to go home'.
Paul Fischer
: And he said 'Why? What's wrong at home'.
Jenna Fischer
: And I said 'No, there's nothing wrong at home, it's just that this is like a magical fairyland.' It's like I couldn't believe it that I was a part of it.
Paul Fischer
: Do you see any parallels between you and Pam? Have you and she morphed in any way throughout the last couple of years?
Jenna Fischer
: You know, I think that there are some things about the character of Pam. Like Pam and Jim that are different from the British office. I think Pam is a little bit more of a partner in crime with Jim while I think on the British Office, Dawn was a little bit more like an observer of Tim's comedy. And she wasn't as much of a sidekick I think, so I think some of that came from watching John Krasinski and I on set. We were very playful together and I think the brought some of that energy into the show.
Paul Fischer
: Can you relate to her romantic idealism in any way?
Jenna Fischer
: Oh yeah. I can relate to her a lot because I was a secretary for many years. I mean I know a lot about what it's like to be working in a job that you're not passionate about, wishing that you could be somewhere else but not knowing how to get there.
Paul Fischer
: Now when you're looking for a movie project, and something like Blades of Glory comes along, was it important for you to try and play a character that was as unPamlike as possible?
Jenna Fischer
: It really wasn't. I mean like I don't approach my career that way. I really look at a few things. One is 'Is this a group of people who I want to spend several months with?' and I've turned down roles that have had actors cast that are known to be difficult. And I thought 'Life is too short'. I just don't want to be on a set with difficult people. And that's the truth. I've probably turned down a couple of things that have gone on to be great successes but my life is easier for it so that makes me happy.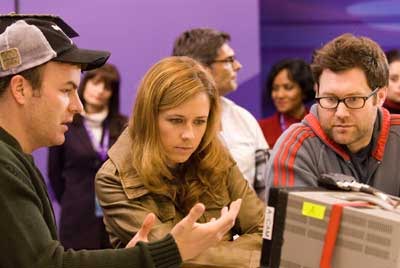 Paul Fischer
: Was doing the movie more fun than you thought it was going to be?
Jenna Fischer
: Yeah, I had no idea how warm these people were going to be on the set. I knew that they were all nice people but I didn't know how much I would enjoy being around them. And I think the other thing I look for when I read a script is just like, 'Is this going to be fun, but is it also going to challenge me in some way?' and I felt like on The Office what we do is very contained and this movie is a little more broad. It's a little more out there, it's bigger and....
Paul Fischer
: And there's boob handling as well....
Jenna Fischer
: And there's a lot of boob handling, there's some lingerie, so I definitely challenged myself in ways in this movie that I think will be a stepping stone for me trying to spread my wings.
Paul Fischer
: Would you ever work with your husband?
Jenna Fischer
: I don't know. I don't think so. And here is why: We did that movie LolliLove together and that was on a very small scale we had to work together and what happens when one of us is directing the other one, it creates a dynamic where like somebody is someone else's boss. And I think that in a marriage where you're equals and you're in it together to then suddenly have like a status shift where somebody is your boss or whatever. There's also like a relationship where in the movie business you kind of have to handle actors, you know, actors get treated like babies because actors are babies. That's the truth. We're a bunch of babies. And the thing is I don't want my husband to treat me like a baby. I don't want him to patronise me and we know each other's tricks. We know each other too intimately. I just don't think it's the best idea. Like when he's directing a movie I want to be his confidante. I want to be that one safe person that he can tell the truth to. I don't want him to have to like have me do a day on the movie where maybe I'm not as great and he has to spin it and pretend like I'm awesome and lie to me about why they cut that scene. I just don't want to invite any of that into my life. I think he's one of the most talented men working in Hollywood but I like being his wife more than his co-star.
Paul Fischer
: And nothing is planned for you during the next hiatus right?
Jenna Fischer
: I'm going to do Walk Hard. I'm doing a comedy with John C Riley. It's directed by Jake Kasdan and it's produced by Judd Apatow. It's the same folks that did 40 Year Old Virgin and Knocked Up.
Paul Fischer
: Right. It's an R rated comedy?
Jenna Fischer
: R rated hard core comedy. Major, major stuff.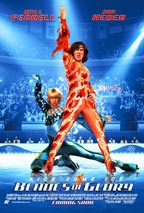 Paul Fischer
: Who do you play in that?
Jenna Fischer
: I play John C Riley's - it's a fictional music bio pic. It's sort of a takeoff on Walk the Line. And I play June Carter Cash type character. But yeah .....
Paul Fischer
: So more boob handling and ....
Jenna Fischer
: I was going to say if you thought boob handling and lingerie - wait 'til you see Walk Hard. It's 100% that the whole time. A lot of miniskirts and plunging necklines and plenty of boob handling.
Paul Fischer
: I can hardly wait. And keep the Fischer name alive.