She first burst on to the acting scene in 2002 when Denzel Washington cast her in Antwone Fisher. She won the part over every other beautiful young black actress in Hollywood, despite never having acted before. It was a radical move on Washington's part (who was making his debut as a director). But his instincts proved spot on and since then the formerVictoria Secrets model has lived up to her mentor's expectations. In her latest film Joy Bryant plays a telephone receptionist working in the Ambassador Hotel on the day Robert F Kennedy is assassinated in 1968. Directed by former Brat Packer Emilio Estevez, the film boasts a huge ensemble cast (including Demi Moore, Ashton Kutcher and Lyndsay Lohen to name a few) yet the gorgeous 30-year-old still manages to stand out in a crowd. Gaynor Flynn caught up with the bubbly Bryant at the Toronto International Film Festival.
How did you come to be involved in this film? Did youknow Emilio Estevez prior to this?
Joy Bryant: No. I knew Nick Canon, and Heather(Graham) and Lindsay (Lohan) and Joshua (Jackson) andactually Nick Canon called me up one day and he waslike you know I'm in this great film with EmilioEstevez and I have this great part you should check itout and at that point the script was actually comingto my house already from my agent and I read it and Iwas like wow. I went in and read with Nick and Emilioand it was a while before I actually got the part soI'm thinking 'oh god I didn't get that part' and Iactually thought I'd heard that someone else got thatpart and I was like 'man she's lucky'.
You've only been acting for a relatively short time,but you've made great choices with Get Rich or DieTryin', Honey, The Skeleton Key. What's the selectionprocess for you?
Joy Bryant: I tend to go by my gut when I readsomething but there's been times where there's beenthings I don't particularly like or I don't get thatfeeling but there's a reason why I need to do it andthat's why I have managers and agents who know betterthan I do and will kind of be like okay enough withthe artist shit already, you need to do this. And I'mfortunate enough to come from modelling where I had acareer that paid me very well so I'm not makingchoices based on having to pay bills which is adifferent set of issues you know. Because sometimesyou have to do things just to pay the bills so it'skind of given me that luxury where I can just be morerelaxed about my approach to my career.
Do you feel you have to prove something coming fromthe modelling background?
Joy Bryant: Yeah a lot I mean I was a model I went tomy third audition with Denzel (Washington) for AntwoneFisher, I'd just come back from St Barts from aVictoria Secrets shoot I'm like hey hi, oh camerascool. And I auditioned against every young blackactress in Hollywood and even when I got the part Iwould hear people talk and some people thought I'dcompromised myself to get the part, you know what Imean? Or they'd be like, 'what does she know she'sjust a model' because even that's only five years agoso is not that long ago when I came into the businessit still wasn't cool to be a model, its still not coolnow but at least you have people like Diane Kruger,you have people like James King you have all thesegirls who had great modelling careers who've come intothis business and do some great stuff.
And some have even won Oscars.
Joy Bryant: Exactly. Go models.
How was it being on the set of Bobby, given there wereso many actors in this film?
Joy Bryant: Well it was like beautifully and reallysurreal because you know you go to the Hollywoodparties and you go here and you see these people but Istill get star struck so on the set I was like oh mygod Sharon Stone is standing next to me in craftservice line, hello. And I met Anthony Hopkins andHarry Belafonte and I seriously could have been theirgroupies like just follow them around all day. Butits not intimidating, I think that its just excitingand its great to be in the company of greatness andits great to be in the company of people who I respectand whose careers I've watched and who I've admiredand who I've studied and even if I didn't have a scenewith them just to be in the company of themautomatically makes we want to be as best as Ipossibly can be, so it was really trippy.
How was it like to work with Emilio Estevez?
Joy Bryant: Well again I going oh its Emilio,Breakfast Club, wow. He was so great and hisenthusiasm was infectious and he worked so hard to getthis movie made and did such a great job but also himbeing an actor and now directing, he knows what youneed and how to sort of bring things out and it wasn'tso much in telling you what to do on set but reallyabout creating an environment that when you steppedinto it you automatically became a part of it. Hegave everyone reading material and books and picturesand DVD's and most people are familiar with that erabut when you see the big screen and you watch theactual footage of Kennedy's speech you just like youwere there and so he just created that environment ohe was great, really, really great and he was in theBreakfast Club. Every time I see him I just want tosqueeze him.
What did you know about Robert F Kennedy?
Joy Bryant: Well I'm an avid reader of history fromwhen I was in school, I also majored in history incollege, so I knew about the climate of the time, butI didn't know the details of that night so being onset, watching the footage was sort of mind blowing, Imean everyone's seen clips of what happened and thespeech but to see it under those conditions gave it adifferent spin and I think what the movie stands forand what I walked away with, having thought I knew alot about it was how much an impact Bobby Kennedy hadin his life in terms of inspiring people and givinghope to the nation. As his brother did as MartinLuther King did. But then when he died there went thathope and that inspiration along with him and I thinkat least for America the country is still sufferingfrom the repercussions of that loss, and the onlything that's happened is that within a generation orso history has totally repeated itself in the sense ofwhat's going on right now.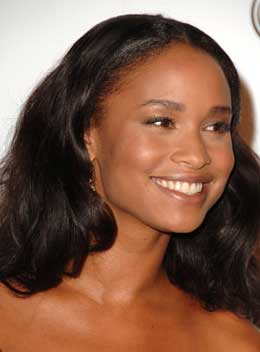 Would you say you're political?
Joy Bryant: Definitely well in the sense that I keepmyself abreast of what's going on to the best of myabilities. I mean I'm not going to get on a podiumand deliver some speech for some candidate or anythingbut I know what's going on I know the issues andwhat's possible. I'm not really radical in that senseI'm not going to stand in front of a tractor orsomething like that but I think knowledge is power soI try to get as much knowledge as I can.
You came from a fairly impoverished backgroundyourself. Has that been your greatest motivator?
Joy Bryant: Yeah. I wouldn't want anyone to gothrough what I went through. So the more chanceschildren have to just realise the possibilities thatare out there are great. I drive a hybrid I try to beenergy conscious I'm not like a flag burningenvironmentalist but I just try and do my part, do thebest and lend a voice when I can. I help some kidsand also I don't want to say be a role model but Icarry myself in a way that people can respect andthere might be someone who can take what I do andwhere I came from and go wow if she came from thereand she did all those things then I can do it to. Youdon't have to be an actor to do that stuff, just be agood human being that's all.
You still model right? Is it difficult to juggle thetwo careers?
Joy Bryant: Well I don't have the same modellingschedule like I use to when I first started, I'm notgoing to St Barts for Victoria Secrets although Iwould like to do but I signed a contract with CoverGirl last year and I've shot two campaigns for RalphLauren I mean it is a bit of a release in the sensethat I just have to stand there and look pretty(laughs). But both jobs kind of feed each otherbecause before I started even making movies I was justtaking classes and those helped me as a model becauseI was never one of those thinking she was so cool kindof girls. I'm a nerd I dropped out of college tomodel, so taking acting classes just helped me to feelbetter about myself and to know myself better so thatwhen I'm standing in front of the camera I'm not allfreaked out, I'm actually owning it. And then with themodelling what that taught me in acting is how to getover rejection because the rejection in modelling isbrutal. You'll never experience that kind ofrejection, not from a lover, not anywhere. Modellingis a brutal, brutal, cutthroat business so it gave methat toughness to be able to come in to this businessand be like all right, you don't want me? Okay that'scool, nothing personal, I'll move on. So they bothfeed each other.
---
Bobby
Starring
: Anthony Hopkins, Demi Moore, Sharon Stone, Lindsay Lohan, Ashton Kutcher, Elijah Wood, Helen Hunt, William H. Macy, Laurence Fishburne, Martin Sheen
In Cinemas March 8th
BOBBY is a fictionalised account of various people whose lives intersect in the hours leading up to and including the assassination of Senator Robert F. Kennedy at the Ambassador Hotel in Los Angeles.
The film is a journey of the heart that examines the relationships between men and women, between races and the social divisions that have clipped away the foundation of our humanity. We are given a glimpse into how life can be drastically changed in a moment of time, by an indelible event US history.
The characters are ordinary Americans who find themselves at the epicentre of one of the most important incidents of the 20th century.
BOBBY is not a political story, though politics are certainly an undercurrent. It is not the story of Bobby Kennedy (seen solely in newsreel footage). Rather, it is the story of all of us.
BOBBY is seen through the eyes of twenty-two characters. The hope, excitement and notion that a change was in the air, which Kennedy ignited in us all, black and white, rich and poor, young and old was extinguished that evening in June. From young men in their late teens to early twenties, facing the possibility of shipping off to Vietnam, to the retired doorman of the Ambassador, who has greeted the likes of every US President from FDR to Johnson. From the hotel staff to the guests whom occupy the suites, to the "Youth of Kennedy Volunteers", all ages, races and genders are represented in the screenplay.