Kate Alexa I'm Falling Interview
Talented Kate Alexa's latest single, I'm Falling will be stuck in your head for days because it's so catchy and dance-floor ready! The single is from the stylish upcoming album, Infatuation which proves Kate's drive, determination and a real go-getter attitude.
Question:
How would you describe I'm Falling?
Kate Alexa
: I'm Falling is a really fun, flirty pop song that is about falling in love and the butterflies, heart skipping a beat and wanting to be stuck in the amazing romance!
Question:
What was the main motivation for Infatuation?
Kate Alexa
: The album is a reflection of me over the past few years and what I've been doing and experiencing.
Question:
Can you talk about the process behind creating Infatuation?
Kate Alexa
: It feels as if I have been working on it for such a long time. From when you initially sit down and begin writing and creating demos of songs and then you have a whole bunch of tracks and you have to choose which ones are going to go onto the album. From there I recorded the chosen songs properly and then they are mixed and mastered. Creating an album is a much longer process than what people realise, it takes quiet a long time.
Question:
How does it feel to hear you music, played back?
Kate Alexa
: Exciting! It's such an exciting time to hear the album. When I actually got the physical copy of the album it was powerful!
Question:
Do you write your own songs? What's your inspiration?
Kate Alexa
: Yes! Everyday life inspires me, from friends to things you're going through in relationships; life in general inspires me.
Question:
What music/artists do you listen to when you are not playing your own?
Kate Alexa
: I love all music; I love everything from the Skyhooks to Jack White to The Foo Fighters, Gwen Stefani to Kylie Minogue to Aqua. I like a mix of music.
Question:
Was there a moment you contemplated throwing in the towel?
Kate Alexa
: No! Never…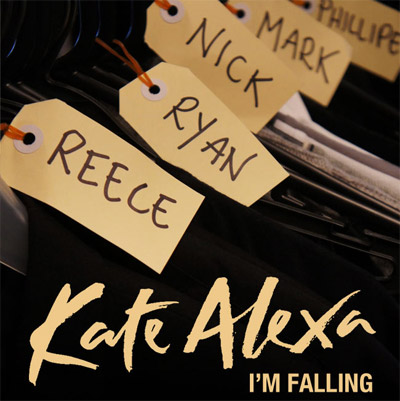 Question:
Do you prefer performing live or recording?
Kate Alexa
: That's a difficult question because they're both very different. I find writing and recording to be very therapeutic whereas performing live gives you such adrenalin and a great feeling. I think they both really complement each other.
Question:
What/who was your inspiration to go into the music industry?
Kate Alexa
: Growing up I always loved performing as I grew up in a music family and I was always listening to music and wanting to make music. I looked at artists like Kylie Minogue, Madonna and Gwen Stefani in No Doubt and they inspired me.
Question:
What is the biggest challenge you have faced along the way to your musical success?
Kate Alexa
: One of the things I've found difficult with the new album was finding which direction I wanted to go in, how I wanted the album to sound and what I wanted it to be like. Once I figured out the direction of the album it was a very exciting time putting the album together and now I'm excited to have everyone else hear it.
Question:
What has been your favourite part of becoming a music artist?
Kate Alexa
: Being able to get out there, perform and have other people hear my music is really exciting and being recognised for what I'm doing, musically.
Question:
If you could collaborate with another artist, who would it be?
Kate Alexa
: I love Eminem because he is such an amazing lyricist and I think a collaboration would be cool because we are both so different.
Question:
What's the main message you would like your music to say to your fans?
Kate Alexa
: With music you always want people to be able to relate but different people gain different things from music and I want people to relate to my music and make them feel happy or change their mood.
Question:
What's a typical day like, for you?
Kate Alexa
: At the moment, because the album is about to be released, I am doing a lot of press and rehearsing with my band. It's a very busy time, but it's also very exciting.
Question:
What advice do you have for someone who wishes to enter the music industry?
Kate Alexa
: You need to be very persistent and passionate. If you believe in what you're doing other people will believe in it to.
Question:
Do you have a website fans can visit?
Kate Alexa
:
katealexa.com.au