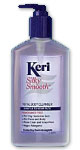 TOTAL BODY CLEANSER
Crystal clear, lathering and soap free for face and body. Will not aggravate sensitive skin. Cleans thoroughly without stinging, irritating or drying skin. Rinses refreshingly, leaving no film of residue. Gentle on face and will not block pores.
Beauty Consultant's Note:
Effective no fuss cleanser, does the job without any side effects of blocked pores.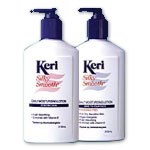 DAILY MOISTURISING LOTION
Enriched with vitamin E, can be used on hypoallergenic skin with no aggravations. Fast absorbing into your skin instantly as it works with your own hydration system. Tested and recommended by dermatologists. Will not block your pores.
Beauty Consultant's Note:
Handy pump action for everyday use. Non-greasy, fast absorbing, no irritation on sensitive skin.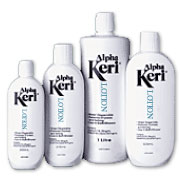 LOTION
All over treatment for dry skin. A soothing emollient, which locks in moisture and relieves dryness and itching. The pH level of Alpha Keri does not interfere with the normal acid nature of the skin. Excellent for relief following the recovery from dermatoses where skin is dry, scaly, itchy and lichenified. Also beneficial for shaving rashes, after sun exposure and when the skin has been encased in plaster of Paris.
Suitable for infants and babies for relief in atopic eczema, eczematous dermatitis, nappy rash, milaria, as a sequel to measles and chickenpox.
Beauty Consultant's Note:
Soothing and effective on dry scaly skin, plus sunburn.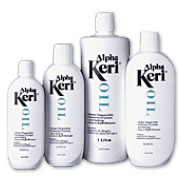 OIL
A completely dispersible, soothing emollient oil which lubricates skin without a greasy feeling and minimises evaporation of natural oils from the skin. For the relief of itchy, dry and mild skin irritations. For use in the relief of atopic dermatitis, pruritus senilis, neurodermatitis, ichthyosis, soap dermatitis, eczematous dermatitis and other conditions manifesting dry pruritic epidermis.
Can also be used on infants and children to soothe prickly heat, nappy rash atopic dermatitis and dry scaly skin.
Beauty Consultant's Note:
I tested this on prickly heat and nappy rash, excellent, really works.
For stockists visit
www.mentholatum.com.au