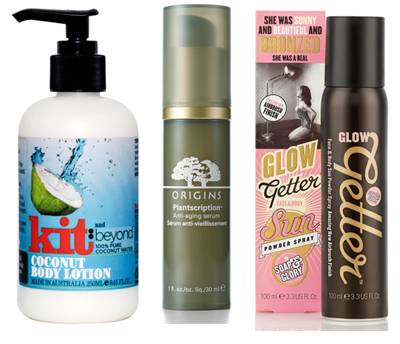 Kit Cosmetics Body Lotion, Serum and Glow Getter
Kit Cosmetics Limited Edition Coconut Body Lotion
In collaboration with Beyond 100% Pure Coconut Water, Kit have mixed a delicious coconut scent with all the good moisturising stuff like coconut oil, shea butter and vitamin E to produce this super-duper amazing you'll-want-to-eat-it-straight-out-of-the-bottle body lotion. It also comes jam packed full of great Aussie ingredients like Kakadu plum, quandong and lilly pilly. You've been warned: this product has addiction status written all over it.

Origins Plantscription Anti-Aging Serum
Who says the only solution to stopping wrinkles in their tracks is an appointment with your plastic surgeon? This new anti-ageing serum is powered my mother nature and works by rebuilding fibrillin, collagen and elastin in skin. The secret? An ingredient known as African Anogeissus discovered deep in the heart of Ghana. Origins Plantscription was tested in a study on women aged 42-63 and the following was recorded after 12 weeks of usage:
57% reported a clinical reduction in the overall appearance of lines and wrinkles
64% reported a clinical improvement in visible skin lifting
41% reported a clinical improvement in skin firmness
And a significant improvement was noted in the reduction of the dynamic lines located between the eyes.

Soap & Glory Glow Getter
Goodbye summer, goodbye glow, right? Not anymore. Soap & Glory's new baby Glow Getter is a sun powder spray that provides a fabulous air-brush finish, without an ounce of mess. Even better news is the fact you can use this anywhere - on your face, décolletage, arms and legs. It's a blast of beach for when we most need it.