Lachlan Cosgrove and Jordan Finlayson Hot Girls Interview
Lachlan Cosgrove, winner of the 2011 series of 'Beauty and the Geek' has released his new single 'Hot Girls' featuring girlfriend Jordan.
The first Beauty / Geek couple to have come from the reality show, Lachlan and Jordan are excited to showcase their debut single to their fans; and to show Australia that they are still together and going strong!
"We both currently live together in Sydney" Lachlan comments; "I never thought I would pursue a career in music but being the winner of Beauty & The Geek has given me the opportunity to pursue this interest and I don't want to waste it!"
Lachlan has teamed up with Sydney based producers, Hit City, to create this track.
'Hot Girls' is available now exclusively on
iTunes
.
View the making of Hot Girls
On YouTube
.
Interview with Lachlan Cosgrove and Jordan Finlayson
Question:
How would you describe the track, Hot Girls?
Lachlan Cosgrove
: Hot Girls was really great fun. I started out wanting to use some of the money I had won from Beauty and the Geek to do something that I enjoy and that is music, I was hoping to have a few songs recorded professionally and it snowballed into this project that turned out to be Hot Girls with a film clip, which I didn't envisage when I started. It has been an interesting ride which has been fun at times but also stressful at times; all in all it has been a big learning curve.
Question:
How was it working on a joint project?
Lachlan Cosgrove
: It has been good! We have been together for over six months now and we still get along very well although having been together for a little while now we have had a few tiffs but I had so much fun working on the track, Hot Girls, with Jordan; I was really glad that I could get Jordan involved.
Jordan Finlayson
: It was really fun to work with Lachlan on Hot Girls, he is extremely talented and I was very, very lucky that he wanted to include me on his track. He made up a little rap and he was surprised that I can speak really quiet fast and rap which was quite amusing.
When we were in the studio we were mucking around and the 'ooohs' and the 'give it to me baby' was us mucking around (laughing) and the producer put it together and we thought it was funny actually!
Question:
Before you entered the house, did you ever think you'd enter a relationship?
Lachlan Cosgrove
: Most certainly not! It's still really strange to think it all happened when I was on a reality television program. Obviously it's a very good thing!
Jordan Finlayson
: I had no idea and I would never have expected it in a million years. I was very lucky and I did win in my own way (laughs).
Question:
Have you always wanted to be in the music industry, Lachlan?
Lachlan Cosgrove
: No, not at all! I've always enjoyed music - singing and playing my guitar but there is a lot of talented people out there and a lot of people that work for years and years. I just am lucky enough to have some level of a public profile that might make people stop and listen to my song, if they like it or not - that's another thing! I am proud that I have been able to do something that I really enjoyed and that I could share that with Jordan.
Question:
Can you talk about filming the video, for Hot Girls?
Lachlan Cosgrove
: The film clip was a very different experience! I play a few different characters in the film clip for Hot Girls. It wasn't all fun because it was hard at times, it wasn't hard work as such but getting the shots that we needed took over six hours. It was a very different experience to filming a reality television show, it was another learning experience!
Jordan Finlayson
: Filming the video clip was a very long, long day and it was stressfully. At the time I must admit I was a little jealous but I did hire the girls, personally, for the clip and of course there was nothing to be jealous of. Any girl couldn't help but to be a little jealous in that situation, I trust him very much!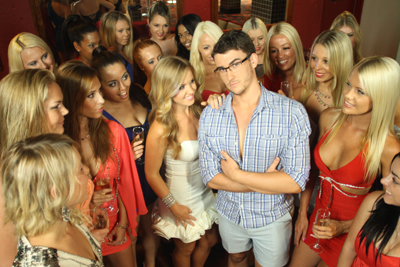 Question:
You've collaborated with Jordan and Larykan for this track, who else would you like to collaborate with, musically?
Lachlan Cosgrove
: I was joking with Jordan (laughing) the other day about a track that featured Ashton Kutcher because Wikipedia states that he initially invented Beauty & the Geek and of course he has millions of Twitter follows and would help get a bit of attention!
Question:
What music do you listen to?
Lachlan Cosgrove
: I am a big Coldplay fan and I like Jack Johnson and John Mayer - my music style is quite different to them. I will listen to anything from classical through to rock music as long as it has a nice melody and a good beat.
Question:
How did you celebrate after winning Beauty & the Geek, Lachlan?
Lachlan Cosgrove
: It was so long ago… I celebrated by going home, seeing my family and sleeping to be honest! Beauty & the Geek was such an intense experience and the emotional and physical exhaustion was so great that the best way to celebrate was really to sleep and rest! At the same time the winner's announcement was under embargo for another 12 weeks after I'd won - I couldn't tell my parents, I couldn't tell anyone! By the time that the final episode finally aired, it was strange - I didn't need to celebrate, I was almost over it waiting!
Question:
How has your life changed, since you entered the Beauty & the Geek house?
Lachlan Cosgrove
: It's changed not just a little bit but a whole lot! I took an unexpected Gap Year from University and I am living in Sydney now - everything has turned on its head!
Question:
Lachlan, how have you maintained your look since your makeover? Does Jordan help you out with that?
Lachlan Cosgrove
: Sometimes I'll look down at what I am wearing and nothing I am wearing I owned before the show and a lot of that is Jordan's doing (laughing) although she hasn't won the argument over my old underwear, I am still hanging onto some of my old underwear that she doesn't like because they're always comfortable!
Question:
What's next for you guys?
Lachlan Cosgrove
: I'll see how this song, Hot Girls, goes. I definitely want to get back to University but I will probably be changing to a Sydney University so I can stay with Jordan. Jordan is back into her normal life of cheerleading, promotional work and dancing. We might see how the music goes, Jordan is a dancer by trade and I'd like to put out a dance track where she can show what she's made of in terms of her dancing capabilities! We are enjoying life together and seeing what happens.
Jordan Finlayson
: I have been back with my cheerleading team and I am back into teaching and dancing. I'm not sure where I am going with the dancing, I love teaching children and I hope to get into children's entertainment - that's my goal. I am currently doing a Television Presenting course and I am looking at working along those lines.
Interview by Brooke Hunter
Image: Hit City Studios