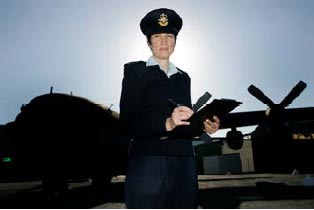 PROFILE - Lisa Mansell, Logistics Officer (45 years old / Munno Para, South Australia)
Lisa Mansell began a new chapter in her life when she joined the Royal Australian Air Force (RAAF) earlier this year. Entering through the Direct Entry Officer (DEO) program, Lisa says she's been able to realise her full potential, working as a Logistics Officer. Recently graduating from initial Officer training, Lisa says she looks forward to being challenged in her new career, which could see her posted anywhere in the world.

At 45 years of age I decided to join the Royal Australian Air Force, and in June this year, I graduated from the Direct Entry Officer Program as a Logistics Officer. The program provided me the opportunity to fast track my career into the RAAF, and there's no doubt that it was the right choice for me.

I'm from Adelaide and divorced with two children. Before entering the Air Force I principally worked in sales related roles and in administrative support services. A few years ago I entered University as a mature aged student and developed a keen interest in the RAAF. However, due to family commitments at the time, I was not able to pursue this career path.

Dissatisfied with my civilian work life, I wanted to find something that would help me attain world-class skills; provide me with a challenge; and test my personal limits. My father, sister, brother and former husband have all been associated with the Defence Force, and this provided me with a valuable and well-rounded insight into military life.

I started researching opportunities within the RAAF and discovered the DEO program. I learned that this would fast track my career into the Air Force.

Now a Logistics Officer, I am responsible for the acquisition, control and support of modern and valuable equipment vital to the operation of the Air Force. My extensive experience in administration and finance as a civilian has given me the necessary organisational skills to provide this support. As I gain further experience and knowledge my role will be both tactical and strategic across the single service, joint and combined arenas.

This career change has certainly broadened my horizons; I now have an entirely different outlook on life and I wake up every morning looking forward to the day ahead and the challenges it will offer.

I have a keen interest in photography, and given the opportunity I hope that my role with the Air Force will allow me to capture photos in far-reaching corners of the globe.

The Royal Australian Air Force has provided me with the knowledge and leadership skills to pave the way to an interesting and rewarding future.

My family is very proud of what I have achieved and I feel honoured to be part of such an amazing group of Australians representing my country. The RAAF has helped me realise my full potential.