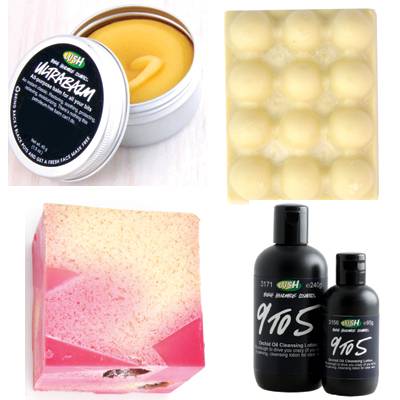 Lush Fresh Handmade Cosmetics
Ultrabalm:
A fantastic multi-purpose balm to help soothe and calm bits that chap and chafe.
Exceptionally emollient for the skin, Ultrabalm works to smooth out any roughness and to relieve dry, cracked skin. A recipe so beautiful in its simplicity, this balm is purely a blend of organic jojoba oil, candelilla wax and rose wax - all of which are intensely skin softening and soothing. Jojoba oil especially, as it's a liquid wax that resembles the skins own natural oils, meaning it's absorbed easily and effectively into the skin. Perfect for any skin type, this multi-purpose balm can be used as a lip balm; to alleviate dry skin around the eyes; to shape brows into place; to banish dry heels and elbows; to soothe sore, chapped hands; to calm sunburn; or to soften cuticles. Be sure to have one with you at all times!
RRP: $7.90 for 40g

9 to 5 cleanser:
Orchids and everlasting flower soothe and clean the skin thoroughly with a mild antibacterial action. 9 to 5 is great for taking off stubborn make-up and gives a fresh feeling after use.
Simply smooth some on; remove with cotton wool and voila! Light and gentle, it's made with almond oil, dove orchids and everlasting flower absolute.
RRP: $7.95 for 95g or $15.95 for 240g

Hottie solid massage bar: This new solid massage bar is for seriously sore muscles! Hottie is specifically moulded with bumps that enhance any massage with extra pressure to get the circulation going. The jojoba and butter base melts onto the skin quickly to allow a smooth and sensual experience. We use vanilla absolute for its cozy aroma; it's also moisturising for the skin and softening in combination with shea and cocoa butters. Black pepper and ginger oils are stimulating and help to release muscle tensions and aches. A Hottie like this one is sure to get you going.
RRP: $9.95

Summer Pudding soap:
Good enough to eat. We wouldn't blame you if you took a little lick, or even a nibble at this dessert inspired soap. Almonds create a creaminess that moisturises and gently exfoliates, whilst juniper berry and glace cherries leave you smelling indulgently sweet.
RRP: $5.95 for 100g

To pick up these and many more ethical, cruelty free cosmetics visit Lush shops nationwide. For shop details and mail order, please call 1300 587 428.