SERVES: 12
BASE
15 Highland oatmeal biscuits
1 tablespoon (15g) Flora Light® margarine melted
2 teaspoons skim milk
cooking spray
FILLING
1 x 500g tub low-fat cottage cheese
125g Light Philadelphia® cream cheese
? cup sugar
300g frozen mango cheeks defrosted
2 x 200g tubs diet mango yoghurt
1 sachet mango flavoured lite jelly crystals
1 tablespoon gelatine
? cup boiling water
? cup passionfruit pulp (about 3-4)
To make base: In a food processor crush biscuits. Add melted margarine and milk, blend together. Coat a 22cm spring-based cake tin with cooking spray, press biscuit mix evenly over base. Refrigerate.
To make filling: Clean food processor. Blend cottage cheese until very smooth, add cream cheese and combine well. Slowly pour in sugar, mix until dissolved. Add defrosted mango and mix until combined. Pour mixture into a large mixing bowl. Add yoghurt and combine using an electric beater. Dissolve jelly crystals and gelatine in boiling water then pour into mixture, beat well. Pour filling over biscuit base. Refrigerate. Once set spread passionfruit pulp evenly over top of cheesecake.
VARIATION: REPLACE FROZEN MANGO CHEEKS WITH 800g CANNED MANGO SLICES DRAINED.
SUITABLE TO BE FROZEN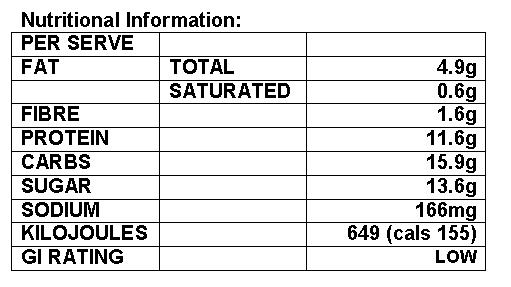 www.girl.com.au/symply-too-good-to-be-true.htm