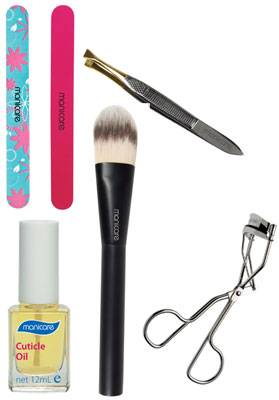 Manicare Top 5 Products
Australia's favourite beauty brand, Manicare is now available from the Niche showroom! Manicare offer beauty products that are essential to every girl's beauty cupboard. From face and body to hand and nail, they have everything covered! See below for our favourite Manicare products!

Cuticle Oil: An essential in every girl's beauty cupboard, Cuticle Oil will nourish your nails and cuticles, keeping them in top condition. Containing natural apricot kernel oil, coconut oil, wheatgerm and aloe vera.
RRP- $13.50

Foundation Brush: Manicare's professional quality foundation brush has ultra fine bristles for a flawless finish. The brush can be used for all types of foundation including liquid, cream, powder and sticks.
RRP- $13.95!

Slant Tweezers: A vital beauty tool, Manicare's tweezers use the finest quality stainless steel for precision use.
RRP- $8.95

Nail Files: Available in bright, fun and colourful designs, Manicare's nail files are a fashion accessory! Everyone should keep a nail file in their handbag to ensure nails are kept in perfect shape all the time!
RRP- $5.20

Eyelash Curler: To create vivacious, show stopping lashes, Manicare's eyelash curler will do the trick! Using the finest quality stainless steel and long lasting silicone rubber that offer superior cushioning for your lashes!
RRP- $11.95!

The complete range of Manicare is available from Priceline, Target, Big W and Selected Pharmacies.
Call 1800 651 146.