Marjon Van Grunsven OVO by Cirque du Soleil Interview
OVO, meaning "egg" in Portuguese, is a headlong rush into a colorful ecosystem teeming with life, where insects work, eat, crawl, flutter, play, fight and look for love in a non-stop riot of energy and movement.
When a mysterious egg appears in their midst, the insects are awestruck and intensely curious about this iconic object that represents the enigma and cycles of their lives. It is love at first sight when a gawky, quirky insect arrives in this bustling community and a fabulous ladybug catches his eye - and the feeling is mutual.
The cast of OVO is comprised of 55 performing artists from 14 countries specialising in many acrobatic acts. One highlight of OVO is the stunning Flying Act in which a group of scarabs soar high above the stage, from both edges to the middle landing on a platform. This breathtaking act combines many circus disciplines: banquine, Russian swing and swinging chair.
The Creative Team behind the world of OVO is: Artistic Guides Guy Laliberté and Gilles Ste-Croix; Writer, Director and Choreographer Deborah Colker (first female director at Cirque du Soleil); Director of Creation Chantal Tremblay; Set and props Designer Gringo Cardia; Costume Designer Liz Vandal; Composer and Musical Director Berna Ceppas; Lighting Designer Éric Champoux; Sound Designer Jonathan Deans; Acrobatic Equipment and Rigging Designer Fred Gérard; Acrobatic Performance Designer Philippe Aubertin; and Makeup Designer Julie Bégin.
Cirque Du Soleil OVO 2012/2013 Australian Tour
Brisbane - From July 14 2012, Northshore Hamilton
Sydney - From September 13 2012, Showring at The Entertainment Quarter, Moore Park
Adelaide - From December 6 2012, Tambawodli (Park 24)
Melbourne - From January 17 2013, Melbourne Docklands
Perth - From April 14 2013, Langley Park
Tickets for OVO are on sale now at
www.cirquedusoleil.com/ovo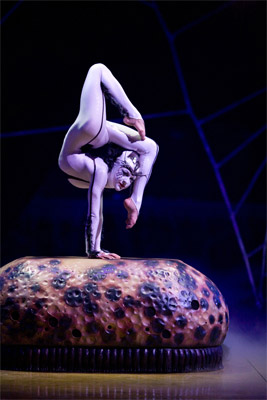 Interview with Marjon Van Grunsven, Artistic Director for OVO
In April 2007, Marjon joined Cirque du Soleil as Artistic Director on Delirium which closed in April 2008.
Native from the Netherlands where she received her Bachelors degree in Dance and Theatre in 1995, Marjon lived and worked in New York from 1992 until 2000 as professional dancer, teacher, choreographer, composer, producer as well as Certified Pilates instructor. After New York City, she moved to Paris to continue her work there for a year and a half. She briefly moved to South Korea, to return to Paris again.
Back in The Netherlands in 2003, she re-mounted her dance company: Memento Dance Company (founded in New York City in 1996) and travelled with it all over Europe, United States and Canada. In 2004 she opened her own studio in The Netherlands called: Memento Bodyworks, studio for Pilates - Body Therapy and Performing Arts. Many international teachers from the theatre and dance world come to teach at her studio.
Marjon is a renowned teacher/choreographer and an often seen guest at international Dance workshops and festivals.
She will be under the supervision of Luc Tremblay, Senior Artistic Director, OVO.
Question:
What originally inspired you to join Cirque du Soleil?
Marjon Van Grunsven
: The first time I saw Cirque du Soleil, it was Alegria in 1994/1995 in New York City. I was so moved by the fusion of the work, the show. Every working human being was integrated into the spectacle. An artist would have JUST finished an incredible acrobatic act, to then continue to clip cables, to prepare for the next act, make way for his or her colleagues and give their performance the energy and power it needed, focus, strength, concentration, imagination… the technicians joined in perfect fusion, in the preparation all set and staged, to the wonderful and touching music, played live. The costumes, the set design, the dream comes true, truly…
As a choreographer, I knew, after having been originally inspired by Pina Baush for my work with my company, that I wanted to go in this same direction of perfect fusion, and love for the art and the audience… to find the exchange with the audience and the performer, enabling a different performance each and every time the show would be performed. To be open, alert, to listen, to receive and to give in exchange… One cannot do without the other.
I told everyone who wanted to hear it at the time, that I would be willing to hold the follow spot, if ever I was asked, JUST so I could be a fly on the wall, and learn about the magical ingredients that make this company such a success.
Life happened, my company took off, I travelled the world choreographing and teaching, opened my own performance arts and production studio in Holland, and so I never actually pursued this dream.
I was contacted in 2007, and asked to join Delirium as artistic coordinator, later this position became the position of Artistic Director.
It was like a dream come true. I never imagined I would actually work for the company, but here we are today and I am still here loving every single moment of it!
Question:
Can you share your first Cirque du Soleil experience, with us?
Marjon Van Grunsven
: I can share a bit more… Delirium was Cirque's very first arena show. I think that Cirque wanted to learn how to produce an arena show as they had plans to transfer some of their older big top touring shows to arenas as more markets would become available for Cirque's wonderful shows, but they had to learn how it worked.
So they did, and so did I with them...
As I first arrived to watch Delirium, meet the cast and crew, teach some workshops, I was a little overwhelmed… the show was so big, so heavy, so incredibly different from anything Cirque had EVER done! It was beautiful and I got to direct it, artistically, help it evolve and manage all artists and artistic team. It was tough, rock 'n roll almost, with the same pace as a rock 'n roll tour! I know we were exhausted, but looking at the artists, who were simply amazing, each and every day it was worth every second of it!
Question:
Can you explain what your role as the Artistic Director is?
Marjon Van Grunsven
: When a Cirque show is created, a whole production team i.e. the Director of creation, the actual Director (Metteur en scène) is present. None of the show creators work permanently for Cirque, except for sometimes for the Director of Creation, who puts the creative team and the production team together and is pretty specific to the Cirque method. So the show is created and it then premieres, as a small baby. The day after the world premiere, the full creative and production team leave, and the Artistic Director receives the show. It is now the responsibility of the Artistic Director to make the show mature, evolve, NOT change it, stay within the limits of the concept of creation, respect it.
I manage on OVO a cast of 54 artists and an artistic team of 11 people. I am in close relation with the technical department, all technicians, as we cannot do the show without them!
I am supported out of Montreal by a Senior Artistic director who follows the show from afar and provide me with what we need.
Myself, I travel with the show all year long. I watch the show regularly and decide what needs 'fixing and cleaning up'. I do a lot of advanced planning for the cities to come, so as to get the full team on board with the artistic vision and things that need to be done. I give notes to the artists daily.
But the role of an Artistic Director on tour is also one of a confidant to the artists, a friend, a mother sometimes, a guide, a mentor and a teacher and for sure, sometimes also the enemy because I am their boss.
I have been told 'It is one of the most demanding roles at Cirque', but it is one that is most worth it, very rewarding and very humbling!
Question:
Can you talk about how Cirque du Soleil OVO was created?
Marjon Van Grunsven
: Guy Laliberte, our owner and founder of the company, came up with the idea to create a show about ' Insects'. He contacted Deborah Colker, a Brazilian Movement Director, who was brilliant at putting big productions on the stage, using wonderful set designs, and pieces and was original.
She had never worked on a Cirque show before, but was interested. So about a year after that, the Director of Creation, Chantal Tremblay, started putting her creative team together. She used the recommendation of Deborah Colker who had her own people she wanted to work with, such as the composer and the set designer.
Before we knew it, the ideas were rolling onto the tables of the creative meetings. 'A day in the life of insects, from morning, noon till night, with a story of love' where a ladybug falls in love with a fly from a different community, who arrives in their world, carrying a strange and very huge object on his back: an egg (OVO = Portuguese for egg).
The egg represents 'Life', reproduction, food, so many things but especially life. So if LOVE is the equivalent of LIFE then the egg represents both. The foreign fly falls in love with the ladybug and the community has no choice but to eventually accept this stranger into their lives.
But there is so much more than that! There are plenty different families of insect, butterflies, crickets, ants, spiders, cockroaches and so on.
Deborah Colker realised, that if she wanted to use a cricket, it would be super incredible to use a Cirque du Soleil acrobat. A cricket can jump three times its own height, so can an Olympic trampolinist! She said, 'I can hire trampolinists that can become crickets!" and so she did.
It was great fun to think about all these opportunities that Cirque had to offer!
Then in September of 2008, the first bunch of artists arrived at International Head Quarters in Montreal, where all shows are created. The second bunch arrived in December 2008 and then by February 2nd 2009, the first official staging happened that I got to watch, as a fly on the wall (How appropriate, for a show about insects?)
So I watched almost all of the creation OVO, listened to as much as I could, so as to understand the vision of Deborah Colker. I use it to this day; her favorite words were: 'Energy, Precision, Movement! Oh and 5-6-7-8!
It was GREAT to be part of the creation of OVO! Long hours, but GREAT!
Question:
What is a typical day like when working on Cirque du Soleil OVO?
Marjon Van Grunsven
: I get up early, check my emails at home with a coffee then go to work at around 11am on most days, but I try to have a few later starts in there too. The show comes down most nights and places at around 10:30om so that makes a long day. We have plenty of meetings before show call, which on a double show day is at 2:30pm and on a single show day 6:30pm (those are the days I can start a bit later)
The different departments meet with each other, we discuss, we plan, we organise, and we follow courses like any other big company has its employees do. Some of our acts require daily training, so those artists are coming in earlier than show call… starting mostly at noon.
The artistic team is present, as soon as there are artists on site. We train, we rehearse, I sometimes invite guest teachers, coaches, for the artists as well, so we can stay alert and keep the creative juices flowing.
Then, we go into prep mode for the show, we cast our show, (meaning, we talk through the line-up of our show), we eat (I almost forgot to mention that) and then Voila, the show starts! Always an exciting moment!
At the end, the standing ovation of about 2600 people is beautiful and so rewarding!
Question:
How did your previous work with Memento Dance Company prepare you to work with Cirque du Soleil?
Marjon Van Grunsven
: Nothing can prepare you to work for Cirque Du Soleil really. think you have to have passion, drive, commitment and love for life! Memento Dance Company was all that but as I mentioned above, Cirque inspired me in my work with Memento Dance Company so it was almost like to all meant to be, in the end.
Question:
What can Australian audiences expect from Cirque du Soleil OVO?
Marjon Van Grunsven
: Love, life, laughter, amazement, energy, lots of colors, amazing acrobatics, GREAT uplifting music, pleasure! It's the numberone entertainment for the whole family!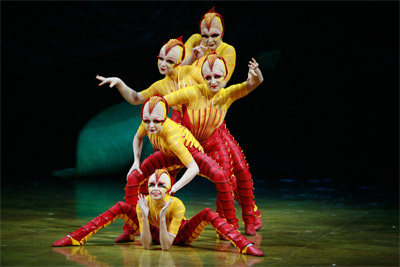 Question:
What's different about Cirque du Soleil OVO in comparison to previous Cirque du Soleil performances?
Marjon Van Grunsven
: I will say that the difference is that there are NO Human characters at all in this show; all characters represent insects. There is a very clear story line, which is simple and beautiful and tells the story of a ladybug who falls in love with a foreign fly, who stumbles upon a community of insects. The story is one day in the life of this community, from morning, noon till night. The story is about acceptance and love. A very happy, positive story, full of energy, and of course, incredible acrobatics!
Some of our shows tend to have a mystical and darker side, OVO is definitely not that. It is colourful, energetic and never stops. Audiences of all ages, fall in love with OVO and that is exactly what we wish to see happen.
Question:
Can you talk about the acrobatic acts we'll see on stage during Cirque du Soleil OVO?
Marjon Van Grunsven
: We have an incredible flying act - that contains three different disciplines (this is very new for Cirque and has never been done in a big top before, this is the biggest flying act cirque has in a big top). We have a fused trampoline, powertrack and wall climbing act which is an absolute trademark for our show! As well as footjugglers from China (Note: our show counts 16 different nationalities within the cast), Contortion, Spanish web, slackwire, juggling, handbalancing…and more.
Question:
What do you enjoy most about being part of the Cirque du Soleil community?
Marjon Van Grunsven
: The feeling of being part of a huge family on OVO we have 126 people working for the show. A lot of those people travel with their family so that doubles the family right there! Then, many of those families have children 26 in total right now! I love coming on site and having four kids running up to me, telling me what they learned in school today, how beautiful is that?
The community is worldwide though. If I travel to another show, I feel just as welcome than on my own show.
Question:
Do you find traveling with Cirque du Soleil difficult?
Marjon Van Grunsven
: Absolutely not! How many people can say, that they have an incredible job AND on top of that, get to see the world?
Question:
You have a Bachelors degree in Dance and Theatre; when did you first know you wanted to pursue a career in dance?
Marjon Van Grunsven
: When I was four years old, lying on my back on a stage my sister had just performed on. We got a back stage tour, but I stayed behind staring at the robes, the sets that were 'rigged' up and knew, I was in my element… I never left the stage since then.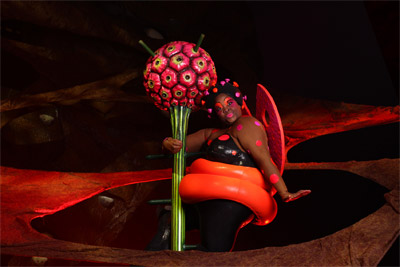 Question:
How often do you dance, everyday?
Marjon Van Grunsven
: When I was still performing, I danced about eight hours a day. Now…I dance on my way to work.
I try to teach the cast as often as I can, but recently it has been quite to a minimum. I can't wait to be in Australia and pick up my dancing again, in the meantime, I dance, as much as I can…
Question:
What inspires you when you are choreographing?
Marjon Van Grunsven
: Life, stories, people, music, human interaction and spirits, believe it or not my fantasy is very big and I believe truly, that we are constantly surrounded by entities that guide us, I see them, feel them and listen to them…they inspire me. Art inspires me too, any kind of art. Buddhism inspires me, India and Africa inspires me.
Interview by Brooke Hunter