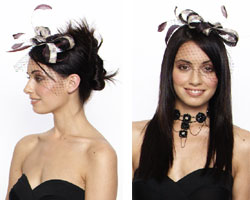 This year it's all about the hair according to Joe Gibara and Braun

While much of the flurry around Melbourne Cup focuses on what's worn on the head, according to leading Australian stylist, Joe Gibara and the hair styling people, Braun, this year, dressing up for the races is all about the hair: "Don't hide fantastic hair under a hat. The look this Spring is a sleek, chic hair style, presented with minimal accessories!" said Joe Gibara.

So wherever you're watching the races, with only two weeks until Melbourne Cup day, Joe Gibara recommends: "For a great race look, create a super sleek finish to long or medium length hair with Braun's Independent Steam and Straight cordless hair straightener. Then finish off with a feathers or a subtle accessory for maximum effect - there are plenty of small accessories around that add a touch of the Cup without going overboard".

Braun Independent Steam & Straight is cordless and fits nicely into a handbag, so take it with you for a quick touch up if necessary.

"Pictures courtesy of Braun Independent Steam & Straight"