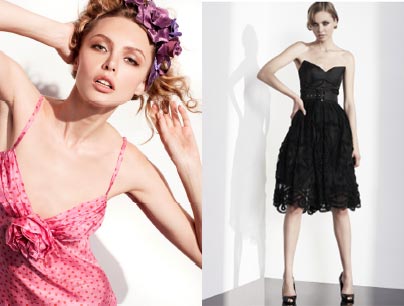 Escape to the Jardin de Paris
Let Moss & Spy lead you through the Jardin de Paris, with an elegant, sophisticated and distinctly Parisian collection for Spring/Summer 08/09. Imbued with timeless French style, this tres jolie collection from designer Lia Tsimos was inspired by the eternal elegance and romance of the city of lights.

Lia, who has spent time living and studying in France, says of her collection fro SS08, "I wanted to bring the elegance and glamour of Parisian style to Australian women. French women have this seemingly effortless way of looking chic almost all of the time. I often visit Paris, and I can sit in a café for hours at a time, just watching the people. I love their innate sense of style".

Candy stipes, muted neutrals and black and white prints capture classic Galic chic. Silk dresses and floaty skirts in bright, flirty colours, and frivolous polka dots evoke the Jardin des Tuileries in all its vivid color.

Beautiful lace dresses are hand-finished with intricate detail - several specialist makers are employed locally to work on these delicate creations. A breathtaking ivory wedding dress, which trails the ground, is an extraordinary standout. The Moss & Spy signature gala gowns are showstoppers, swathed in playful flounces of tulle or adorned with bold bows, in a colour palette of gold, ivory, black and watermelon.

Moss & Spy's debut capsule collection of whimsical lingerie is simply too delicious to keep to one's self. Sexy French knickers, bras and lacy camis in chartreuse, magenta, and black & white print are ooh la la, candy stripe pyjamas and shorts are haute-lounge, and the stunning long, black negligee is a statement piece you won't want to confine to the bedroom.

Sophisticated, glamorous and unique, Moss & Spy exists on the fine line between soft and bold, feminine and masculine, creating perpetual ambiguity and embodying classic French style.