Stuck for a Christmas Gift Idea and don't want to spend a fortune on gits that may not be enjoyed......

Mrs Fields has the perfect solution, a present and card all in one, a Mrs Fields Cookie Card. Delicious and beautifully presented in a Christmas box, the perfect gift for friends, family or work colleagues and especially chocolate lovers. Enter for your chance to win.
A card, a gift.... one simple solution
The time has passed spending too long scouring the gift card isles for that perfect message to portray your heartfelt thoughts. Because now, thanks to the cosy ovens and creative minds of Mrs Fields, comes a card with a real difference - introducing the Mrs Fields cookie card!
Lovingly made to order and decorated by the skilful cookie artists at Mrs Fields, this innovative gift card is actually a card and a pressie all boxed up in one, making it the simple solution. The choice is completely yours with that special someone in mind - choose from an array of delicious moist cookie bases, vibrant icing colours and of course, an individual message for any occasion.
Presented beautifully in its own gift box, the cookie card will wow anyone from all walks of life and ages across the board. There is even space on the inside of the card to address your offering to its surprised and adoring recipient. And to add to the already perfect gift idea, Mrs Fields have made ordering a breeze. Drop into any store, order your custom-made cookie, and scoot off for a spot of shopping while the cookie artists work their magic. Your personal, decorated cookie card will be brought to life and ready for collection upon your return.
Mrs Fields gorgeous cookie cards really are the ideal gift solution for someone who has everything, as well as being a personal way to tell friends and family (in very delectable terms!) you care.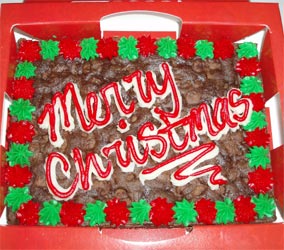 The famous Mrs Fields cookies are thick, luscious and soft baked, free from artificial colours, flavours and preservatives. All cookies including cookie cards are baked fresh daily on-site, making them super delicious.
So when the time comes again for the great gift dash this Christmas, by-pass the standard gift card and pick up a fresh and yummy Mrs Fields cookie card!
For stockists log onto
www.mrsfields.com.au
.
Mrs Fields also offers Cookie Cards for Birthdays.