Starring
: Drew Barrymore, Hugh Grant, Brad Garrett, Kristen Johnston, Campbell Scott, Haley Bennett
Director
: Marc Lawrence
Rated
: PG - Mild sexual references, infrequent mild coarse language
In Cinemas 14th February


Alex Fletcher (HUGH GRANT) is a washed-up 80s pop star who's been reduced to working the nostalgia circuit at county fairs and amusement parks. The charismatic and talented musician gets a chance at a comeback when reigning diva Cora Corman invites him to write and record a duet with her, but there's a problem-Alex hasn't written a song in years, he's never written lyrics, and he has to come up with a hit in a matter of days.
Enter Sophie Fisher (DREW BARRYMORE), Alex's beguilingly quirky plant lady, whose flair for words strikes a chord with the struggling songwriter. On the rebound from a bad relationship, Sophie is reluctant to collaborate with anyone, especially commitment-phobe Alex. As their chemistry heats up at the piano and under it, Alex and Sophie will have to face their fears-and the music-if they want to find the love and success they both deserve.
The film co-stars Brad Garrett as Alex's steadfast manager, Kristen Johnston as Sophie's sister, Rhonda, and Campbell Scott as Sophie's novelist ex-boyfriend. Newcomer Haley Bennett plays young, pop princess Cora Corman.
Castle Rock Entertainment presents, in association with Village Roadshow Pictures, a Reserve Room Production: Hugh Grant and Drew Barrymore in Music and Lyrics, also starring Brad Garrett, Kristen Johnston and Campbell Scott. Written and directed by Marc Lawrence, Music and Lyrics is produced by Martin Shafer and Liz Glotzer. Nancy Juvonen, Hal Gaba and Bruce Berman serve as executive producers, with Scott Elias and Melissa Wells as co-producers. The director of photography is Xavier Pérez Grobet. The production designer is Jane Musky. The film is edited by Susan E. Morse, A.C.E. and the music is by Adam Schlesinger.
Music and Lyrics will be released by Warner Bros. Pictures, a Warner Bros Entertainment Company, and in select territories by Village Roadshow Pictures.
www.musicandlyrics.com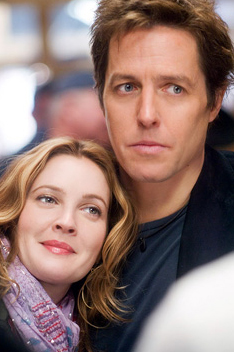 Review: What an awsome combination of talented actors Drew Barrymore & Hugh Grant. The mess together in perfect harmony and comedy. For those of you how can recall the 80's you will get an extra kick out of the 'pop' band takeoff. Loved it!