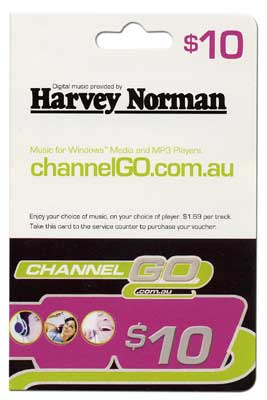 If you are stuck for gift ideas or simply don't know your friend or family member's taste in music, then log on to destra media's website
www.MusicVouchers.com.au
and click on 'buy music vouchers' to purchase a voucher for use on either of the destra media digital stores
JBHiFiMusic.com.au
or
ChannelGO.com.au
Music vouchers range in value from $5 up to $100 and allow the recipient to redeem their choice of music online at either of the digital stores.
One of the advantage's of shopping online at JBHiFiMusic.com.au or ChannelGO.com.au is that you can buy tracks in the MP3 format which ensures you can upload your music selections to most portable players, including iPod's leaving you in control of the digital music you've purchased.
Destra media digital stores feature the following:
Over 1.7million tracks available for download

50,000+ tracks available as MP3's

Music catalogue includes artists from some of the biggest independent labels and distributors worldwide including Beggars Banquet, Play It Again Sam and V2.

Individual tracks $1.69 each

Albums starting from $16.95

destra media is the largest digital music provider in Australia with access to over 1.7 million tracks from major and independent record companies including EMI, Sony/BMG, Shock, Warner and Inertia.

destra media, a division of destra Corporation, was the first company in Australia to launch a legal digital music download service in December 2003, offering music through its network of online retail partners. Online music stores in partnership with JBHiFi and Harvey Norman are currently the only digital stores in Australia offering music from multiple labels in the MP3 format.

www.MusicVouchers.com.au