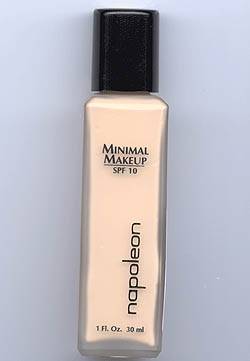 NEW FORMULATIONS ARE THE FOUNDATION OF NAPOLEON COSMETICS

Napoleon's popular foundation, Minimal Makeup, has been given a whole new lease on life, thanks to a revolutionary new formulation which ensures the sexiest looking skin.

Always a staple Napoleon product, Napoleon Minimal Makeup continues to cater for the discerning generation of cosmetic lovers who want international glamour combined with cutting-edge performance.

While Napoleon Minimal Makeup was already a leader in the competitive foundation market, Napoleon added some extra ingredients to ensure Napoleon Cosmetics fans are getting the best foundation on the market today.

"Minimal Makeup is a huge seller because of the sheer, oil free coverage it provides with a sun protection factor. Now, I have added chamomile to the formulation to sooth skins which can be irritated in modern environments, and extra antioxidants to fight aging," Napoleon said.

"It still looks almost invisible, firms the skin and doesn't settle into lines, but now it also sooths delicate complexions and has even more powerful youth-boosting benefits for the sexiest skin ever!"

"Like the original formulation, it also contains Echinacea, vitamin C and moisturisers," Napoleon said.

Like all good star products, Napoleon Minimal Makeup performs in an ever-competitive cosmetics market thanks to Napoleon's dedication to identifying market needs and providing them to his customers.

Napoleon Minimal Makeup retails for $55 and is available at all Napoleon Concept Stores, selected Salons and Myer/Grace Bros nationally. For stockists, call 1800 814 572.