Embark on a wild adventure through the wilderness on November 30 at the IMAX Sydney for a very special IMAX 3D version of Open Season, Sony Pictures' newest animation film!
Open Season: An IMAX 3D Experience (G), which debuted at # 1 in the USA, is backed by an amazing voice cast, including Aston Kutcher, Debra Messing, Martin Lawrence and UK's favourite comedian, Billy Connolly.
"The amazing immersive quality of IMAX 3D will give moviegoers an opportunity to experience Open Season, the first full-length animated motion picture from Sony Pictures, in a very special way," says Mark Bretherton, Chief Executive Officer, IMAX Sydney.
In this animated action-adventure comedy Open Season, Boog (Martin Lawrence), a grizzly bear with no survival skills, has his perfect world turned upside-down when he meets Elliot (Ashton Kutcher), a scrawny, fast-talking wild mule deer. When Elliot convinces Boog to desert his idyllic existence living in a garage decked out with all the comforts of home, and try the "wild" life, things quickly spiral out of control. With open season upon them, Elliot must help Boog get in touch with his inner grizzly to unite the woodland creatures and take the forest back!
"Open Season 3D is a must watch for families or anyone looking for movie entertainment," says Bretherton. "The 3D effect offers the sensation of being not just inside the theatre, but almost inside the movie itself. Audiences will duck for cover as acorns fly overhead and feel the roller-coaster-like thrill of going over waterfalls, all on the giant screen and will literally be able to feel the sound thanks to the state-of-the-art digital surround sound."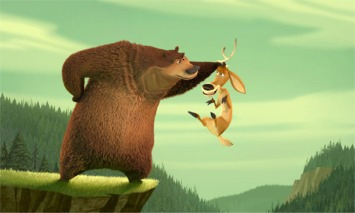 Open Season is based on the humour of cartoonist Steve Moore ("In the Bleachers") who, along with John Carls, serves as executive producer. The film is directed by Roger Allers (director of The Lion King) and Jill Culton (Monsters, Inc. and Toy Story 2) and co-directed by Anthony Stacchi (Antz).
Open Season 3D will open simultaneously with the 35mm release nationwide on November 30. It has been digitally converted into IMAX 3D and re-mastered into the unparalleled image and sound quality of The IMAX Experience® through IMAX DMR® (Digital Re-mastering) technology.
IMAX Ticket prices: Adult $22.50. Child $17.00. Family (2 adults/2 children) $60.00. For information on screening times please call (02) 9281 3300 or log on to
www.imax.com.au
.