GIRL gets up close and personal with successful ultra marathon runner, Pat Farmer.
Having run across the United States of America, around Australia and vertically to the height of Mount Everest, Pat Farmer is considered an elite athlete in his sport of ultra marathon running. His on-going performance of courage, endurance and 'purity' puts him in a class of his own.
Pat holds two world records for crossing the Simpson Desert, is ranked third in the world for 1,000 miles on a track and came second in the 4,719km Trans America run in 1993.
He is a patriotic Australian, an Australia Day Ambassador and has a strong public profile. An accomplished public and motivational speaker, Pat also prides himself on being an "average" Australian, albeit one who pursues exceptional challenges. He is also a landscape gardener with a passion for our Australian landscape.
Pat dedicates much of his public life to charity. He represents many charities and is constantly on the lookout for new challenges that help generate awareness about various causes involving people less fortunate than himself. For instance, in 1998 Pat ran up and down Sydney's 87 floor AMP Tower for a marathon 24 hours to raise money for autism, establishing a new record for vertical long distance running - climbing 101,934 stairs (equivalent to running up Mount Everest).
In the 1995 Trans America race, he led the field along with a rival competitor, by two days at the two week mark. At that point, he suffered a stress fracture in his leg, but completed the next 50 days to finish fourth despite his nagging injury.
Although having endured personal tragedy with the sudden loss of his wife three years ago, Pat has turned this tragedy into inspiration, by motivating others to overcome adversity and fulfil their dreams.
Pat's major achievements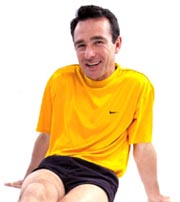 1999
· Established fastest Around Australia Long Run Record of continuous running in 191 days and 10 minutes over 14,662.4km
during his Centenary of Federation run, beginning and ending in Canberra (commenced 31 May, 1999 and finished 191 days later)
· Broke the record for the Brisbane to the Northern Territory run (2,535.4km in 33 days) by eight days
· Established a new record running from Tweed Heads (Queensland border) to the Northern Territory border (2,649km)
· Broke the Brisbane to Darwin (3,955.2km in 51 days) record by nine days
· Broke the Northern Territory Continuous Run Record (2,201km in 29 days) by five days
· Established a new World Record for the Long Tropics Run (6,307km in 83 days) by 16 days
· Established a new Darwin to Perth Record (4,217km in 53 days) by a staggering 16 days
· Broke the record for running from Brisbane to Perth (8,204.7km in 105 days) by 24 days
· Set a new World 10,000km Record in 129 days (33 days less than previous record)
· Set new Record for the Western Australia Border to Border Run (4952km in 62 days) by 33 days
· Broke a long standing Australian record of more than 13,383km in 174 days (43 days less than previous record)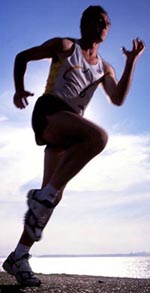 1998
· The first person to run 24 hours vertically climbing both up and down (at Sydney's AMP Tower)
1995
· Pat Finished fourth in the Trans America Road Race despite running 50 days with a stress fracture in his leg
1993
· A virtually unknown Pat Farmer secures second place in his first attempt at the Trans America Road Race
Other sporting achievements
· Twice-world record holder for crossing the Simpson Desert
· Ranked third in the world for 1,000 miles on a track
· Ran 2,500km around NSW for charity in 42 consecutive days
· Numerous international and national ultra marathons, including the first 1,000 mile track race in Australia - the second race of its kind anywhere in the world.