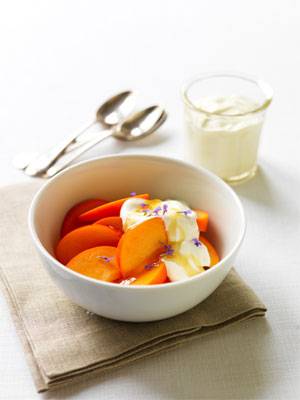 Persimmon with Honeyed Yoghurt
Ingredients

4 persimmons (Fuyu variety)
1 cup Greek yoghurt
1/4 cup honey
1 tablespoon lemon thyme leaves
OR
1 tablespoon lavender

Method
1.Slice persimmons into wedges and divide between 4 bowls.
2.Dollop with Greek yoghurt, drizzle with honey.
3.Scatter with thyme or lavender flowers, serve.




Red Papaya with Ginger Syrup
Preparation time: 5 minutes plus 30 minutes chilling
Cooking time: 10 minutes
Serves 4

Ingredients

1 cup caster sugar
1 1/2 cups water
50g piece ginger, sliced thinly
2 teaspoons lemon juice
2 red papayas, skin removed, seeded and cut into thin wedges
dessert biscuit, to serve
Note: serve with dessert biscuits such as biscotti, macaroons or shortbread.

Method
1.Place the sugar and water in a small saucepan over low heat.
2.Stir until the sugar dissolves then increase the heat to medium and add the ginger and lemon juice.
3.Simmer for 8-10 minutes until reduced and thickened slightly. Remove from the heat and refrigerate until cold.
4.To serve, arrange papaya wedges on serving plates or bowls then drizzle with syrup (you may either remove the ginger before serving or keep it in the syrup).
5.Serve with dessert biscuits.