PROJECT ROCKIT is a brand new anti-bullying and youth leadership program for school students, developed by acclaimed young ROCKIT scientists Lucy and Rosie Thomas. Lucy, the older of the two sisters revealed today that PROJECT ROCKIT owes its immediate success to the formula of infusing rock/pop music with positive messages that young people can best relate to.

"PROJECT ROCKIT strives to achieve positive, lasting change in the lives of fellow young people. We recognise young people's strengths and endeavour to cultivate the personal leadership to further develop them," Lucy said today.

"We understand that sometimes the real world can be difficult. PROJECT ROCKIT launches energy for life, providing the tools to develop resilience so that hardship can ignite one's potential rather than extinguish it. We're young. We know your world - we'll rock it!"

Australian shows that the average radio listening time for 10-17 year olds is 25 hours and 43 minutes per week (Nielsen Media Research, Commercial Radio Average of Five Capital Cities, Mon-Sun 5.30am-12mn, Survey #5 2005). PROJECT ROCKIT jumps on this obsession with music to address a range of school issues, with a particular focus on those that relate to, or may be fuelled by bullying.

"We go further than just suggesting that you ignore bullying, walk away or tell a teacher," said Lucy. "For PROJECT ROCKIT, the student is the expert. We argue that if any change is going to occur within a school, the teachers have to be involved, the parents must be behind it, but ultimately it's up to the students to make a difference."

PROJECT ROCKIT is not just anti-bullying. PROJECT ROCKIT is personal mastery. It is youth leadership. It is teambuilding. It is peer respect. It is anger management. It is affirmative body image.

PROJECT ROCKIT is taking off this year in Victorian schools for years 5, 6 and 7. For more information, check out www.projectrockit.com.au and feel free to contact PROJECT ROCKIT about any bullying related stories.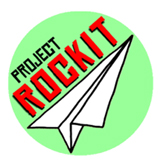 What are the outcomes of Project Rockit?
A clear and shared understanding of what bullying is, and the range of strategies available to students when dealing with bullying.
A united and empowered group of young people who are prepared to tackle bullying together. This will have a ripple effect over the whole school.
The emergence of positive role models and leaders who may not have previously been viewed or formally acknowledged as leaders.
Positive, lasting, change in the school culture towards bullying.