Renaissance Man
Don't be fooled by the name, Renaissance Man is actually DJ duo, Downtown and Jaxxon. A self-attributed name when they used to work in an architecture firm, Renaissance Man is "used to jokingly describe our friends ... working in several fields simultaneously - the typical young urban freelance type of lifestyle"(Dazed Digital).
So how did they get from working in an architecture office to being established groundbreaking DJs? The story is that they combined forces to design a new club, which they opened and started their own monthly night NOW!, having guests such as Boy 8-Bit, Radioclit, Duke Dumont, Mowgli and Zombie Disco Squad. Both have always been heavily into electronic dance music and used to sometimes DJ at friend's parties.
Renaissance collaboration 'Spraycan' (2008), left the likes of Switch, Brodinski, Riva Starr and Duke Dumont raving on about them and soon became the soundtrack to Stereosonic Festival 2009. Described as playful, horn-laced, but heavy-hitting bass sound (Beatportal), 'Spraycan' released on Switch's influential label Dubsided. This was followed by 'Rhythm' on the Kitsuné Maison 7 compilation, and an EP on Institubes sublabel Sound Pellegrino, 'What Is Guru'. This track was one of 2009's underground hits, making Renaissance Man highly sought after as remixers for the likes of Brodinski, Crystal Fighters, Health and Le Corps Mince de Françoise. Their original tracks and remixes have seen support from fellow DJ's including Diplo, Annie Mac, Claude Von Stroke, Tiga and Jesse Rose.
Renaissance Man has demolished dancefloors worldwide such as the Social Club (Paris), Hive (Zurich), WMF (Berlin), Loop (Tokyo), Fabric (London) and headlined at major music festivals such as Les Transardentes (Belgium), Igloofest (Montreal) and our own Stereosonic Festival last year.
Totem presents Renaissance Man Australian Tour
10-Jun-10 8 Bit Kidz at Rocket Bar, Adelaide
11-Jun-10 Generic Collective 1st Birthday presents Renaissance Man at The Civic Underground, Sydney
13-Jun-10 CBD Hotel, Newcastle
17-Jun-10 Monastery, Brisbane
18-Jun-10 The Espy, Melbourne
19-Jun-10 LaDiDa, Melbourne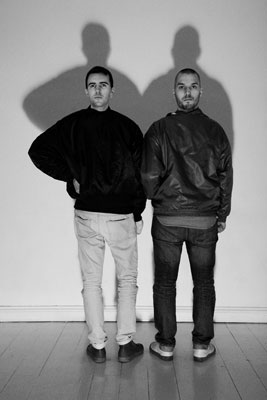 Interview with Renaissance Man
You used to work in an architecture office- did you ever think your work would be recognised worldwide?
Martti
: Well, no not really, when we started playing music together it was more just to try it out for fun, which is when we were performing in clubs at that time. We then put together music that we had made and it all picked up from there, almost by accident. There were no big plans or expectations; it just happened, by accident, a happy accident.
What is the story behind Renaissance Man?
Martti
: It was an ironic trademark or label to begin with. Then we started using it in music, it is a joke name we used for our friends; as we are making music as well as arts, graphic and designer. It's ironic to an extent.
How would you describe your music?
Martti
: Usually it would be described as house particularly techno. I like to describe it as house with a sense of humour, that is a good description of a lot of the stuff we do.
What music/artists do you listen to when you are not playing your own?
Martti
: I like to listen to this French guy called Ark, who just released a new album a few weeks ago. I also like to listen to non-dance music as well.
Do you prefer performing live or recording?
Martti
: I enjoy DJing quite a lot, we are getting increasingly better every time.
Interview by Brooke Hunter