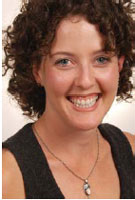 Name: Sarah Knox
Occupation: Brand Manager, Air Wick
Age: 28

What does your job involve?
Managing all aspects of the Air Wick brand which includes the products Electrical Diffusers, Decosphere and FreshMatic. Day to day activities include launching new products, doing market research, developing the product, the fragrances, the packaging and planning advertising.

How did you get there?

studied mainly languages at university and tried interpreting when I first left but realised I wanted a job that was more creative and varied so I went into marketing.

started in beauty care as an assistant brand manager for Clairol Herbal Essences.

What's the best part of your day?
Discussing and deciding on the vision and future of the Air Wick brand and all the exciting activities to get it there. I also enjoy selecting fragrances to use in our products.

And the worst?
Forecasting!

What's the worst job you've had?
I worked at an in-bound call centre after I had just finished studying - it was way too repetitive!

What is your career highlight so far?
Working with a team that has brought Air Wick to market leadership in the air care category.

What are your wise thoughts on working?
I work most effectively and productively if I have a good balance and variety of activities during the day as well as after work.

What skills does someone need to do your job?
A commercial background, an understanding of consumer psychology, an interest in consumer trends, organisation, persistence and vision.

What do you do to relax?
I love dancing, speaking Italian and cooking for my friends!