Sharnita Crompton 2012 Winter Youth Olympic Team Interview
Sharnita Crompton hails from Erina on the NSW Central Coast and plays ice hockey for the Newcastle Northstars. Crompton was the youngest member of the Australian Team that competed at the 2011 World Championships, winning a silver medal in division three.
The 2011 Australian Women's Ice Hockey League Rookie of the Year and 2009 National Women's Tournament Rookie of the Year qualified for the Individual Ice Hockey Skills Challenge at the WYOG with an exceptional 6th place performance at the Global Skills Challenge in Finland.
The girl whose family has been speed skating and playing ice hockey for generations hopes to be the captain of the Australian team one day. She has been playing ice hockey since 2006.
Recent Performances
2011 Global Skills Challenge (Vierumäki, Finland) - 6th
2011 World Championships - 2nd (division 3)
2009 - 2011 Australian Ice Hockey League - 1st (Newcastle Northstars)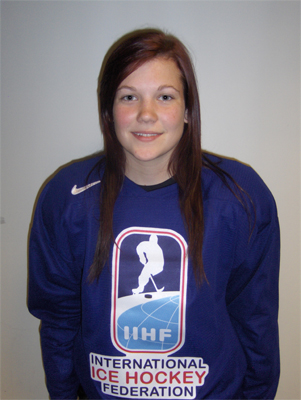 Interview with Sharnita Crompton
Question:
Can you explain the Ice Hockey Skills Challenge which is a new event for the Winter Youth Olympic Games?
Sharnita Crompton
: Sure! There are six disciplines or events:
The first is a fastest lap where I race against another opponent and you go backwards for half a lap and forwards for half a lap and if I beat my opponent, I move on to the next round. The winner will get the best score.
The second is a puck handling challenge where you are challenged by moving in and out of cones, your puck handling is challenged and then you skate as hard as you can, until the end of the line.
Another challenge is a passing challenge, you start on the blue line, in the centre and there is five nets stationed around the courts and you have to pass into miniature nets.There is also an agility challenge where you skate in and out of cones, which are shaped as a box, as fast and hard as you can.
Question:
How did it feel when you were selected for the Australian 2012 Winter Youth Olympic Games team?
Sharnita Crompton
: It was amazing! When I was 13, I travelled to Sweden with the team which was a level below the Australian team for a development camp and from then I said "I am making the Australian team no matter what I do!" I made the Australian team, this year and I am working to further my career in Ice Hockey. When the Youth Olympic team was introduced, I trained as hard as I could and ended up placing sixth out of sixteen.
Question:
You have travelled extensively with your sport, where do you enjoy playing most?
Sharnita Crompton
: I enjoyed Canada the most but I learnt the most in Sweden, Sweden was definitely a turning point for me, in my hockey career. When I returned from Sweden I was a lot more skilled and that was one of the most amazing camps, I have been too.
Question:
Can you talk a little bit about the preparation you are doing for the upcoming Winter Youth Olympic Games?
Sharnita Crompton
: Sure, at the moment I am doing sprint training and I am in the gym at least three times a week doing weight, cardio and core training. I am also trying to do some training, each day, in the backyard, with the puck and my sisters.
Question:
Can you talk a little about your training schedule?
Sharnita Crompton
: I train every single day.
Question:
What originally inspired you to try out Ice Hockey?
Sharnita Crompton
: Ice Hockey has always been in the family, my step-dad played when he was younger and my Dad always knew about it. When the rink opened up, near our home, I thought 'why not give it a go?'
Question:
You're 17 - how do you find time to train around working?
Sharnita Crompton
: I work full time which really suits me because I finish at 2:30pm every day and that gives me time to go on to train, straight after. If I have something on at night, like a group training session, finishing at 2:30pm also gives me a chance to train before we go because I train in Newcastle.
Question:
What do you enjoy most about Ice Hockey?
Sharnita Crompton
: I enjoy the diversity of Ice Hockey - it's never the same thing. Anything can change a game - I think that is what I enjoy the most. I really like skating, I feel very free when I am on the ice, it is my little 'thing'.
Question:
Can you share your future goals in regards to Ice Hockey, with us?
Sharnita Crompton
: I'd love it if there was something similar in the senior Olympics, for me to move onto that - that would be amazing. My ultimate goal would be to become the captain of the Australia Ice Hockey team, I'd love to lead the team and hopefully get a Grand Final win - that would be amazing!
Question:
Is there someone you look up to that inspired you to begin ice hockey competitively?
Sharnita Crompton
: Yes, definitely! Amelia Matheson is my main women's coach and I have looked up to her for many years now and I still do. Amelia Matheson is on the Australian team and is a role model for me in every aspect, on the ice and off the ice; she is an amazing person who is a fantastic role model.
Interview by Brooke Hunter