THE PERFECT TAN FROM THE PERFECT BLENDS - SHE Cosmetics


The essence of SHE Cosmetics is the belief in providing beauty for body + soul. Combining the beneficial properties of nature's potent botanicals with sophisticated technology to enhance inner and outer beauty, SHE Cosmetics offers a collection of 4 luxurious bronzers perfect for the face and body.
Experience the nourishing qualities of pure cold-pressed essential oils and beautiful plant extracts with the divine SHE Cosmetics Golden Body Collection. With a natural and highly moisturising base, the dye-free formulas provide streak-free, even coverage for a 'golden goddess' tan.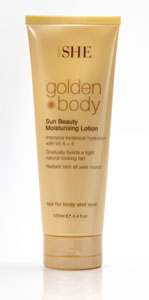 SHE Cosmetics Sun Beauty Moisturising Lotion
If you want radiant skin all year round you need SHE Cosmetics Sun Beauty Moisturising Lotion, the first all natural and botanical moisturiser. This light sweet smelling lotion gradually builds a light, even, natural tan whilst effectively hydrating your skin with botanical Vitamin A + E. Your skin will feel soft, supple and look like you're on a holiday all year round. For a natural looking glow simply smooth onto your body everyday. Exfoliate once a week with SHE Mermaid Salt Scrub to prolong your healthy glow and refine smooth skin. (Sun Beauty Moisturising Lotion $12.95)

SHE Cosmetics Sun Air Brush Bronze
Give your face and body an instant holiday sun kissed glow with SHE Cosmetics Air Brush Bronze. The ultra fine mist dries quickly with gorgeous, even tone which starts to develop in less than two hours and lasts up to seven days. The beneficial dye-free, oil-free formula contains Sugar Cane extract to give your skin immediate natural colour. Antioxidants help promote silky smooth skin while your beautiful tan begins to appear. To apply, firstly exfoliate gently with SHE Mermaid Salt Scrub. Next shake the can well and spray mist all over your body concentrating on one area at a time, holding the can approx 30cm away. Then simply blend thoroughly using small circular motions and allow to dry. (Air Brush Bronze $19.95)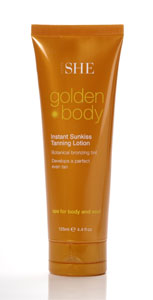 SHE Cosmetics Instant Tanning Lotion
For the most natural looking sunless tan try SHE Cosmetics Instant Tanning Lotion. This Botanical bronzing tint develops a perfect even tan in two phases. Firstly, the quick-drying streak-free light tinted lotion gives your skin immediate bronze colour. Secondly, the dye-free colour develops within 3 hours with a natural even tone that builds gradually for a beautiful glowing tan that lasts 4 to 5 days. Seductive Vanilla and Ylang subtly scents the skin while hydrating Shea and Aloe maintain your golden radiance. To tan instantly simply exfoliate thoroughly with SHE Mermaid Salt Scrub and apply the tanning lotion to dry skin, blending evenly all over your body. (Instant Sun Kiss Tanning Lotion $16.95)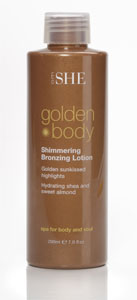 SHE Cosmetics Brazilian Bronzing Lotion
If you want the tan of a Brazilian beauty for one night only, or simply want to enhance your existing tan, you need SHE Cosmetics Brazilian Bronzing Lotion. A luxurious shimmer skin gloss with golden micro particles that light your skin with subtle radiance, to leave you with a scintillating sheer bronze glow. The exotic coco colour with delicious Vanilla, hydrating Shea and sweet Almond, creates the perfect Brazilian bronze from a dye-free formula that washes off easily. To shimmer, simply massage gently onto your skin wherever you would like a sun kissed glow. (Shimmering Bronzing Lotion $14.95)
For best results follow the golden rules for perfect sunless tanning on the rear of each product.
The SHE Cosmetics range is available from Priceline and leading pharmacies nationally. For stockist enquiries phone (03) 8317 0367
www.sheaustralia.com.au