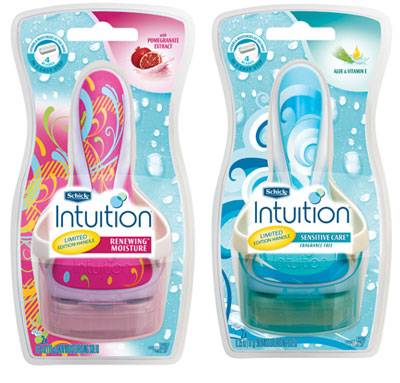 Schick Intuition All-In-One Razor
Schick® has announced the release of its Intuition all-in-one limited edition razor. The new design handle is available across 'Sensitive' and 'Renewing Moisture', providing no better reason to ensure that you still have silky, smooth legs as we move into the colder months.

Perfectly designed for time-poor women who embrace multi-tasking and want to keep their legs smooth and silky throughout the year, the limited edition Schick® Intuition is the only razor range that lathers and moisturises as you shave.

It's a simplified shaving experience featuring four blades surrounded by a Skin Moisturising Solid ensuring your legs look and feel gorgeous throughout the day, no matter what time of year. The pivoting head follows your contours allowing you to effortlessly glide across the skins surface for silky, smooth and soft legs. In addition, the Schick® Intuition 'Renewing Moisture' version, available with a hot pink design handle, incorporates the 'super fruit' pomegranate into the Intuition shaving experience.

So even if you're covering up your legs as the cold nights draw in, ensure your legs are still smooth and soft (no one likes the hedgehog effect when hair sticks out of the stockings!) with the effortless boost of the lush, limited edition design Schick® Intuition razors.

Review: Honestly, The Schick® Intuition range is one of the best razors I've ever used because it softly glides over the skin removing hair. I'd normally prefer to wax, but with the Schick® Intuition your legs are left feeling silky smooth, moisturised and hair-less, but best of all - it's quick and easy!

The Schick® Intuition range is available to purchase at supermarkets, discount department stores, Priceline stores and pharmacies nationwide at RRP of $12.69 and can be used with any Schick Intuition refill cartridges. Refills come in 3ct packs at an RRP $13.49.