Suzie Smith SYD2030 Interview
How much drama could you cause in 5 minutes? According to SYD2030… A LOT!
Love Gossip Girl or Skins but can barely find the time to keep up with the series? Why not watch a whole season in just over an hour.
Cheese on Toast Productions is proud to launch SYD2030, Australia's hottest new web series that has just taken out the "Best International Webseries" at the LA Film, TV and Webisode Festival.
In April SYD2030 competed in LA's highly acclaimed LA Film, TV & Webisode festival. This premier festival creates an international platform for TV pilots, Web Content and Digital Features, to be viewed and potentially picked up by industry greats. SYD2030 was 1 of 15 International webseries' chosen to be screened at the festival.
The last time an Australian won an International Webseries Festival was in 2009 with Nicholas Carlton and Sophie Tilson's OzGirl. OzGirl went on to be distributed by Fairfax, Tivo, Koldcast TV, iTunes and V Australia Airlines. SYD2030 hopes to follow in OzGirl's very successful footsteps after the win of their own.
This is an incredible opportunity to showcase young Sydney talent. SYD2030 includes an all local cast, crew, designers, sponsors, locations and distributers. With 12 episodes, approximately five minutes each, this is the perfect way to enjoy bite-sized pieces of entertainment without indigestion.
Boasting an impressive cast, including AFI Award winner Sophie Luck, SYD2030 follows the lives of five law university students, struggling to balance their hectic social lives with a demanding workload. While the textbooks are hefty and the teachers strict, it's the sexual escapades, drug overdoses, boozy scandals and naughty secrets that keep the students of SYD2030 really on their toes.
Despite filming in Sydney's wettest summer in history, not to mention the helicopter rescues, corrupted disks, broken equipment and some 21 hour shoots, SYD2030 is an impressive achievement for anyone, let alone a team of under 24's. It's time to rally up the support and get people following what already promises to be a big year for Sydney's SYD2030. Check out all the action at
www.syd2030.com.au
Interview with Suzie Smith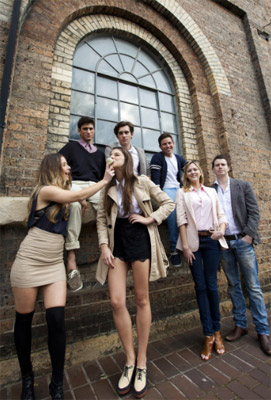 Suzie Smith is the the Producer and Publicist of the series.
Question:
How do you describe SYD2030?
Suzie Smith
: SYD2030 is a 12-part webseries that follows five ridiculously good-looking Eastern Sydney University Law students struggling to balance their thriving social lives with the demanding workload of law school. Described as Gossip Girl meets Skins, SYD2030 promises to showcase not only it's incredibly talented young Aussie stars - it will also spotlight another shining star - our beautiful city of Sydney.
SYD2030 Plot line: Cameron Hunter lives the perfect life - heir to a legal legacy, top of the class, beautiful girlfriend - but even he has his secrets. So when his past comes back to get him, how long will it take before the truth's revealed?
This year's law students aren't just making their mark in the classroom; these Eastern Suburbs socialites will stop at nothing to get what their hearts desire.
Follow the friendships of Australia's hottest web-series SYD2030, where the competition is fierce inside and outside the lecture halls. Seduction and love know no boundaries and trust and betrayal go hand and hand. So screw calm, get excited and don't be late for your first class.
Question:
How does SYD2030 relate to Gossip Girl and Skins?
Suzie Smith
: There has been a recent trend in television series around the world that has been focusing on young groups of people and their interaction and relationships between each other.
Both Skins and Gossip Girl are very different; one focuses on rich kids in New York the other rebellious English kids taking lots of drugs and having a good time. But both series are a journey; they focus on the struggle of the characters, their relationships and how they overcome their problems together- just like SYD2030.
SYD2030 borrows elements from both Gossip Girl and Skins - we focus on the over privileged and their struggle with having too much. But just like the characters from Skins - SYD2030's characters are no angels; they party hard, they love irrationally and get themselves in a lot of trouble.
Both shows have been so popular internationally; it was time for Sydney to have a drama of our own - with had a bit more an edge than Home and Away and Neighbours.
Question:
What inspired the creation of SYD2030?
Suzie Smith
: The vision behind SYD2030 is basically to produce content for young people by young people. We made a series about what we know; living and studying in Sydney and absolutely LOVING IT!
SYD2030 was a script and a dream, but together with A LOT of hard work we have made it what it is today - an International award winning webseries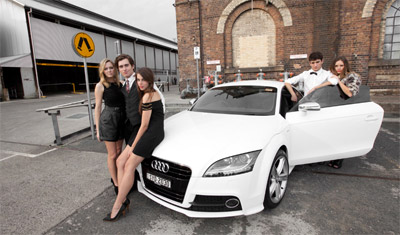 Question:
What classification would you give SYD2030?
Suzie Smith
: The internet has no strict classification system - so we have not officially labelled the videos. Although, the series does have sex scenes and shows illicit drug use so I would personally recommend it for an audience above the age of 15.
Question:
What research went into creating a series surrounding five law university students?
Suzie Smith
: There is nothing more real - than about writing what you know.
Tatjana Alexis our writer, director and lead actress of SYD2030 wrote about what she knew. Tatjana is a real life law student at UNSW and lives in Sydney's Eastern Suburbs. Sure she has exaggerated some of the characters and the situations they go through - but it is a "guilty pleasure".
People loving watching the rich and beautiful falling apart - that's why shows like Gossip Girl have been so popular.
Question:
What is unique about SYD2030?
Suzie Smith
: In order to distinguish SYD2030 from other Webseries out there and support local talent, everything from cast, crew, designers, musicians and locations were all specifically chosen to ensure they were Sydney-based. SYD2030 has become for us a platform for young, Sydney based artists who really want to showcase what young people can do!
Question:
Can you talk about the difficulties that you had to overcome when filming SYD2030?
Suzie Smith
: Filming was the best time of my life; we have been filming the series for over nine months and still haven't finished. Anything that could have gone wrong went wrong - but on our sets there are no PROBLEMS just solutions.
We filmed in the wettest summer in Sydney, we had locations pull out on in the last minutes, we only had an entire main cast with us for six days, which meant filming for 21 hours a day, surviving on about 45 minutes sleep. One day our camera memory cards was corrupted - so for a while it looked like when lost an entire days' worth of footage and we had a helicopter rescue of a fisher man in Watson's Bay whilst filming.
Seriously everything that could have happened … happened, and then some.
Question:
How did it feel to win Best International Webseries in the prestigious LA Film, TV & Webisode festival?
Suzie Smith
: It was the best moment of our entire lives! There was screaming, crying and just utter disbelief. It was really a moment of validation for all us- our hard work had finally paid off.
Question:
How did you collate group of actors for the filming?
Suzie Smith
: The actors are mix of friends, friends of friends and professionals from casting website
Starnow.com
Every person who has been on the SYD2030 set, has become part of our family.
Question:
When did Sophie Luck jump on board?
Suzie Smith
: Sophie Luck was on board from the very beginning - she was a friend of a friend of ours - and even did drama lessons when she was nine with Art Director Annika Drew. It is an extremely small world.
Sophie was so happy to be involved with the series. She was fantastic to work with; a true professional and one of the nicest girls you will ever meet.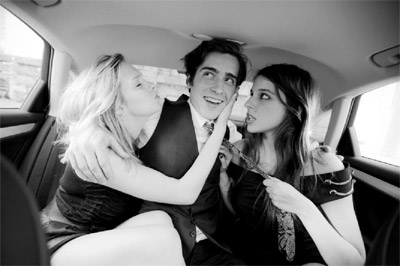 Question:
How did you go about funding the project?
Suzie Smith
: The series was completely self-funded. Over the last year we have put our lives, souls and whatever little money we have into making SYD2030. We are have relied on the generosity of our Sydney based crew, locations, designers and clothing companies to sponsor SYD2030 so we can really showcase the uniqueness of Sydney.
We have a motto here at Cheese on Toast Productions - the worse they can say is NO so ask for everything. We have put ourselves out there and it seems that the risks we have taken have really paid off. The actors and crew (including ourselves) were not paid.
Question:
How did Cheese on Toast Productions, come about?
Suzie Smith
: Cheese on Toast Productions (named after our favorite Uni snack) started with five friends Tatjana Alexis, Alex Barnett, Annika Drew, Alex Cayas and myself Suzie Smith. We all wanted to work together to make professional content for young people.
Majority of us were film students from the University of New South Wales. We all have a great love for film and wanted so to show the world what we could do! We are all extremely different, and have very different skills but it works. We love working together and hope to be working together for a long time to come.
We had a script, a dream and we did it. We made it happen ourselves and we are so proud of what we have achieved together.
Cheese on Toast Productions
(COT): Named after their favourite university snack at Uni, five talented university graduates created COT to make their mark on the global media industry. They may be young, but they've got ambition and are steadily gathering respect in the industry. Individually members of COT have created short films for festivals like Tropfest and the British Independent Film Festival. Collectively they've been commissioned to create a TVC for the Sydney based company Baron's Beer, which premiered at the sold out Bondi Short Film Festival in 2010.
Find out more about the festival and SYD2030 at
www.lafilmtvnewmediafestival.com
and
www.Facebook.com/SYD2030