The Avengers Team Casting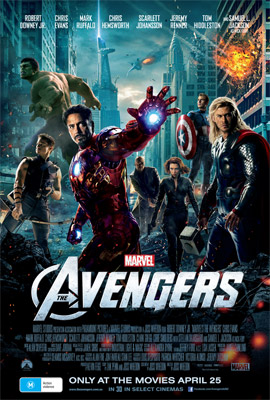 The Avengers
Cast
: Robert Downey Jr., Chris Evans, Scarlett Johansson
Director
: Joss Whedon
Genre
: Action, Sci-Fi, Adventure
Running Time
: 142 minutes
Synopsis
: In Marvel's The Avengers, superheroes team up to pull the world back from the brink of disaster when an unexpected enemy threatens global security.
Release Date
: April 25th, 2012
Website
:
www.Facebook.com/AvengersAUNZ
The Avengers Team
Iron Man (Tony Stark)
played by Robert Downey Jr.
On top of being an eccentric genius, a billionaire, a playboy and a philanthropist, Tony Stark (Robert Downey Jr.) is also the armored Super Hero known as Iron Man. Fresh off of defeating enemies the world over, Stark reluctantly agreed to serve as a consultant to Nick Fury's (Samuel L. Jackson) top-secret peacekeeping and intelligence agency known as S.H.I.E.L.D. Now, with a global crisis on the horizon and the fate of the world in the balance, Tony Stark must again power up his Iron Man armor to save the world and become a full-fledged member of The Avengers.

Robert Downey Jr. on Iron Man: "Tony Stark is open to all possibilities and has no problem accepting extraordinary happenings. Joining The Avengers team is an act of curiosity-he wants to see what's happening firsthand. He realised a while ago that he's not an island and this time around he is beginning to understand that it's about a group mindset and that 'we' is better than 'I.'"

Captain America (Steve Rogers)
played by Chris Evans
After a top-secret Super Soldier program transformed frail Steve Rogers (Chris Evans) into the powerful and heroic Captain America, his amazing WWII exploits made him a living legend. Steve saved New York City and turned the tide of the war, but crashed into the Arctic during his final mission. Awakening in the modern day, Steve learned that he had spent decades frozen in the icy tundra. Now, Steve Rogers finds himself alone in a modern world that he hardly recognises. When Nick Fury (Samuel L. Jackson), director of the international peacekeeping agency S.H.I.E.L.D., calls on Rogers to help save the world again, he quickly suits up as Captain America, taking up his iconic shield and bringing his strength, leadership and no-nonsense attitude to The Avengers.

Chris Evans on Captain America: "Big parts of Steve Rogers are his good nature, high morals and strong values. Those morals and values were created in a time when people treated each other differently. The level of interaction was a bit deeper. Everything feels one step apart with all of the technology we have now. A lot of the things that he believed in, stood for and loved have changed. They're not gone-they're just different. He's trying to find his footing in a modern world."

Thor (The God of Thunder)
played by Chris Hemsworth
An arrogant prince from the distant land of Asgard, Thor (Chris Hemsworth) was banished to Earth after his irresponsible behavior threatened his homeland. While in exile on Earth, Thor learned humility and helped save his new friends from a destructive threat sent by his brother Loki. In the process, Thor redeemed himself in the eyes of his father, Odin, the King of Asgard. After being welcomed back to Asgard as a hero, Thor must now return to Earth once again to prevent a cosmic-level catastrophe. With Mjolnir in his hand, a legendary hammer with immense power, the mighty warrior soon finds himself drawn into an unlikely alliance with Nick Fury's secret initiative, The Avengers, lending his power to their cause against his wayward brother, Loki.

Chris Hemsworth on Thor: "Thor has more of a personal investment in what's happening than the other Super Heroes because Loki is his brother. The bigger conflict for him is that he's trying to protect the greater good, but he has some deep questions about what is going on with his brother."

The Hulk (Bruce Banner)
played by Mark Ruffalo
After a gamma radiation experiment went awry, mild-mannered scientist Dr. Bruce Banner (Mark Ruffalo) found himself with a peculiar condition. When angered or provoked, he would transform into the uncontrollable, green-skinned monster known as The Hulk. Now, fearful of the damage that The Hulk could inflict, Dr. Banner chooses to live a discreet life in remote parts of the world, working to cure the sick and help the poor while trying to elude those who would take advantage of his ability to change into the enormous, green menace. When a mounting threat calls for Banner's specialised scientific expertise, S.H.I.E.L.D. Director Nick Fury recruits him, knowing full well that the incredible strength of Banner's alter ego, The Hulk, would be an asset to The Avengers.

Mark Ruffalo on The Hulk: "This Hulk is mercurial. He's very unpredictable; he's nuanced. There's a sense of humor there; there's an ability to communicate. But he's bristly and he's incredibly dangerous, like a wild animal. His rage feels real; his reactions to things feel human."

Hawkeye (Clint Barton)
played by Jeremy Renner
One of S.H.I.E.L.D.'s most elite agents, Clint Barton (Jeremy Renner), code-named Hawkeye, is the greatest living marksman on Earth. Armed with his weapon of choice, the recurve bow, Hawkeye fires his arsenal of custom-augmented arrows, specialised for any number of specific situations, with perfect precision. With the potential for global catastrophe on the horizon, he employs his amazing combat skills to fight alongside The Avengers.

Jeremy Renner on Hawkeye: "Hawkeye is alone in the game, an outcast and a loner; he's a lone wolf sort of character, so he's not a team player, but will be there if needed."

Black Widow (Natasha Romanoff)
played by Scarlett Johansson
S.H.I.E.L.D. Agent Natasha Romanoff, aka Black Widow (Scarlett Johansson), is one of the world's greatest spies and quite possibly the world's most skilled assassin. Armed with an extensive arsenal of specialised weapons like widow stings and cluster bombs, as well as a vast repertoire of martial arts skills, Romanoff's unique talents make her one of Director Fury's top agents and an integral part in assembling The Avengers.

Scarlett Johansson on Black Widow: "Black Widow is all business. She's sort of in a grey area. In a sense, she's been fighting the good fight despite her dark background. But she's committed because she has to be and her moral ground is more dutiful. She's militaristic in that way; that's how she knows right from wrong."

Loki
played by Tom Hiddleston
After his bid to overthrow the throne of Asgard was thwarted by his brother Thor (Chris Hemsworth), the evil Loki (Tom Hiddleston) retreated to lands unknown to plot his revenge. Not just against his brother, but against Earth, whose inhabitants Thor now protects. Loki now returns with a nefarious plot to conquer Earth and will stop at nothing to see his vision realised. When his misuse of power threatens the entire planet, it may take more than The Avengers to stop him.

Tom Hiddleston on Loki: "Loki's villainy is motivated by the fact that he's damaged and searching for his place in the universe, but in this film he's a lot more menacing and a lot more powerful. He's much more self-possessed. He's also a god, so he's more powerful than any human."

Nick Fury (Director of S.H.I.E.L.D.)
played by Samuel L. Jackson
As the legendary director of the international peacekeeping organisation S.H.I.E.L.D., Nick Fury (Samuel L. Jackson) is humanity's first line of defense against the world's biggest threats. When S.H.I.E.L.D. becomes aware of an evil that threatens global safety, Fury assembles the planet's most powerful beings and forms The Avengers.

Samuel L. Jackson on Nick Fury: "Nick Fury monitors a lot of things and when he sees a need, he generally goes against the grain; he rubs a lot of people the wrong way by taking actions in situations that they don't necessarily want him to take action in but he does anyway."

Maria Hill (S.H.I.E.L.D. Agent)
played by Cobie Smulders
Maria Hill is second in command to Nick Fury, the director of S.H.I.E.L.D. A supremely loyal and capable agent, Hill quickly became one of Fury's most trusted aides. Hill's insistence on playing everything by the book leads to periodic clashes with Fury, who has no patience for bureaucracy or red tape. Still, Fury relies on Hill to remind him that the ends do not always justify the means. Hill's competence and efficiency as well as her finely honed principles make her a valuable asset to Fury's team.

Cobie Smulders on Maria Hill: "Maria Hill and Nick Fury butt heads constantly. I think that Maria is a little bit more intuitive than Nick. But throughout the course of the film, she realises that he is involved and he does care, and he is taking the right steps to protect our country and fight the bad guys."

Phil Coulson (S.H.I.E.L.D. Agent)
played by Clark Gregg
Agent Phil Coulson is a veteran S.H.I.E.L.D. operative who is always seen in a suit and necktie despite the fact that he is the agent most often in the trenches, carrying out Director Nick Fury's directives. The go-to agent for Fury's sometimes secretive missions, Agent Coulson has proven himself to be more than capable of handling the world's most powerful Super Heroes-though he is a human being with no superpowers or super- abilities. As S.H.I.E.L.D.'s "Everyman," Coulson is dependable and loyal and unabashedly a fan of Captain America. When a threat to the world requires the formation of a team of Super Heroes to defeat it, Coulson takes on the task of assembling Nick Fury's Avengers as just another day at the office.

Clark Gregg on Phil Coulson: "When you look at the team, it's made up of rock stars and divas with giant muscles and super-powered egos, so somebody has the job backstage to make them all play in the same super-band-and that's what Agent Coulson does.

Casting The Avengers Team
With Joss Whedon putting his final touches on the script, the filmmakers began to focus their attention on the award-winning cast of "Marvel's The Avengers."

"One of the great things when you make a film that's been set up like this is that you start the casting process 80% done," informs executive producer Louis D' Esposito. "With most of our main cast crossing over from other Marvel franchises, we could focus all of our attention on the few roles we needed to fill."

Every team has a go-to guy when the chips are down and The Avengers is no different as they turn to billionaire industrialist-playboy Tony Stark aka Iron Man. One of the cornerstones and a fan favorite of the Marvel Universe, the first two installments of the "Iron Man" franchise, starring Robert Downey Jr. ("Sherlock Holmes," "Sherlock Holmes: A Game of Shadows," "Tropic Thunder") have grossed a combined $1.2 billion at the worldwide box office.

"Robert Downey Jr. is a tour de force as Tony Stark and he injects that confidence and sense of humor that brought to life and defined the character in the best way possible in both 'Iron Man' films," says Kevin Feige. "We wanted to give Robert Downey Jr. scenes with all the characters as we knew it would be a lot of fun to watch Tony Stark's interaction with Captain America, Thor and The Hulk. When Robert walks on the screen, the audiences embrace him in a very big and palpable way; he really is a powerhouse for us and the film."

For Robert Downey Jr., the idea of being in "The Avengers" started on opening night of the first "Iron Man" in 2008. "I remember when we were all huddled around the dinner table waiting for the numbers to come in," recalls Robert Downey Jr.. "We had planted some ideas after the credits of the film, hinting at the notion of 'The Avengers' and in Hollywood, I'm always amazed when anything that difficult works out."

The actor continues, "Tony Stark initially thinks it's ridiculous, but being Tony Stark, he is more open to the realm of possibilities that exist in the world of The Avengers. Tony already had hints of it from Nick Fury who has been stringing him along for awhile about becoming part of a larger universe."

Executive producer Jeremy Latcham adds, "At the end of the day, he is Tony Stark and he understands the severity of the situation. He's willing to make the ultimate sacrifice but at the same time, he's kind of enamored by the absurdity of it. As a result, Tony Stark really is the audience's way in because he is the closest thing to a normal person among the Super Heroes. That's saying a lot because Tony Stark is a billionaire, playboy, philanthropist, who drinks too much, but is really funny and entertaining, which works out nicely."

The director of S.H.I.E.L.D. (Strategic Homeland Intervention Enforcement Logistics Division) and the person trying to convince Tony Stark to join The Avengers team is Nick Fury played by Samuel L. Jackson ("Unbreakable," "Pulp Fiction"). Nick Fury has to make the hard decisions that aren't always popular when one is in charge of monitoring the world's safety.

"The promise we made to Samuel L. Jackson was, when we got to 'The Avengers,' it would be his time to shine," says producer Kevin Feige. "Samuel L. Jackson was very pleased when he got the script and saw how many great scenes Nick Fury had in the film. He is very active and in command on the Helicarrier and really gets into the action. If I had to say which character's point of view the film is told from, it would be Nick Fury's."

For Samuel L. Jackson, having Nick Fury front and center in "The Avengers" was a welcome change to the many cameo roles in the other Marvel franchises leading up to this film. "It's great to be the guy ho is the organiser of The Avengers team," says Samuel L. Jackson. "He's the guy who has the raison d'être, that kind of understands the threat and has to get them to understand the nature of the threat-that they're a lot stronger together than they are individually. Using Coulson in a manipulative way to get them to do what he needs them to do is not above Nick's character. He does kind of fudge the truth a bit to get them to take the bait and join in, and eventually they all do."

Director Joss Whedon explains what he loves about Samuel L. Jackson as an actor. "I always think that there are two of him because he is famous for the sort of bravado 'Pulp Fiction' speechifying guy who can out-moxie anybody in the room. Before we started shooting the film, I told Samuel L. Jackson my biggest note to remember was 'less Shaft, more Glass [Samuel L. Jackson's character in "Unbreakable"].' I wanted to see a guy who could absolutely command a room with his voice that leaves no question of who is in charge of this enormous organisation. I am also a huge 'Unbreakable' fan, so I'm also very much in love with the great depth and well of sadness that he can bring to the character as well."

One Avenger who is suffering a little heartbreak is Captain America, played by Chris Evans ("Captain America: The First Avenger," "Sunshine"). Frozen in a block of ice since 1945, Captain America awakes from the deep freeze to find a world he knows nothing about and where all of his friends and comrades have passed away.

"It's not just that Captain America wakes up in a whole new world; it's the fact that he has to deal with the emotions of finding out that everybody he knows is dead," says Chris Evans. "Every single person he called 'brother' on a battlefield is gone and the world around him is a different place. It's more fast-paced and impersonal because new technologies have put barriers between people. In the '40s there was much more of a direct and honest sincerity in the way people behaved and I think human interaction helps breed manners. Waking up in modern day is just an extremely different way of life that Steve Rogers now has to get used to."

With the success of "Captain America: The First Avenger," which opened No. 1 at the box office and grossed over $368 million worldwide, Chris Evans had to get used to the adulation that comes with playing one of the most recognisable comic book characters of all time.

"Starring as Captain America was scary and exhilarating at the same time," says Chris Evans. "'Thor' had already opened and done very well and so I kept thinking 'Captain America' better open and do well because I don't want to be the weak link of the 'The Avengers.' Luckily, the film did well and it was an amazing feeling to see kids' faces light up when they saw me in the costume. It really was a completely new experience for me, for which I am very grateful. "

"We fought very hard to get Chris Evans into 'Captain America' and we had to convince him to do it," says producer Kevin Feige. "We believed in him and knew how talented he was, but what was so satisfying was how much audiences embraced him as Steve Rogers. They have embraced all of our characters and so we wanted to bring all that goodwill into 'The Avengers.'"

Robert Downey Jr. echoes Kevin Feige's sentiment for his co-star. "I'm extremely fond of Chris Evans and I think he is one of the most underrated actors out there. I watch him and I think to myself, here is a guy who is wearing a stretchy American flag suit and I absolutely believe him. How is he doing this? The other thing I love about Chris Evans is that he's kind of this tough guy from Boston, but he also is a sensitive artist who really has an opinion.

"Our characters are very connected because Steve Rogers was close with Howard Stark and there's something definitive and tangible about their relationship," continues Robert Downey Jr. "If Steve Rogers and Tony Stark's relationship doesn't work, then the film doesn't work."

Another newly christened franchise in the Marvel Universe is "Thor." The film kicked off the summer of 2011 with a bang when it opened No. 1 at the box office with $65.7 million and went on to gross $446 million worldwide. In "The Avengers" Chris Hemsworth ("Star Trek," "A Perfect Getaway") reprises his title role as the hammer-wielding Norse god Thor.

Chris Hemsworth explains why family issues force Thor to return to Earth in "The Avengers": "Thor has conveniently come back to earth briefly because Odin summons dark powers from the universe and it's very costly," explains Chris Hemsworth. "He's come back to retrieve Loki, who's running mad on Earth and causing a lot of chaos. He also has some questions of his own he wants answered like, 'How did this happen and where did I and my brother go wrong?'"


The actor continues, "In 'Thor,' my character learned a whole lot about humility and gained a new respect for humans because they were able to help him discover who he needed to become in order to earn his powers back. I also think he feels very protective of humans now because of his relationship with Jane. Joining The Avengers team is also tricky because he has a personal investment in that his brother Loki is the one who's causing the chaos and he fears that the others may just want to kill him instead of just stopping him and taking away his powers."

"The reason we cast Chris Hemsworth is we didn't want Thor to just be a one-dimensional Adonis-like character," explains Kevin Feige. "What makes a character a Marvel character is that you can relate to them and recognise your own flaws and struggles in the characters' flaws and struggles. In 'Thor,' the character has to learn the lesson of humility and Chris Hemsworth was able to bring that in a very likable way, despite the fact that he comes from another world."

Helping Nick Fury keep The Avengers on point for their mission is Natasha aka Black Widow. Reprising her role from "Iron Man 2," Scarlett Johansson ("We Bought a Zoo," "Vicky Cristina Barcelona") was happy to slip back into the sexy suit of her character's alter ego Black Widow.

"To be honest, I really didn't know what the future would hold for Black Widow after 'Iron Man 2,'" informs Johansson. "I didn't know how the fans would respond, but to be a part of the Marvel Universe and playing such a dynamic, ass-kicking character is pretty exciting. The first time you saw this character in 'Iron Man 2,' you didn't get to learn much about her because she's a bit of a slippery fish. She still has many different faces she puts on and, to this day, she still is divisive in that way. In this film, audiences will get to see more of her history and kind of shady past, which to me is very exciting because the darker part of the character was always very appealing to me."

"Scarlett Johansson brings a toughness and savvy that women like to see in their female characters," says Samuel L. Jackson. "She is beautiful, so guys like her, but she embraces the toughness of her character and makes it seem effortless, which is very difficult to do. Guys always think, 'I don't care how strong a girl is, she can't knock me out,' but she has a bigness of character that allows her to pull off the things Black Widow does. Nick Fury has a genuine father-daughter love for Natasha that kind of transcends the job and he gives her a bit more rope than he gives most other people because of it."

For director Joss Whedon, having a strong female as part of a testosterone-heavy Avengers team was essential. "Black Widow is a fun character and I was very clear from the beginning that it was unacceptable to have an all-male Avengers team," says Joss Whedon. "Because of the timing of the shooting schedule, there was a moment when we weren't sure if we could get Scarlett Johansson, but I was a very happy man when she signed on because she adds so much to the film and it's a great juxtaposition to her male counterparts."

The director continues, "Scarlett Johansson is probably the least like her character because she's so funny, delightful and just so darn cute. I wanted her to play the role completely opposite of her personality because we wanted Black Widow to be a darker incarnation of who she was in 'Iron Man 2.' You get a bit of a hint of her backstory in this film and it isn't pretty. The great thing with Scarlett Johansson is she gets very precise about how she's playing a character and what she's doing with it, so it worked very well for the evolution of Black Widow."

This darker side of Black Widow is evident from the first time we see the character, as executive producer Louis D'Esposito explains. "Black Widow's introduction in the film is absolutely phenomenal. She's tied to a chair and is being roughed up by some thugs who are interrogating her and you think that she can't possibly get out of this situation. A cell phone rings and Black Widow gets on the phone and says, 'I'm interrogating someone.' It's completely the opposite of what is going on and she hangs up the phone and takes care of business. It's really cool and I think audiences are going to absolutely love that scene."

After disposing of the thugs, Black Widow sets off to find Bruce Banner who has gone off the grid in order to stay away from anything that can bring stress and conflict into his life. With Eric Bana and Edward Norton playing the role in previous incarnations of the franchise, the filmmakers set off on their own journey to find an actor to tackle the complex character. For director Joss Whedon, the search began and ended with Mark Ruffalo ("Shutter Island," "The Kids Are All Right").

"Mark Ruffalo was my dream choice and I had my heart set on him," says Joss Whedon. "I wanted a completely fresh take on the character so I went to Marvel very early on and said, 'I know the guy who would be a great Bruce Banner' and they said, 'Unless it's Mark Ruffalo, we really don't know.' And I was like, 'What?!' I just froze and said, 'You've got to be kidding. You did not just say that.' I showed them the list that I had in my wallet with his name at the top and they were completely on board."

For Mark Ruffalo, his friend and colleague Robert Downey Jr. was the inspiration he needed to take on the role. "'The Avengers' isn't the type of film that I've done in the past or that I am usually invited to do," laughs Mark Ruffalo. "I was a little nervous about it because when Joss Whedon and I first met about the role, there wasn't a script. I thought a lot about Iron Man. I thought about what Robert Downey Jr. did with that part-he is one of my hero actors. I really loved what Robert Downey Jr. did; he reinvented the genre. It made me feel like I could fit into that world with whatever it is I do. I had one meeting with Joss Whedon, who I liked instantly, so between him and Robert Downey Jr. I was in."

"Mark Ruffalo is very funny and when he first got cast he said, 'Bruce Banner is like his generation's Hamlet. Everyone has to take a shot at it; it's just required reading now for actors,'" recalls Jeremy Latcham. "I thought it was a funny way of looking at it because it really is a tough character and there have been a lot of great actors who have had a go at it. Mark Ruffalo really brings a lot of humanity to Bruce Banner and I think that his way into it is really to explore the human side of the character, who is a nice guy but very troubled."

"Besides Robert Downey Jr. Mark Ruffalo is probably the person I spent the most time with in pre-production," says Joss Whedon. "We talked about anger and how it manifests so we could get The Hulk away from being this roaring creature. Bruce Banner has given up on the idea that he can cure his anger problems and is just trying to manage it and focus all his energy on helping other people. He doesn't want to be the center of attention and of course, he becomes the center of attention when he joins the team."

"What appealed to both Joss Whedon and I about the character is that he would have a common man sort of feel to him and possess this world-weary charm," says Mark Ruffalo. "We also agreed he should have a sense of humor about his situation. Based on the last incarnation of The Incredible Hulk, there was the promise that Banner may actually have a little control over the Behemoth. We wanted him to be fun and interesting as Banner and awesome as The Hulk."

"Joss Whedon and I thought it would be cool if we found Banner at a leprosy colony in India where there's so much suffering that it would be almost impossible to get angry at anything in life that would bring on the transformation into The Hulk," concludes Mark Ruffalo.

"Joss Whedon wrote the character so that audiences feel for Bruce Banner much in the way they felt for Bill Bixby," says producer Kevin Feige. "In 'The Avengers,' Bruce Banner has a good sense of humor and he is not in a constant state of melancholy and moroseness. A lot of the laughs in the film come from the character and early on, when we saw what Mark Ruffalo was doing with the role, we felt we finally had an opportunity to present Bruce Banner the way we always wanted to."

While the filmmakers were set on the members who make up The Avengers team, Kevin Feige comments on deciding who the villain or villains would be in the film. "In 'Thor,' we only saw Loki in Asgard and Jotunheim, the land of the frost giants, but the film is as much an origin story of Loki as it is an origin story of Thor," explains Kevin Feige. "At the very end of that film, you see him literally break away from his past and family. We wanted to see his next step and in 'The Avengers,' Loki is intent on conquering Earth. His brother has a throne, his real father had a throne, his adopted father had a throne, and now he wants a throne of his own and he feels that it is ripe for the picking."

"All of the actors came to me with an extraordinarily positive attitude. Not just about the project, but about each other. All of the conflict that we create amongst The Avengers is acting, because these guys are really rooting for each otherand helping each other."-Joss Whedon, Director

The producer continues, "In the very first issue of 'The Avengers' comic, it's Loki who is causing trouble and it brings them all together. So it not only worked into the order in which we were telling these stories in our movies but it also has it own origins in the very first issue of the comic."

For actor Tom Hiddleston ("War Horse," "Midnight in Paris"), who played Thor's mischievous brother in "Thor," remembering the day he was told his character would be expanding in a big way still brings a smile to his face. "Towards the end of the production of 'Thor,' Joss Whedon was coming into Marvel Studios a lot because he was writing 'The Avengers' screenplay and he asked me to go out for tea," recalls Tom Hiddleston. "We were sitting in a coffee shop in Santa Monica and he said, 'So, here's the thing, Tom Hiddleston. There's a lot of talk about multiple villains in the film and I don't want any of that. I want Loki to be the bad guy.' After I picked my jaw off the floor, I did back flips in the tea room and then we just talked for hours about who Loki was and what his motivations were and the kind of spiritual damage that was at the heart of the character as well as the delight he takes in being a mischievous trickster and an agent of chaos."

Explaining the progression of the character from the end of "Thor" to the start of "The Avengers," Tom Hiddleston says, "At the end of 'Thor' he abandons any concern, affection and attachment to Asgard and his family and disappears into the wormhole and people think, is he dead? Where has he gone? Has he gone through a gap in space and time? But anyone who saw the post-credit sequence in 'Thor' sees Nick Fury and Selvig conferring over this mysterious iridescent blue cube of energy, which is a source of absolute and infinite power that can bring all who come before it to their knees. Loki's going to use the cube as his super nuclear weapon to subjugate Earth and to force the human race to unite in worship of him."

"Initially, I was worried that Loki was known for being a trickster, even though he is stronger than most of The Avengers," says director Joss Whedon. "A lot of time was spent building up the character to show how strong and dangerous he was, but at the end of the day, what makes it work is Tom Hiddleston. He really breathes life into the character and gets to be more of the classic Loki character from the comics than he got to be in 'Thor,' where he had a very poignant and beautiful arc."

"Although Loki has moved on from where we last saw him in 'Thor,' the resentment, vulnerability and the big brother issues still burn deep inside him," informs executive producer Jeremy Latcham. "Tom Hiddleston really layers that texture into the character and you feel like he might either walk right up and kill you or sneak up from behind and kill you. With Loki, you just don't know which way it's going to be."

One aspect of Loki that carries over into "The Avengers" is his strained and contentious relationship with his half-brother Thor. "In 'The Avengers,' Thor begins as a noble warrior with the right intentions," says Chris Hemsworth. "All of that and then some is tested as he must contemplate what's more important, his personal relationship with his brother or the team he's agreed to fight with. It's a very difficult decision because he feels maybe there's still some good in Loki behind all of the misguided evil."

"Loki feels inferior and rejected by his brother, so I think the relationship between the two of them is palpable and strong," explains Tom Hiddleston. "Thor's innately noble spirit recognises a glimmer of redemption for Loki. That dynamic between Thor and Loki is the engine that propels their emotional journey and keeps that story interesting. You never quite trust Loki and you can't quite pin him down." But the relationship between the two actors is very different. Chris Hemsworth relates, "I really loved working on 'Thor' with Tom Hiddleston because we had so much time to develop our relationship. To come back and work with him again is so familiar. With everyone else, they're all incredible actors, but you've got to find that rapport and build it. With Tom Hiddleston, we know each other's rhythms and can just get into it."

Thor and Loki each received wardrobe upgrades, courtesy of Academy Award®-winning costume designer Alexandra Byrne, who created both characters' looks for "Thor." "Thor and Loki's looks have both evolved visually from 'Thor' to 'The Avengers,'" says Alexandra Byrne. "I had the advantage of having worked closely with Chris Hemsworth and Tom Hiddleston already, so I could capitalise on what I learned from them both in terms of their performance and movement. Having created the costumes for 'Thor,' I knew that early technical decisions can have a tremendous impact as a costume comes near completion; decisions are always made for the best solution at that point of building, but the complexity of these costumes means that often you are trying to achieve [them] with new techniques and combinations of materials, and you can find yourself wishing to wind back the clock and adjust an earlier choice. It could be as simple as where to place a zipper, or where to make an articulation in a piece of armor. The process is an exciting mix of drawing on experience and testing the unknown."

The costume designer continues, "Thor's new sleeveless look was to achieve a less armored look for the conversational scenes between The Avengers. The look also takes a cue from the comics and works well with Chris Hemsworth's incredible physique. His muscular arms are the iconic statement of Thor, and the discs and red cape are the iconic statements of the costume. The key element of Loki's look in both films is his coat. I felt it was the perfect element of clothing to embody his vanity and to use Tom Hiddleston's wonderful physical ability and range of movement. The idea came from the elegance and vanity of gentlemen in Rome, parading in their winter coats with up- turned collars at the first hint of chill in the air. Throughout the two stories, Loki has seven different styles of coat, all part of his ability to change his appearance."

Protecting the Tesseract is the job of Nick Fury's S.H.I.E.L.D organisation and he puts his best man, Cliff Barton aka Hawkeye, on the job. Two-time Academy Award®-nominated actor Jeremy Renner ("The Hurt Locker," "The Town") plays Hawkeye and explains how his character finds himself in a precarious position when the mysterious Tesseract he is guarding comes alive and begins to wield its catastrophic power. "Barton has been monitoring Professor Selvig to make sure he isn't doing anything to the Tesseract," says Jeremy Renner. "He is an intense guy and takes his duties very seriously, but things start to go horribly wrong with the Tesseract and suddenly Barton is face to face with Loki, which is not a great place to be."

For Jeremy Renner, playing a character in the Marvel Universe who is human and grounded in reality was an attractive element that intrigued him. "Kevin Feige showed me images of Hawkeye from 'The Ultimates' and they were very cool, but what I liked more than anything was the idea that he's a human being with a high skill set who is a bit of a rogue agent. I've played a few snipers before and there's a really interesting mentality that comes along with being a sharp shooter, so I thought it was a pretty fun character to play."

"Hawkeye is introduced and is the largest new character in this film," says producer Kevin Feige. "Hawkeye has one of the coolest and most iconic of all of the weapons in the Marvel Universe and we were all very happy to be able to finally bring it to life in 'The Avengers.'"

An expert archer, Hawkeye's trusty bow shoots his distinctive and deadly silver tip arrows. Director Joss Whedon comments on Hawkeye's unconventional armor and weaponry. "We wanted Hawkeye on the team because he was a fan favorite and adds a little bit of an X-factor," says Joss Whedon. "To have a character who's not necessarily a mainstream hero that everybody knows about is very cool. The thing about archery is at first you go, 'All he uses is a bow and arrow?' People love archery because it's very primal and deadly, but at the same time it can be very elegant and lovely to watch."

The director continues, "Shooting a bow and arrow is a very specific movement and it informed the way Jeremy Renner moved as well. Jeremy Renner is very athletic and can work like a stuntman, but at the same time he is extremely balletic and precise in his movements, which was perfect for Hawkeye. I loved the idea of shooting one way while looking another way because he's gauging the wind and the trajectory of his target. Action-wise, Hawkeye is as fascinating a character as there is in the film."

"We wanted to make sure that S.H.I.E.L.D was a grounded place because in the Marvel Universe it's a real organisation with agents, missions and operatives," adds Jeremy Latcham. "Hawkeye seemed like a logical extension of that, as he is a guy who is a master assassin who is very proficient at what he does, but he also is a bit of a wild card as well."

Jeremy Latcham continues, "I feel like we won the lottery when we were able to cast Jeremy Renner in the role. The guy is an incredibly talented actor, who was nominated for an Oscar® two years in a row, and we were lucky that he happened to be in a moment where he wanted to go do something big and fun. He really brings it every single day and he's constantly upping the ante in every scene."

One element of Hawkeye's character in the comics that didn't translate to the big screen was the costume of the character. Director Joss Whedon explains how he modified the look to fit both his and his actor's desire to ground the character in reality.

"Let's just say it, the purple mask Hawkeye wears in the comics is just not a good idea," laughs Joss Whedon. "As much as possible with The Avengers, you want to see their faces and Jeremy Renner's face is incredibly compelling, so I said, 'Here's an idea…don't put cloth over it.' We ended up going with Bryan Hitch's vision of the costume from 'The Ultimates' and Mark Millar's vision of the idea that he's not a Super Hero; he is a S.H.I.E.L.D agent. Hawkeye also likes to sneak off by himself to the highest and darkest part of the room and he's not much of a team player."


Costume designer Alexandra Byrne expands on Hawkeye's costume for "The Avengers." "Hawkeye's weapons and fighting style were big influences in the costume design of the character," says Alexandra Byrne. "Jeremy Renner is extremely ag