The Chronicles of Narnia
-The Lion the Witch and the Wardrobe

- Prince Caspian and The Voyage of the Dawn Treader

-The Silver Chair

Although written over fifty years ago C.S. Lewis' The Chronicles of Narnia have never been more popular than they are today. The original books sell over 3.5 million copies every year and are published in over thirty different languages. There can be few books that have been read and loved so consistently by children and adults around the world.

These classic BBC movie-length productions of C.S. Lewis' powerful fantasy for all ages have been beautifully repackaged and re-priced for a new generation of Narnia fans to enjoy.

RRP: $14.95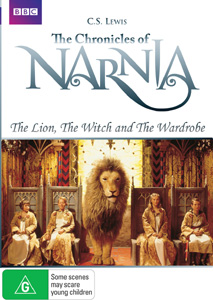 The Lion the Witch and the Wardrobe

This breathtaking production of C.S. Lewis' powerful fantasy adventure for all ages uses live action, animation and stunning special effects to recreate the most exciting and enchanting story of all.

Narnia is a magical world, a land of dwarves, nymphs and giants, a bewitched land where fauns carry umbrellas and brew tea, where animals talk and horses fly. It is the land of Aslan, the great Lion who can warm the coldest heart. It is also the land of the Lion's arch-enemy, the White Witch who ensures that in Narnia, it is always winter but never Christmas.

It is a quiet day in the countryside when Peter, Susan, Edmund and Lucy stumble through the back of an old wardrobe into the enchanted land of Narnia. When the White Witch learns of their presence, their lives are in danger, but there is talk that Aslan is on the move....

Spring is in the air - but the White Witch tightens her grip and plans the destruction of the children and Aslan. Her triumph looks certain but the magnificent Aslan risks everything and calls on the Deeper Magic from Before the Dawn of Time.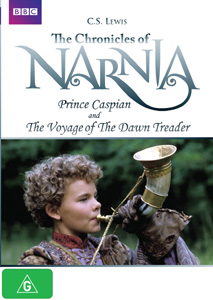 Prince Caspian and The Voyage of the Dawn Treader

Prince Caspian
At the end of The Lion the Witch and the Wardrobe peace was restored to Narnia. Since then troubled times have come to the magical land with the wicked King Miraz attempting to conquer Narnia, forcing the rightful heir Prince Caspian to flee. With the help of the Pevensie children and an army of presecuted fauns, dwarves and talking beasts, Caspian goes into battle. With Aslan's guidance will they succeed in ridding the Narnia of this evil force?

The Voyage of the Dawn Treader
Edmund and Lucy return to Narnia with their spoilt cousin Eustace Scrubb. King Caspian needs their help, so theyset abroad the Dawn Treader to the edge of the Eastern World. Encountering sea serpents, dragons and invisible enemies, they strive to break the evil enchantment at the end of this momentous voyage.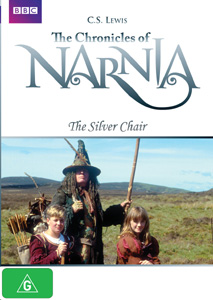 The Silver Chair

In the enchanted land of Narnia, old King Caspian's only son and heir Prince Rilian has disappeared.

The great lion Aslan, calls on Jill and Eustace - giving them four important signs to guide them in search of the lost Prince.

On their perilous quest the children meet up with Puddleglum (Tom Baker) a Marshwiggle, and together they journey north to the land of the Giants of Harfang. Their search leads them underground where they must face the Green Witch - the Queen of the Deep Realm. Here they must combat her magical powers but can they break the spell of the Silver Chair?


RRP: $14.95ea