The Pirates! Band of Misfits
Cast
: Hugh Grant, Martin Freeman, David Tennant, Imelda Staunton, Jeremy Piven, Salma Hayek, Brian Blessed, Brendan Gleeson, Russell Tovey, Ashley Jensen
Director
: Peter Lord
Genre
: Animation, Comedy, Adventure, Family
Synopsis
:
In The Pirates! Band of Misfits, Hugh Grant stars in his first animated role as the luxuriantly bearded Pirate Captain - a boundlessly enthusiastic, if somewhat less-than-successful, terror of the High Seas.
With a rag-tag crew at his side (Martin Freeman, Brendan Gleeson, Russell Tovey, and Ashley Jensen), and seemingly blind to the impossible odds stacked against him, the Captain has one dream: to beat his bitter rivals Black Bellamy (Jeremy Piven) and Cutlass Liz (Salma Hayek) to the much coveted Pirate Of The Year Award.
It's a quest that takes our heroes from the shores of exotic Blood Island to the foggy streets of Victorian London.
Along the way they battle a diabolical queen (Imelda Staunton) and team up with a haplessly smitten young scientist (David Tennant), but never lose sight of what a pirate loves best: adventure!
The Pirates! Band of Misfits THE PIRATES! BAND OF MISFITS 3D
ONLY AT THE MOVIES! APRIL 5
The Pirates! Band of Misfits in 3D Trailer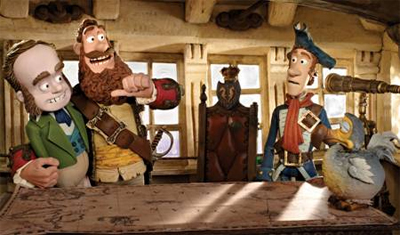 About the Production
The Pirates! Band of Misfits is made in stop-motion style, which has become Aardman's signature and won them four Oscars®. It is also their most ambitious stop-motion film so far, as to pull off a full-fledged pirate movie required the filmmakers to throw away the plasticine playbook. "In many ways, we are animating in the same way that it's been done for 50 years, but we are combining it with state-of-the-art visual effects and computer animation because if there's one thing you can't do in stop-frame animation, it's the sea," says Peter Lord. "By taking our beautiful, solid, puppet-animated pirate boat and setting it in a CG sea, we've put it where it can rock and roll and slosh around, and it has the greatest freedom, sense of space, and energy, and it just looks beautiful. I really feel we're using the best of both technologies - it's just a delight and a thrill to step into a bigger world and enjoy the visual potential, to free ourselves up to go to these big locations with big crowds. But we never get away from what I think audiences love about stop-frame animation: the sets and props look incredibly real, believable, and tangible, but magical at the same time. I don't know if there's an Aardman style in terms of design, but there certainly is in terms of a commitment to beautiful craft and good sculpting."
As the author of the novel, there was perhaps no better choice than Gideon Defoe to write the screenplay. However, Gideon Defoe had no experience with stop-frame animation before writing his adaptation - which set out a challenge for the filmmakers. "If I'd had any frame of reference, I'd never have written it the way I wrote it," he says. "It turns out that big, exciting battles at sea and crowd scenes are a nightmare for stop-motion. But luckily, it was never a limitation. Nobody ever said, 'We can't do this,' it was always, 'We'll work out a way.' Stop-motion has a charm that nothing else does - when a thing is physically there, it makes a complete difference and the characters really come to life."
"It's unlike any stop-frame movie we've ever made," says Julie Lockhart, a producer of the film. "It's so complex, that the initial assumption was that we would do it as a computer-animated film. It wasn't until Peter Lord decided that he wanted to build a set to use as a guide for the CG animators - to feel it and see the textures and really get that intricacy of it - that we all decided that it had to be done in stop-frame, even though it would be a tremendous challenge. Not one location gets repeated - we go from a pirate world to Victorian London, from the mean streets of the dockside to high society in royal palaces, to the high seas. There's huge number of characters. We've have more digital effects than ever before. The only way we were able to achieve it was due to the huge amount of experience and talent at Aardman - we have people who have been here for 20, nearly 30 years, and the incredible amount of knowledge that they have means that we can achieve a level of craft that no one's seen before."
Work on a stop-frame animated film is completely different from that on a live-action movie. Where live-action is limited by access to the live actors, a stop-frame film can reproduce its lead character dozens of times. "We had up to 35 or 40 animators working at any one time. We had so many Pirate Captains that we could shoot up to 20 scenes with him simultaneously in different parts of the studio," Peter Lord explains. Of course, what that means is that while a live-action director may focus only on the scene he or she is shooting, a stop-frame director has to be concentrating on dozens of scenes that are in production at any moment. "Jeff (Newitt, the co-director), Jay (Grace, the senior animation supervisor), and I would be rushing from place to place, giving notes, instruction, and advice to all of these units at once," Peter Lord continues. "As a result, the studio floor is a very dynamic, very busy place. It's like a course in multitasking."
Before production could begin in earnest, the characters and sets would be designed and built. Character Designer Jonny Duddle and Production Designer Norman Garwood set to work.
Norman Garwood's many credits as a live-action production designer include films with such striking sets as Brazil, Glory, Hook, and The Princess Bride. With the all-hands-on-deck nature of making an animated film, Norman Garwood's creativity and verve could help shape the film's DNA. "On a live-action film, you get a script that's either finished or almost finished and you know exactly what you're doing from day one. On this movie, we were actually creating the world as the script was being written, and what we were creating helped formulate the script that was written. So it's a very different approach, even if the actual process of production design is exactly the same whether you're designing for full-scale human beings or puppets."
One of Norman Garwood's major sets, of course, is the pirate ship itself. "I had this concept of making a boat that was two halves of different boats," he says. "The back is a funny old boat - the idea is that the back was their original boat until they lost the front in some terrible battle and needed a new front. They found an elegant French frigate and that's the front of the boat. Since then, it's been expanded, with extra bits for the Captain's bathroom, and all held together with chains and glue. It seemed so daft. That was what I've loved the most about this project - Peter Lord wanted to see a design as funny and quirky as possible, and he'd rein it back in. He encouraged me not to be too ordinary."
"The ship has been badly maintained and has elements from all over the world," says one of the film's art directors, Phil Lewis. "There's a buxom figurehead that's lost its head, which was replaced by the head of Neptune with some painted-on lipstick. There's bits and pieces of chimney. The captain has his own garden on the poop deck, where he keeps his collection of cactuses."
The final ship was completely hand-crafted and made up of 44,569 parts. Weighing in at 770 pounds, it is 14 feet long and 15 feet high - so tall, in fact, that in order for the Aardman crew to move it from one studio to another, they had to cut a hole in a door frame to fit it through.
The tone of the project - that characters like Charles Darwin or Queen Victoria could have very little relation to real life - was a great blessing for the production design. Norman Garwood says that he and his team did a lot of research at the beginning - but that was just the beginning. "My theory is that you start off with something real, and then stretch it and strain it in as many ways as you want to go," says Norman Garwood. "You have to start off with something solid, and then you can play with it."
To design the characters, including the Pirate Captain himself, Jonny Duddle began with rough sketches for input from Peter Lord. "The most important things in designing the Pirate Captain were his coat and his beard," says Jonny Duddle. "We did designs with longer and shorter coats, we did designs with the beard and how the beard and mustache would sit on the face."
The Captain's beard required a tremendous amount of development. "The captain's beard is so fundamental to his character," says Peter Lord. "It's one of the first things Gideon Defoe says about the character in his book. It turned out that the beard was an enormous design challenge - not designing the beard, but designing a beard that would work with a very mobile and expressive face."
Another challenge was to make the beard work with a system of mouth replacement that Aardman implements for the first time with this film. In Aardman's previous films, it was up to the animator to re-mold a character's mouth in the correct shape to give the illusion of speech. For The Pirates!, Aardman implemented a mouth replacement system. "It's a system that's only become available in the last few years," explains Jeff Newitt, the film's co-director. "We were able to sculpt all of the mouth shapes in a computer and physically print them out on a 3D printer. We printed out hundreds of mouth shapes for a character to speak in a range of speech and expression - for the animator, the shape was pre-determined, all that had to be done was pop one mouth shape off and pop the next on, rather than having to re-sculpt every frame. It's really an ideal system, because the animators can concentrate on the performance and the characters' facial expression - they can get a wider range of movement because they're not worried about mucking up the plasticine in the mouth shape." 7,000 mouths were printed in total, with 1,400 for the Pirate Captain alone.
To create Charles Darwin, says Jonny Duddle, "The idea was that he was a bit geeky, so we gave him a very big forehead. For inspiration, Peter Lord took some photos of himself posing in certain ways, including with a butterfly net, and I looked at Victorian references and pictures of Darwin himself. We'd revise the drawings, revising how big his face was, how long it was, how old he looks, trying to nail that geeky Victorian scientist look."
Jonny Duddle would make drawings, based on input from Lord, then a model maker would create a clay sculpture so they could see how the character looked in three dimensions. "The initial sculpt would be all about finding the character and vitality; we'd sculpt the figure in a dynamic kind of gesture to help the director see the character," says puppet designer Andrew Bloxham. Based on the information received from the model, Jonny Duddle would then revise drawings, and they worked this way, back and forth, until the character was finalised.
"Model-making is basically the same idea as casting in a live-action film," says puppet designer Kate Anderson. "We make the star, we make their wardrobe and their hair and we do their make-up. In a way, we're a lot of departments rolled into one."
As the process moved forward, the puppet designers would have to consider how to build the puppet: for example, Kate Anderson says, "Queen Victoria is, on the outside, quite a dumpy lady, but underneath, she has a complicated armature. All of the ruffles of her dress had to be made separately, so they could move around, one on top of another. The torso had to be separate from the skirt and waistband so her body could be independently of the skirt - in that way, the bustle could rise and fall to give her a look of walking." And all of that is not even considering the design of Victoria's face. "She had to look pretty tough, royal and haughty, but wheedling and sweet as well. We pursed her lips to give her a disapproving look, but she is also the type of woman who can flutter her eyelids to get her way."
With the characters and sets designed and built, the torch was passed to the animators. For Peter Lord, the animators aren't simply craftsmen moving the models. "I always think of them as performers," he says. "When they sit down to work, there's nothing - there's a voice and a puppet, and they have to turn that into a moment that really lives. When you get it right - when you land a moment, or, better still, a whole series of moments - and the audience is completely convinced that this puppet isn't just moving, isn't just talking, but actually thinking… that's a great illusion and it's incredibly satisfying."
One of the film's senior lead animators, Ian Whitlock, says that the handmade feel of stop frame gives it a very different quality from CG animation. "In CG, you can do anything," he says. "You can push the characters anywhere you want to go. In fact, it starts to get to be too much. When I'm doing CG animation, I find I have to limit myself to get the right performance. With the puppet, you don't have that. You are always limited by the puppet and you're always trying to push beyond what the puppet can give you. For example, you'll move the shoulders a bit to give you a bit more curve in the back - and when you get it right it comes to life like nothing else."
Another animator, Lee Wilton, adds, "It's the scenes that look easiest that are the hardest to do. You might have a four-second shot of a character thinking, or giving a little look off-screen. Seems easy but you have to make certain that the audience is interpreting it the same way that you're intending. Making it seem effortless is very difficult."
The painstaking work of animating a stop-frame film, one fraction of a second at a time, was made all the more challenging by the expansive nature of the script. For example, one early scene takes place in a bar, in which the entire crew is re-introduced to the other contenders for Pirate of the Year - Peg-Leg Hastings, Cutlass Liz, and Black Bellamy - as they enter in increasingly flamboyant fashion. All of that meant that 15 or 16 pirates could be in the frame at any one moment. To keep it all straight, Sadler gave each of the characters - even bar patrons who have no lines and only one scene in the movie - a little back story. "It helps me to remember what to do," he says. "There's a table by the window, where two of them are on a date, but a third is drunk and ruining it for them. There's a table where they're playing cards and one of them is cheating. There's another table where one of the pirates is drinking a cocktail that the other pirates don't think is piratey enough and they're teasing him. It's very easy to lose track of what you're doing when you're animating so many characters, so it helps to give them each their own story. Not to mention that it's nice to get a laugh going on in the background, away from the main action - that's a very Aardman thing."
With so many characters in one scene, which was Sadler's favorite? "Black Bellamy," he says. "He has some great speeches - I enjoyed taunting the Captain."
The scene in the pub - one of the longest in the film - took 18 months to shoot. How can an animator concentrate for so long on a scene that will last just a few minutes in the final film? Whitlock, who spent much of his time with Darwin and Mister Bobo, says, "Animating is a way of performing through a puppet. It's very rewarding to be on your own in this environment, looking at the puppet, concentrating, trying to feel what he's supposed to be feeling at that moment. And then, to focus on the details, whether it's the main body jumping around or a tiny element of their clothing that has to soften off at the end of a big move so that it all looks natural."
When the scenes had been filmed, finished shots were handed over to editor Justin Krish, who tackles his first animated project with this film. "Editing animation is completely different from editing live action," he says. "In an animated film, the great part of editing is done before anything is shot; we cut the film together for the first time with the storyboards. We'll edit again two more times, with pre-viz footage and when it's shot, but the real work is done at the storyboard phase, and because of that, an editor on animation is much more closely involved in story development than an editor on a live-action film. For example, you can ask for a shot if you think a sequence needs it - the story artist will give you the shot and you can test it out in a way you simply can't do in live action." As a result, the editing room becomes the hub through which all the departments pass - from drawings to recorded dialogue to shots from the studio floor, everything goes through the editor.
The film's visual effects were overseen by VFX supervisor Andrew Morley and CG Supervisor Ted Chaplin. From the very beginning it was clear that the stop-frame film would need to rely on visual effects to fill in the gaps to animate what couldn't be done by hand. "About half the shots were pretty simple for us - adding sky and background," says Andrew Morley - but others involved much more complicated procedures, including building much of Blood Island (where much pirate debauchery takes place early in the film). "They built the harbor in the shop, but we had to turn that into a full island with a volcano in the distance," Andrew Morley explains. The VFX team also animated several characters in the distant background.
Also, don't forget that a harbor involves water - a tricky subject for CG and an impossible task for stop-frame. It's even trickier as the VFX artists had to create a sea that looked like the same handmade world that the filmmakers designed for the rest of the film. The challenge is that the Aardman world is real - there are physical objects, manipulated by hand, and photographed in the camera - but also clearly not of the real world. "All of the computer software these days are built for photo realism," says Andrew Morley. "They make the world look real and perfect" - and the rest of the world of the film is neither real nor perfect. "We were going after something a bit more hand-made, a bit more stylised. So we wrote an in-house water simulation tool for the wide-to-medium shots. For the closer shots, we could use existing software, but even then, we decided not to animate fine spray, as you'd see in waves crashing against rocks - the word we used was a 'chunkier' spray."
"That was the most important thing - to make the CG match the Aardman world," says Ted Chaplin. "Everything from sea monsters and whales to the larger ships - anything too big to build - we had to make it look like it was created on the set and was actually there. This film was on such a bigger scale than anything that Aardman has done, and our job was to give the VFX as much love and attention as goes into the sets and characters that are built on the shop floor. We don't want any audience to lose that suspension of disbelief when they're watching the film, no matter how it's animated."
Fun Facts!
Peter Lord first read Gideon Defoe's 'The Pirates! In an Adventure with Scientists' book during a development meeting where a copy brought up by Aardman's Jim Campbell was lying on the table. He picked it up and starting reading it and couldn't help but laugh out loud.
A crew of 525 people worked on this film including 33 animators and 41 shooting units in 4 studios.
The pirate ship was completely hand crafted and made up of 44,569 parts. It took 5,000 hours of development and ended up weighing 770 pounds. The pirate ship is about 14 feet long from the tip of the bowsprit to the tail-end of the rudder, and it is 15 feet high.
When the Aardman crew tried to move the pirate ship from one studio to another, they had to wheel a complete behemoth, weighing about a ton, through some remarkably narrow corridors. After barely managing to navigate it round a number of improbably tight corners without bits of it falling off, crew members finally reached the double doors to the last studio… only to find it wouldn't fit, because the mast was too big. With a dogged refusal to go back the way they came but with no way of actually fitting the ship through the door, they got a saw and had to cut a hole in the door frame!
The ship is designed to look like two ships glued together-the figurehead is half man/half woman. Two pods strapped on to the ship are the Pirate Captain's bedroom and bathroom. You can spot odd household items collected by the pirates that hold the ship together (Cricket bat, broom stick, etc).
There is a bumper sticker on the back of the ship that says: "Honk if you're seasick."
The Pirate Captain's door has a 'Polly flap' in it…like a cat flap.
Queen Victoria's treasure room boasts over 400,000 gold coins. Aardman's prop team also created more than 220,000 background, key and animatable props to fill the film's sets.
The animators make the characters speak by using mouth replacements - each character has a different set of mouth replacements depending on what the character needs to say, which attach to the head by magnets. The puppet mouths and heads are made by a dedicated department. These are computer designed and printed in resin. Over 6,818 puppet mouths were created for this movie, including 1,364 for the Pirate Captain alone, along with 257 mouth shapes to convey his speech and reactions. Each mouth was designed on the computer first, complete with teeth and tongue, and was then "printed" out via a 3D Rapid Prototyping printer. Every mouth was pre-posed in a shape that relates to the vowels that are most often used. Queen Victoria's mouth is one of the most time consuming to make because the lipstick on each has to be individually masked and painted.
140 sets of eyelids were created for the key pirate crew.
There were 70 model makers on the film, and 250 puppets. These comprise of 9 Main Pirate crew, 23 background Pirates, 18 background scientists characters and 55 special characters, 112 different characters in total!
The Captain's beard has a special mechanism to animate it made from a guitar tuning head. This mechanism went through 5 different designs before the final version. Additionally, the Pirate Captain beard has 65 swirls on it, and the Pirate Captain beard has 5 versions - 1: Standard, 2: Bling & beard bow, 3: Messy with tufts, 4: Splitting beard (Pirate of the Year), 5: Reach in beard with rummage mechanism PLUS one large special beard for fake Polly close up.
There were 40 individual units on the studio floor with 29 animators. Everything on the studio floor is geared up to enable the animators to animate for the maximum amount of time per day. This means that whilst an animator is working on one shot in one unit, another shot in another unit will be prepped: set dressed, lighting adjusted, camera set up - all of which is approved by the director before the animator starts! Animators averaged 4 seconds of animation per week.
The prop team used over 1/4 of a mile of rope to wind around animation wire. This is used for rigging the Pirates ship and decks, it is bendable rope!
50 packs of baby wipes and some KY Jelly were used to clean the puppets and simulating water in shots.
If you look closely during the scene in Queen Victoria's treasure room, you may spot a gold Shaun the Sheep, Wallace, and Gromit!
In Queen Victoria's Evil Lair, all the suits and armor are based on Curvaceous, a corgi dog, Scarf & Gout.
There are beer mugs with the faces of Peter Lord (Director) and Jeff Newitt (Co-Director) in the Hook Line and Sinker pub.
There is a salad bar in the Barnacle's Face pub.
In the galley of the Pirates' ship you can see the pirate's chutney and jam collection. Another shelf is labelled "Medicines and Poisons."
In the After Show Party, there is a portrait of the Clifton Suspension Bridge in Bristol, a local hommage.
Production Designer Norman Garwood (having designed on films such as Brazil and The Princess Bride) commenced concept work in 2007 and later returned in 2008 to design many interior and exterior sets and locations.
The film's specialist glass blower made an array of miniature bottles, lamps, glasses and other piece for the film, each custom made.
Cod Steaks, the set construction company, have glued on approximately 30,000 lentils (which make rivets) onto the hull of the QV1.
The film's character designers did all the costume designs for the film. They had to design several "wardrobe changes" for the Pirate Captain, including: Pirate Captain normal, Pirate Captain as Girl Guide, Pirate Captain as Scientist, Pirate Captain Bling, Pirate Captain Madagascar (Plasticine sculpt torso only), Pirate Captain Nightshirt, Pirate Captain Civvies (essentially Nightshirt plus waistcoat).
Director Peter Lord has a brief cameo in the film as the policeman who lifts his hat to show a sandwich underneath, and says "Mind how you go, Ladies."
And - most importantly - the food stats for the crew are approximately:
Sandwiches made: 28,000
Sausages eaten: 6,884
Croissants consumed: 20,000
Hot lunches cooked: 56,000
Potatoes peeled: 5,100kg
Chips fried: 120,000
Squash drunk: 10,700 litres (undiluted!!!)
Teabags brewed: 120,200
More on The Pirates! Band of Misfits -
www.girl.com.au/the-pirates-band-of-misfits-film.htm