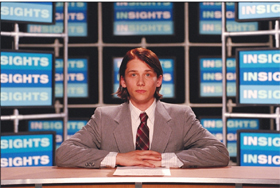 Thumbsucker is the feature film debut of acclaimed music video and commercials director Mike Mills.

At 17, Justin (Lou Pucci) still sucks his thumb. He wants to stop and knows that his thumbsucking is disrupting his family, his love life and his identity. The only thing that changes his behaviour is hypnosis therapy administered by his `guru' orthodontist (Keanu Reeves). But while Justin feels this would solve all his problems and he would become 'normal', his troubles are only just beginning, Thumbsucking being just a symptom of other deep-seated fears. Thumbsucker stars an eclectic cast that includes Tilda Swinton, Keanu Reeves, Vince Vaughn, Benjamin Bratt and Vincent D'onofrio. Newcomer Pucci was awarded a Silver Bear at the 2005 Berlin Film Festival and a Special Jury Prize at Sundance for his performance in Thumbsucker. Featuring music from The Polyphonic Spree Thumbsucker,adapted from the novel by Walter Kirn opens Thursday November 24 at Cinema Nova Carlton, Europa Cinema Jam Factory and Europa Cinema Southland.

Rated M.
Running time is 96 minutes.