TINKER BELL and the LOST TREASURE
In 2008 audiences around the globe re-discovered and fell inlove with one of the world's most iconic characters when WaltDisney Studios Home Entertainment launched Tinker Bell, thedebut film in the exciting new 'Disney Fairies' movie series.

Releasing on 11 November 2009, the enchanting pixie-dustedmagic and fun continues with even more action-packedadventure, as Tinker Bell and the Lost Treasure takes Tinkfar beyond Pixie Hollow in an original full length animated filmon Blu-ray Combo Pack (Blu-ray +DVD) and standarddefinition DVD.

In the original Tinker Bell, fans heard Tink's voice for the veryfirst time, and through her fabulous fairy friends explored theworld of Pixie Hollow. Produced by DisneyToon Studios,Tinker Bell and the Lost Treasure is the highly anticipatedsecond film in the continuing Disney Fairies Franchise and acaptivating story that builds on Tinker Bell's popular adventuresthrough breathtaking animation, spectacular music and an allstarcast of voice talent.

In Tinker Bell and the Lost Treasure, Tinker Bell's greatest adventure yet takes place in Autumn, as thefairies are on the mainland change the colours of the leaves, tend to pumpkin patches, and help geese flysouth for the winter. The rare Blue Moon will rise, and when its light passes through the magical Fall Scepter that Tinker Bell has been summoned to create, Pixie Hollow's supply of pixie dust will be restored.

But when Tinker Bell accidentally puts all of Pixie Hollow in jeopardy, she must venture out across the seaon a secret quest to set things right. Along her journey Tink meets new friends, including Blaze, a cute andcourageous firefly who helps Tinker Bell complete her mission.

It's a long and dangerous journey, full of astonishing encounters, a few narrow escapes and a daring rescueby Tink's friend Terence. Tinker Bell and the Lost Treasure is an exciting adventure and a once-in-ablue-moon experience for the entire family.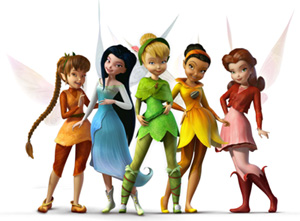 Voice talent:
Mae Whitman (Tinker Bell)
Jesse McCartney (Terence)
Eliza Pollack Zebert (Blaze)
Angela Bartys (Fawn)
Raven-Symoné (Iridessa)
Kristen Chenoweth (Rosetta)
Lucy Liu (Silvermist)
Anjelica Huston (Queen Clarion)
Pamela Adlon (Vidia)
Grey DeLisle (Lyria / Viola / Narrator)
Jeff Bennett (Clank / Short Troll / Fairy Gary)
Jane Horrocks (Fairy Mary)
Director: Klay Hall
Producer: Sean Lurie
Art Director: Ellen Jin Over
Genre: Animation/adventure/family/fantasy

Tinker Bell is thrilled - she has been selected to create the prestigious Autumn Scepter to commemoratethe rare Blue Moon. Her friend Terence, while trying to help Tink, only gets on her nerves, which leadstemperamental Tink to explode in frustration. Her angry words shatter their friendship, and in the midst ofher rage Tink accidentally destroys the scepter's fragile moonstone. To fix the moonstone Tink mustembark on a perilous quest for the enchanted mirror of Incanta, but on this journey Tink discovers there isno greater treasure than a true friend.

Tinker Bell and the Lost Treasure is the all-new magical adventure that takes Tinker Bell beyond PixieHollow. Discover how the Pixies make their magic dust and let your imagination soar as Autumn comes toPixie Hollow. Take off in a hot air balloon with Tinker Bell and her new friend Blaze, a lightning bug wholights her way, on an enchanting secret journey to find a new moonstone, the source of the Pixies mysticaldust. But hold on tight as there'll be amazing encounters, some close calls, and a daring rescue by her oldfriend Terence.

In her biggest adventure yet, Tinker Bell not only learns a lesson in responsibility, she discovers the truemeaning of friendship. Along the way Tink reunites with all her fairy friends - including Rosetta,Silvermist, Iridessa and Fawn - and meets new friends, Terence, a boy fairy; and Blaze, a cute andcourageous firefly; who help Tinker Bell complete her mission. From the creators of Tinker Bell, TinkerBell and the Lost Treasure is a captivating journey of self-discovery everyone will want to take.

DVD & BLU-RAY BONUS FEATURES:
Tinker Bell and the Lost Treasure will magically transport viewers to the magical world of Pixie Hollowthrough an array of captivating bonus features, including:
· Outtakes: Never-before-seen scenes.
· Fairy bloopers: Fairies make mistakes too!
· Magical guide to Pixie Hollow: Explore the Magical Guide, this time in the autumn area of PixieHollow.
· Pixie preview: Exclusive animated vignette featuring Tink and her friends.
· Deleted scenes: With Filmmaker's intros.
· Pixie Hollow comes to Florida: Discover how the filmmakers help transform Epcot Center intoPixie Hollow.
· Music and more: The Gift of a Friend music video with Demi Lovato.

Available now on DVD & Blu-ray

Review: In the first Tinkerbell movie we learnt Tinkerbell's place as a fairy and that her passion for inventing was a valuable skill as a Tinker Fairy. In Tinkerbell and the Lost Treasure, we get to know Tinkerbell better and discover that her temper & stubborness often lead her into trouble. Tinkerbell learns that you need to be kind and considerate of others and that sometimes you need to ask for help.

RRP: $39.95
RRP: $49.95 - Blu-ray Combo Pack (Blu-ray + DVD)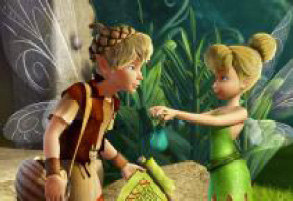 FAIRY PROFILES - Tink's new friends
TINKER BELL - A Tinker fairy

She is spirited, rebellious, impatient, impulsive, determined andpersistent yet, always charming and loveable. She has a talent fortinkering, and when she is called on to save the day, Tink discoversthe importance of her own true talents.


TERENCE - A Boy Fairy

Tink's best friend from the Sparrow Men, Terence is a Pixie DustFairy, meaning he distributes the daily ratio of Pixie Dust to all fairiesin Pixie Hollow. Terence tries to help Tinker Bell build the scepter which leads toher quest to find the Lost Treasure. Terence is an integral part of the adventure andfriendship themes in the story.




BLAZE - A Firefly

Blaze is a young firefly; he's mischievous, inventive and enthusiastic and uses hislight as a flashlight, spotlight or SOS. Despite his diminutive size, he is courageousand supremely loyal to his friends. Blaze is part of Tinker Bell's exciting adventureand they become friends who go on a thrilling journey together to find the Lost Treasure.




FAWN - An Animal fairy

This rascally imp is full of mischief and mirth - she loves to tweak Iridessa just to see her glow. Fawn is always ready to play and the more rough-and-tumble the game, the better.




IRIDESSA - A Light fairy

Dess is a detail-oriented perfectionist and chronic worry-wart. She tries to look on the bright side of things, but often senses disaster. As bright as her presence is, Iridessa is always trying to keep it together.




ROSETTA - A Garden fairy

Ro is a perfectly elegant and mannered fairy with a quick wit and loaded with charm. She eagerly gives beauty tips and make-overs to her friends and flowers, and always tries to look her best - as any perfect pixie would.




SILVERMIST - A Water fairy

Sil has a delightfully offbeat and upbeat way of looking at everything. She often listens to rumours from her babbling brook and she usually goes with the flow . . . but she can sometimes be a bit wishy-washy.




QUEEN CLARION

Queen Clarion is the symbol of Mother Nature for Pixie Hollow, a regal leader with agenuine love for her loyal subjects. She has a particular fondness for the spunky TinkerBell, encouraging Tink's inquisitive nature and helping to mentor the confused youngfairy in her search for herself.




FAIRYMARY

Fairy Mary serves as mother hen to the tinker fairies, managing that group with anurturing, loving attitude at every turn and encouraging Tink to accept who she is andembrace it.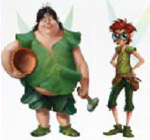 CLANK & BOBBLE

The male tinker fairies Clank and Bobble take great delight in being the best theycan be - and try to show Tinker Bell the intrinsic joys within their work. Theyjust love tinkering - they're constantly talking about it, constantly reflectingupon it, they even sing songs about it.