Transformers: Revenge of the Fallen to include IMAX sequences and extended footage
One of this year's biggest movies just got even bigger! The IMAX version of Transformers: Revenge of the Fallen will feature select sequences shot with IMAX cameras as well as a longer cut and more robot fighting. Transformers: Revenge of the Fallen is set for release at IMAX Melbourne Museum on 24 June.
Director Michael Bay will integrate the IMAX footage with state of the art CGI to create an unprecedented look and feel for the highly anticipated sequel to last year's box office hit, Transformers. This marks the second time ever, after Dark Knight, that a major feature film has been partially shot using IMAX cameras.
"For IMAX, I created a slightly longer cut with more robot fighting," Director Michael Bay said. "Four scenes were shot on IMAX cameras so the image will fill the full IMAX screen for these scenes."
"The way to see this movie is on IMAX," Bay said. "Never before has there been (such high resolution) 4k rendered character animation shot on full IMAX 70 mm film. This is a first and the results are stunning. You will see Optimus Prime in a few shots where he is actually perfectly to scale on the 50 foot tall IMAX screens."
"We're one of the only two giant screen IMAX theatres in Australia capable of showing these IMAX sequences as they were intended by the director," said Richard Morrison, Manager, IMAX Melbourne Museum. "These extra scenes made especially for IMAX viewing will be absolutely amazing on our 23 metre high screen."
The battle for Earth has ended, but the battle for the Universe has just begun. After returning to Cybertron, Starscream assumes command of the Decepticons and has decided to return to Earth with force. The Autobots, believing that peace was possible, find out that Megatron's dead body has been stolen from the UD Military by Skorpinox and revive him using his own spark. Now Megatron is back seeking revenge and with Starscream and more Decepticon reinforcements on the way, the Autobots - with reinforcements of their own - may have more to deal with than meets the eye. Sam Witwicky (Shia LaBeouf) will again join with the Autobots® against their sworn enemies, the Decepticons®.
IMAX Melbourne Museum uses state of the art technology to deliver the world's most immersive film experience. With the world's third largest screen, projecting the biggest 3D image in Australia, combined with a revolutionary projection system, 15,000-watt digital audio system and customised theatre geometry, IMAX Melbourne Museum really is the ultimate film experience.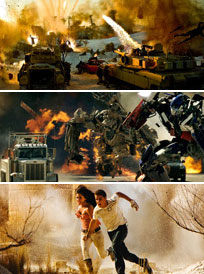 See Transformers: Revenge of the Fallen before everyone else at our exclusive midnight screening on Tuesday 23 June.
Release Date: 24 June 2009
Where: IMAX Melbourne Museum, Carlton Gardens
Cost: Adults $21.00 Concession $17.50 Child $16.00 Family $60.00
Session times & tickets:
www.imaxmelbourne.com.au
or 03 9663 5454
Transformers Clips
Revenge of the Fallen Official Clip: Shanghai'
www.metacafe.com/watch/2970811/
'Transformers: Revenge of the Fallen Official Clip: Chop Shop'
www.metacafe.com/watch/2970780/
Now be entertained with some fun Transformers Audition Clips


http://www.metacafe.com/watch/2970825/
http://www.metacafe.com/watch/2970841/
http://www.metacafe.com/watch/2970831/
http://www.metacafe.com/watch/2970820/
http://www.metacafe.com/watch/2970818/