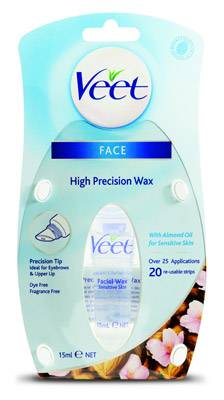 Veet Facial Wax for Sensitive Skin
With thick and groomed eyebrows making a mark in the beauty world in 2012, the new High Precision Facial Wax for Sensitive Skin from Australia's leading hair removal expert, Veet, will help you achieve perfect and on-trend brows at home this season.

Cleverly designed, the High Precision Facial Wax features a precision applicator tip to help apply the precise amount of wax where needed. As a result, Veet's High Precision Facial Wax for Sensitive Skin helps give you the confidence to wax your eyebrows at home whilst helping to achieve flawless and lasting smooth results.

As the facial region is one of the most sensitive areas of the body, the High Precision Facial Wax has been specifically designed with sensitive skin in mind to care not only for the eyebrows, but also the upper lip and chin during the hair removal process. Enriched with Almond Oil, the dermatoglocially tested fromular is both dye and fragrance free, helping to ensure silky smooth skin.

Easy to apply, simply warm the wax in a cup of hot water for one minute and spread thinly on to the facial area you wish to remove unwanted hair from using the precision applicator tip. Once applied, remove wax easily in a swift and fluid motion using the reusable strips that can be cut to size to precisely remove hair from the specific waxing area. Once removed, simply wash the area with water to remove any excess wax for a perfect finish.

Veet High Precision Wax for Sensitive Skin RRP: $12.99
Available in leading supermarkets, pharmacies and independent retailers nationwide.