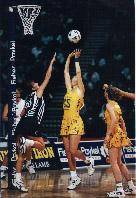 Q & A WITH NETBALL STAR - VICKI WILSON


Australian Netball is thriving. Game attendances are up on last year, particularly in Sydney, and media coverage is improving Nationally. Since the introduction of the "Commonwealth Bank Trophy", Netball is finally receiving the recognition it deserves.

A major contributor to Netballs new found popularity, has been Vicki Wilson, a true champion, however after fifteen years of dedication to the sport she loves, Vicki has decided to hang up her Asics and retire.

Since 1963 Netball competitors around the world have been aspiring to one event - The Netball World Championships. GIRL caught up with Vicki Wilson where she discussed her future plans and what Netball means to her.

Q: How many World Championships have you played in?

Vicki: I've played in fifteen World Championships which is a long period of time, but I decided to call it a day.

Q: So what is next, what would you like to pursue in the future?

Vicki: Well I love the game and will remain closely tied with it, especially on a coaching level.

Q: Did you enjoy playing overseas?

Vicki: It was a huge thrill especially in NZ as the country is so fanatical about their Netball. Netball in NZ has a huge following, a high Media profile, and receives a lot of coverage. NZ started televising netball back in the early eighties.

Q: What would you class as your biggest achievement?

Vicki: Simply playing for Australia for fifteen years and being able to remain at that level for such a long period.

Q: Just as a point of interest, do Netball's game rules vary from country to country, and if so, how do they compromise to suit every team?

Vicki: The rules do vary from country to country, as the interpretation of the game is different depending on which country you are playing in. However, the umpires have to remain consistent with their individual interpretations and the players have to adapt to this.