~~ A Dose of Vitamin C ~~
ARE you looking for a fresh sound? Then you can't go past U.S. singer/songwriter Colleen Fitzpatrick a.k.a Vitamin C, who in less than fourteen months has enjoyed phenomenal chart topping success with singles "Friends Forever (Graduation)", "The Itch" and a fantastic new album titled "More". Not content with having hit singles all over the world, Vitamin C has also set her sights on the big screen with upcoming roles in two major Hollywood films. You go girl!
GIRL recently got a dose of the "real" Vitamin C where she shared her thoughts on her blossoming career, being a role model and her very own Mattell doll - cool!
PROFILE
Star Sign: Cancer
Fave Food: Chocolate chip cookies, steak
Fave Film: Breakfast at Tiffany's
Fave Actor: Dominic West
Fave Animal: Persian Cats
Describe Yourself In 3 Words: Sensitive, Fun loving and Curious
Best Feature: My arms
Worst Feature: My butt
Best Aspect of music career: Being able to have yellow hair
Worst Aspect of music career: Having yellow hair!
Person You Would Most Like To Meet: David Bowie
Hobbies/Interests: Seeing Movies, Art
First Job: Babysitting
A Talent You Wish You Had: Be a better musician
The Best Advice Given To You: Demand the impossible
If you were a cartoon character, which one would you be? Betty Boop
If you were told you had a minute to live, what would you do? I would eat until I die!
GIRL: When did you realise your dream to be a performer?
Vitamin C: I had always been creative as a kid, I was always writing. I liked writing songs and began writing them when I was in high school and I was a dancer beforehand. I always felt like I had something to say, but I didn't quite know how to say it. I was terribly shy growing up but I found that performing, being creative and writing was very helpful. Then I was in a band, then after the band broke up I continued being Vitamin C, created an identity and went with it.
GIRL: Why the name Vitamin C?
Vitamin C: C is my first initial, I was looking for a name that used my initial and Vitamin C is kinda funny. It's not meant to be taken all that seriously. It's good, familiar - people know it.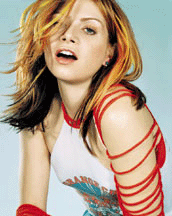 GIRL: Now the single "Friends Forever (Graduation)" has become the anthem for school graduations all over the globe. Did you ever imagine that it would receive such a huge response?
Vitamin C: No, not at all. I just wrote the song about my life and a particular friendship in my life. What is interesting for me about that song is that it's a really long song and has heavy lyrics so I didn't think it would be a single. But what has happened is that people from all different ages, and all different types of people from many countries, all seem to relate to the same message and that's the message of friendship and how difficult it is when life interferes with that, the transitions we all live through. The song is a testament to friendship.
GIRL: Your follow-up single "The Itch" has also been received well. Tell us a bit more about this song.
Vitamin C: 'The Itch' is about desire and urges and in this particular case, it's about a girl who is in a relationship with a guy and who is not getting everything she needs and desires. I think 'The Itch' is a metaphor for something larger - I can itch for new things or change - it's tapping into that craving we all get when we are either bored or hungry for something else.
GIRL: You've worked with some great producers/writers on the song "The Itch" and on the album. How was that whole experience?
Vitamin C: It was really fun and a learning experience for the most part. Most of the songs I had written previously were either with friends, or by myself, or people I have worked with for long periods of time. And I had the opportunity to work with really experienced and successful producers and it was a learning experience and challenging to see how they write and to see how I could fit into that. The thing that I did learn is that it's very important to stay true to yourself. I don't consider myself a great singer or a power vocalist. For me it's much more about having something to say, it's about giving an alternative to people. I really feel strongly about this, that you should have options, options are everything in life and you have to encourage people to not be afraid to be different because that is what art and life should be about. And I learnt that from working with these producers, that part of me has to be present in my songs for me to love them and identify with them.
GIRL: Is it important for you to write your own songs?
Vitamin C: It really depends on the song; I don't have snobbery about that. For me, it's important to express myself and I do that by writing and having something to say.
GIRL: What do you draw upon for inspiration when writing lyrics?
Vitamin C: My life, other people's lives. I change the names of the innocent and the guilty! (laughs)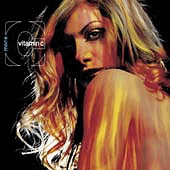 GIRL: How long did it take to write and record your second album "More"?
Vitamin C: I wrote it very quickly - probably a month and a half. And in that time recorded it too.
GIRL: Did you feel any pressure recording your second album?
Vitamin C: No because I wrote it at the height of the 'Graduation' success, so I felt really good about it. I'm really lucky that I have a job that allows me to do what I like. I was so psyched that I was having success and could continue to record a second album and was having a good time.
GIRL: Who have been your musical influences?
Vitamin C: I don't think there have been any direct musical influences but I look around at artists that I respect like Bjork, David Bowie, Deborah Harry, Madonna - I tend to like artists who push boundaries a little bit and have a slight fashion push. I get inspired more by song than by people.
GIRL: Who has been instrumental in helping you/your career along the way?
Vitamin C: I would say that a person who has been instrumental is my writing partner of many years Michael Kotch. He was someone who I started writing songs with in a dingy apartment in New York City, a long time ago. We formed a band together and we're still writing and working together. I have learnt so much from songwriting and we have grown together. I could not have done it without him.
GIRL: Is there anything you wish you could change about the music industry?
Vitamin C: Oh yeah! (laughs) There is tremendous injustice towards artists in general. What's weird about the music industry is that it doesn't make a difference how talented you are or how good your album is. There are other obvious factors that come into play and I have friends out there who are so much more talented than me but because they're not good at specific things, or they haven't had the right opportunities, they haven't been able to continue. I would like to see artists treated better and artists taking care of artists.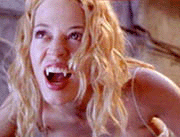 GIRL: You have roles in the upcoming films Dracula 2000 and Getting Over Allison. How did these two projects come about?
Vitamin C: I really wanted to be in Dracula 2000 and start acting again because it's fun to play someone different. I am a huge horror genre fan. And then I always tell people, what can be more different than playing Vitamin C? Playing a vampire of course! (laughs) And so that was very fun. And then the other film I played myself, Vitamin C, and that was more of a cameo role - I basically sing.
GIRL: Would you like to work on another film in the near future? Or do you already have plans to do so?
Vitamin C: Potentially yes and it would have to be the right movie and the right time. I love acting, I think it's fun to sort of escape.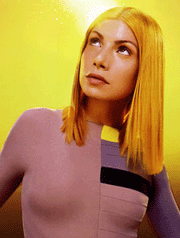 GIRL: How does it feel to have a lipstick named after you, not to mention a Mattel doll created in your image?
Vitamin C: The lipstick is weird but the doll is very cool. But you know I never set out to have my own doll. My doll is very cool; it's better looking than I am! (laughs) I'm very proud of my doll.
GIRL: Do you have a website fans can visit?
Vitamin C: Fans can visit my website at
http://www.vitamincisgood4U.com
GIRL: What can they find there?
Vitamin C: Fans can read my bio, see pics, participate in discussions, listen to audio and lots more.
GIRL: How does it feel being a role model to scores of young people?
Vitamin C: Personally, I think it's dangerous that your entertainers be role models. I think your role models should be your parents, teachers or someone much closer to you. That's my personal opinion. So I take it very seriously because you don't want to create a bad image but you can't live your life thinking about that sort of thing. There's so much smoke and mirrors that goes into what we do, so it's not fair for young girls especially, to believe that I look like my doll, for example. It sends completely the wrong message. I think your role models should be people who are much closer to home.
GIRL: Where do you envision yourself in 5 years time?
Vitamin C: That changes every minute, I'd like to still be making music, writing and producing songs for other people. More recently I've thought about moving on to having a different kind of life - I would like to be in love and to have a family some day.
GIRL: What advice can you offer to young aspiring performers?
Vitamin C: To stay focused and don't be discouraged when people tell you that you can't do it.
- Annemarie Failla & Michelle Palmer