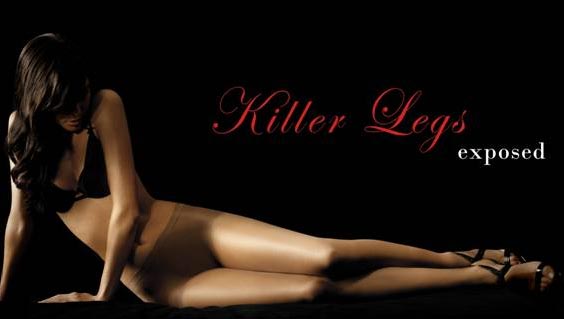 Hailed as the prêt-a-porter luxury in legwear, the Voodoo Killer Legs Collection bestows on women an effortless seductiveness. Voodoo now takes the indulgence one step further.

She's old world glamour and she wears Killer Legs Exposed. With a nod the yesteryear's Nylons form the stunning Exposed Sheer gives legs a radiant look.

By using the sheerest, translucent yarn Exposed Sheer works with your skin's natural tones to give an almost clear effect to the skin that is totally radiant. These are sheers that give the look of a sensual feel.

Spoiling yourself has never been so easy and the simple satisfaction of Voodoo Killer Legs mean women can now indulge everyday and never loose the 'passion'.

Killer Legs Voodoo's black label also offer sheer and fishnet stay-ups and the ultimate sheer pantihoe in hues of Breathless, Black, Bombshell, Nude and Brunette Express.

Scented like a note to your lover...Voodoo Killer Legs will tantalize all tastes.