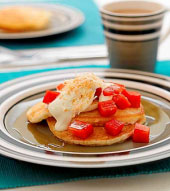 When the chill of winter starts to set in, it's great to know you can savour a little taste of summer by serving up slices of Seedless Watermelon, the juicy-fleshed fruit in season 52 weeks of the year!

Seedless Watermelons are grown and harvested throughout Australia. Even in winter when the snow is falling in southern states, Australian Seedless Watermelons are ripening and ready for the picking on farms in Mataranka and Katherine.

Seedless Watermelons take around 70 days to grow to full size, are harvested by hand and trucked around the country for sale in stores and at market. A quick, easy and delicious way to sweeten up warming winter recipes, a cup of chopped Seedless Watermelon (160g) contains only 54 calories (230 kilojoules), 0g fat, 10g of natural sugars and provides more than the daily recommended amount of vitamin C* - a not-so-naughty addition to your diet over the chilly months!

Next time you're rugging up from the cold and wondering what to serve friends, family, guests or just yourself - bring a little sunshine to the table and remember that even if it's well and truly winter in your town, it's always summer somewhere, with the sweet taste of Seedless Watermelon!


SEEDLESS WATERMELON AND VANILLA SYRUP PANCAKES:
INGREDIENTS

- ½ medium wedge Seedless Watermelon, cubed
- 25g (1/3 cup) shredded coconut
- 1 packet of pancake mix
- Melted butter
- Maple syrup to serve
- Greek natural yoghurt or dollop of cream to serve
- 3 drops of vanilla essence

METHOD

1. Dry fry the coconut in a small non-stick frying pan over low heat for 3-4 minutes or until golden brown. Transfer to a small bowl and set aside for five minutes to cool.

2. Add three drops of vanilla essence to a cup of maple syrup, stir well and set aside.

3. Make up the pancake mix following the packet instructions and add the cooled golden coconut to the mix, just prior to cooking.

4. Brush a medium shallow non-stick or cast-iron frying pan or crepe pan with melted butter to lightly grease.

5. Cook the pancakes following the packet instructions, setting each pancake aside to keep warm until all pancakes are cooked.

6. Divide pancakes among serving plates, top with the Seedless Watermelon cubes and drizzle with the maple syrup. Top with a dollop of the double cream or Greek Natural yoghurt and serve immediately.

For bright pink twist on a golden oldie, why not add chopped Seedless Watermelon to a hot serve of French toast?



FRENCH TOAST TOPPED WITH SEEDLESS WATERMELON:
INGREDIENTS:

- 2 cups of chopped Seedless Watermelon
- 4 large eggs
- 1 teaspoon salt
- 1 cup of skim milk
- 6 thick slices bread
- Butter for frying
- Maple syrup to serve

METHOD:

1. Break eggs into a bowl, add milk and salt and beat lightly with a fork until combined.

2. Heat a small non-stick pan over low heat and add butter, to melt.

3. Coat bread slices individually in egg mixture - allowing to soak in, and transfer to a fresh plate.

4. Lightly fry each slice in the pan for two-three minutes, or until both sides are golden brown.

5. Divide cooked slices between two plates. Dust with icing sugar, drizzle with maple syrup and add a cupful of chopped Seedless Watermelon to top each stack. Ice-cream optional!