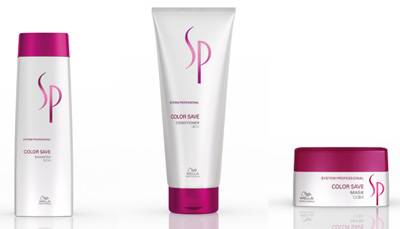 WELLA SYSTEM PROFESSIONAL TAKES HAIR CARE TO A NEW LEVEL

Hair Perfection with the Elixirs of Care from Wella Professionals

In a world where fashion and lifestyles can be imitated and copied, the new kudos is all aboutpersonalisation. From increasingly customised technology to boundary breaking art and architecture,individuality is becoming a highly prized trend in all areas of life. Taking hair care to a new level, WellaProfessionals is proudly introducing truly personalised hair care with the new and reformulated SystemProfessional.

New SP is a celebration of scientific leadership from 130 years of expert knowledge, a deep consumerunderstanding and five years of intensive research. The offering combines innovative product formulasand a revolutionary, personalised hair care service. Exclusively customised to suit each client's individualneeds, SP is the ultimate in hair perfection.

SP Ambassador and award-winning stylist Frank Apostolopoulos says about the revolutionary concept:"SP has really created an ultimate range in hair care. The products are specifically designed to matchindividual hair needs which means I can create a personalised service to give my client the hair shedesires", for the client he adds, "This treatment is unbelievable and allows the client to attend her salonto get a 100% personalised treatment and leave with perfect hair care results".

Exclusive Infusions

The secret behind SP's truly personalised hair care is five highly concentrated infusions that have been formulated to compliment the range of SP Treatment Masks, providing additional care benefits. SP hairdressers can now offer a truly personalised hair care service without compromise in one bespoketreatment. The five different infusions (Smoothen, Hydrate, Repair, Volumize and Color Save) can becombined with any treatment mask creating a basic range of 35 personalised hair care prescriptions.Now superior shine can fuse with magnificent volume; deep repair fuses with luxurious smoothness andultimate hydration fuses with exquisite colour protection to create SP's ultimate in hair perfection,according to each clients individual needs.

"The infusions are highly concentrated and improve the performance of the SP Masks by up to astaggering 79%*", explains Dr. Frauke Neuser, Principal Scientist at Wella Professionals. "The Colourinfusion, for example, offers up to 30%* better colour protection than any mask on its own.The Volume infusion offers up to 25%* more volume and the Repair infusion up to 60%* repair." As aresult the new SP infusions create twice the hair perfection by offering a double benefit to the hair careregime.

Personalised Hair Alchemy

SP's new service concept, Personalised Hair Alchemy, offers the ultimate in hair care for a truly tailormadesolution. A special consultation process is followed by the diagnosis of the hair, enablinghairdressers to prescribe the right treatment for each individual client. Coupled with a range of specialtools to apply the product in a unique application method and special mixing processes, this serviceprovides the ultimate indulgent in-salon care experience.

SP At Home

To continue the hair perfection at home, a SP regime tailored to the clients' needs and desires can beprescribed to continue the ultimate care experience at home. The line has been refreshed with eightproduct categories, featuring new complementary formulas and a range of fast-acting rinse-outconditioners to allow clients perfect results in between salon visits.


New Wella System Professional is available in salons nationwide from February 2011. For stockistenquiries please contact 1300 885 002.