Looking for ways to keep warm this winter? Kick off a cosy winter with some of these delicious and inviting recipes.
You and the kids will warm up in no time with the healthy cranberry, honey and cinnamon porridge, and the rack of lamb with cranberry sauce is a hearty dinner meal sure to impress your partner or family. A cold winter's day is the perfect time to put your feet up and treat yourself to the cranberry and apple crumble!
Cranberries are a great source of antioxidants which help you and your family stay healthy. Check out www.cranberries.com.au for more delicious recipes and information on the amazing health benefits of cranberries.
Winter Warmers made easy with cranberries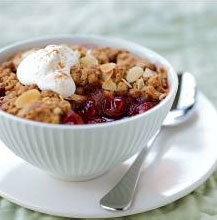 Cranberry and Apple Crumble
6-8 Granny Smith apples
2 cups Frozen cranberries or dried cranberries, reconstituted*
1-2 tblspns Water
Crumble Topping

100g Butter
½ cup Soft brown sugar
½ cup Self Raising flour
½ cup Rolled oats
½ tspn Cinnamon
¼ cup Flaked almonds
* Dried cranberries can be used in all recipes where frozen berries are unavailable. Simply soak the berries in cranberry or apple juice for a few hours prior to use. 50g of dried cranberries can be substituted for 100g of frozen berries.
Peel and core apples. Cut into slices and place in a saucepan with cranberries. Add water, cook over a moderate heat until soft. Puree using the back of a wooden spoon. Spoon mixture into a deep ovenproof dish or six individual bowls.
Crumble Topping: Place flour, rolled oats, cinnamon, soft brown sugar and butter in a bowl. Using your finger tips rub mixture together until coarse crumbs. Scatter over cranberry and apple puree, and top with almonds. Bake in a moderate over 180 deg C for 35- 40 minutes or until golden brown. Serve warm with cream or ice cream sprinkled with a little cinnamon. Makes 1 large or 6 individual crumbles.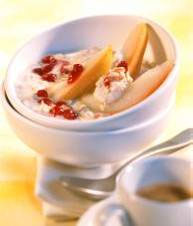 Cranberry, Honey and Cinnamon Porridge
250g Rolled oats
1 Tbsp Psyllium husk
500ml Water
100g Dried or frozen cranberries
Pinch Ground cinnamon
250ml Soy milk
2 Tbsp Honey
Put water in a saucepan and bring to the boil. Add rolled oats and psyllium, reduce the heat and simmer for 10 minutes, stirring frequently. Add milk and simmer for a further 5 minutes, stirring often. Turn off the heat and add the cranberries, and allow to stand for 3-4 minutes before serving with a sprinkle of cinnamon and a drizzle of honey.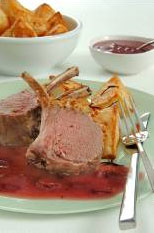 Rack of Lamb with Cranberry Sauce
2 x 8 cutlet French-trimmed racks of lamb
4 slices Wholemeal bread, crusts removed
1 tablespoon Thyme leaves
2 cloves Garlic, crushed
1 tablespoon Olive oil
2 tablespoons Dijon mustard
1 tablespoon Plain flour
1 cup (250mL) Chicken stock
½ cup (140g) Whole berry cranberry sauce
2 teaspoons Grated ginger
Black pepper, to taste
Preheat oven to 180°C. Trim excess fat from the lamb. Tear the bread, place in a food processor, process to make breadcrumbs. Combine in a bowl with the thyme, garlic, pepper and oil. Spread the outside of the lamb racks with the mustard and press the crumb mixture on firmly.
Heat a large non-stick frying pan to medium, place the lamb racks breadcrumb-side down into the pan, cook for 2 minutes or until browned. Carefully lift out racks with a spatula and transfer to a baking dish and bake for 30 minutes or until cooked as desired. Loosely cover with foil and rest for 5 minutes.
Meanwhile, blend the flour in a small saucepan with 1/3 cup of the stock until smooth. Add the remaining stock, cranberry sauce and ginger, stir over high heat until simmering, cook for 2 minutes. Cut each rack of lamb into 4 portions and serve 2 portions for each person. Drizzle with the cranberry sauce.
Tip: Serve with roasted potatoes and steamed vegetables, if desired.
All cranberry products listed above can be found in major supermarkets around Australia.
Health Benefits of Cranberries

Cranberries contain bacteria-blocking compounds that are believed to be helpful in preventing urinary tract infections, and recent research suggests this same function may be useful in blocking the bacteria responsible for stomach ulcers and certain oral bacteria that can lead to gum disease.
*The Australia Cranberry Media Bureau is sponsored by the U.S. Cranberry Industry - growers of 80% of the world's best loved fruit.