Welcome to Hotel Club - the fast and secure service offering savings of up to 60% on your accommodation.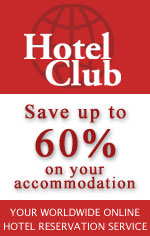 HotelClub is a world-leading provider of online hotel reservation services, offering great service and discounted rates. We have been online since 1996, operating in accordance with the highest ethical and business standards.

The HotelClub head office for Australia and Asia - Pacific is located in Sydney, while our European clients can contact us through our branches in Paris, France and Bristol, UK.

We have a dedicated, multilingual team of highly trained reservation consultants and we guarantee you personal and efficient service to assist with any enquiries that you may have. We realise that you - the customer, are our most important asset and work towards making your experience with HotelClub as enjoyable as possible.