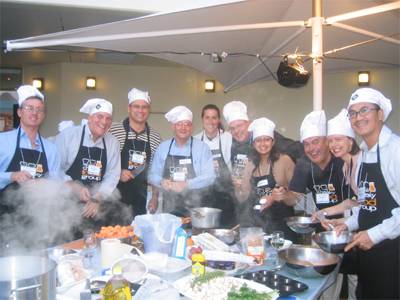 If the thought of slipping into high heels and going out on the town makes you shiver, why not leave your Ugg boots on and bring the party to you? "Winter is a great time to get everyone together for a big cook-up," says Victor Pisapia, Executive Chef and Co-Director of Cheeky Food Group. "Our company specialises in getting groups of 10, 20, 200 people cooking together at conferences and for team building events so we see no reason you can't do the same with your friends or family - instead of being just a great 'party thrower', you can be great chefs too and get everyone involved in making the party a culinary adventure.

So what's the best way to get all your friends - even the ones who don't know one end of a saucepan from the other - into the kitchen? Victor, who has successfully taught 'water-burners', gives a sure-fire recipe for communal cooking success:

1. Appoint an organiser
Someone will need to coordinate the 'event'. Ideally, the person who is hosting the cook-up will take on the Chief Organiser role. This includes setting the date and time, arranging the venue/house and organising food and equipment.

2. Create a menu
Whether you want to nominate a favourite dish, choose a theme or simply leave it up to the discretion of an appointed Menu Mistress or Master, you will need to figure out what you're going to make, find the recipes and write a shopping list. The list then needs to be passed along to the Chief Organiser so they can do the grocery shopping.

3. Create a budget
This way no one gets stuck paying for everything. If everyone agrees to pitch in a certain amount and agrees to bring a bottle of wine, cheese or a bunch of flowers, your communal cook-up will be lavish and inexpensive

4. Put all the job functions into a hat
The Menu Mistress or Master needs to list the menu items on separate pieces of paper to coordinate the number of people who need to work on each dish. For example, two people could work on making Coq Au Vin for the mains, while three people could prepare the vegetables: one person on potatoes, another on greens and another on salad.

5. Get cooking!
But before you do, make sure the music (and the heater) is cranked up and everyone has a drink in their hand. If there are enough people, you could even go so far as to appoint a Bartender and a DJ from within the group.

6. The final flourish
Set the table with linen (or a sheet, if you don't have a big enough table cloth), flowers and candles. Serve the food buffet-style, to avoid overcrowding the table, and remind everyone to garnish their dishes to give them a touch of professional flair!

If you want to take it one step further, you can also have a costume cook-up with silly hats, ugly beanies or complete Edwardian dress - whatever takes your fancy!