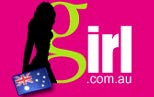 Who is Girl.com.au?
Girl.com.au is every girl's best friend.

Girls can sometimes be their own worst enemies and that's NOT what Girl.com.au is about. We are about trying to educate girls to stop competing against each other and to work together to inspire, empower and enrich each other - GIRL POWER!

A Girl reader is bright, fun, fabulous and empowered. They are fearless fashionistas, shopaholics & Internet savvy. They want their questions answered about fashion, music, film, beauty and health. They seek guidance with their careers and love life and want to be inspired by travel & glamour.

Girl readers are just like you and crave real stories on peer pressure, time management techniques & healthy living. They are the new generation of techno junkies that spend hours communicating & shopping for smart buys online. They are fresh, funny & adventurous Diva's with stars in their eyes.

At Girl.com.au we will endeavour to bring you all the up-to-date information on female issues. Girl.com.au is much more than another online girls magazine. Incorporating traditional criteria such as entertainment, competitions, fashion & beauty, Girl.com.au also addresses issues which face today's teens to young women.

Launched in May 1999, Girl.com.au is for the real girl in all of us.!

Targeted in 1999 at girls aged 16+, since 2008 girl opened up it's demographic to cater to the growing audience to cover girls aged 12 - 38+.
Email: girl@girl.com.au
Post: 8 East Concourse, Beaumaris, Victoria, 3193, Australia.
Facebook: https://www.facebook.com/Girl.com.au/
Instagram: https://www.instagram.com/girl.au/
---
Advertising Inquires

Women in essence are 3 consumers; they buy for themselves, their families & predominantly are the researchers for most business purchases.

If you would like to connect your clients with a loyal women's audience, ages 12 - 65+, Female.com.au & Girl.com.au Magazines are the perfect medium, with over 1 million unique visitors per month.

With tightening budgets, consumers & companies look to the Internet to shop for the best value, but how do you reach them....

The 1st and most popular Australian online women's magazines since 1999, Female.com.au & Girl.com.au offer you experienced campaign advice & delivery to engage readers. Currently holding 200,000+ Google "natural selection" ranked listings, our unparalleled experience can help you get them most out of your advertising spend.

Offering graphic display, database, SEO and content advertising, with sales & special offers new to the mix, capitalise on your campaign by including digital in the mix.

We love our competitions giveaways, reviews & showbags, so come and join the fun at Female.com.au & Girl.com.au and get your brand the recognition it deserves.
Want to advertise on Australia's favourite destination for women? Plus rank in the top Google Searches...

* Mailouts (Newsletters, Gift Guides & Dedicated Mailouts)

* Graphic (Banners, Islands, Towers, Page)

* Content (Advertorial, SEO, Editorial, Interviews & Profiles)

* Surveys (Market surveys that generate great results)

* Links (Page Specific, Sales & Special Offers)

Contact: girl@girl.com.au

More on Advertising Options



---
Free Promotional Opportunities
Please try to assist us by including a subject heading in your enquiry; ie. Advertising tie in, Competitions, Giveaways, Discounts, Showbags, Product Reviews, Gig Guide, Entertainment, Fashion, News, etc.


Competition Giveaways (book early as places fill up fast).
* If prizes are not fulfilled within 6 months, the promoter will be charged for the advertising space.
Product Reviews (Skin Care, Cosmetics, Hair Care, For Men, Pregnancy/Baby/Children,
Books, CDs, Games. Lifestyle, Technology). Items non-returnable.
Showbags (Include your product/sample/voucher in event showbags)
Freebies, Sampling & Discount Vouchers, Gift Certificates
VIP Club offers
Reseller

To Submit Product for Review (Australia & International).
1. Forward product sample to the below address.
2. Email press release, product information, image, stockists & RRP to: michelle@trellian.com Subject heading to include 'Review' & Product Name. Images preferred in jpeg or gif.
3. Only products submitted will be featured as contra advertising. Items are non-returnable. Majority of items are donated to various charities for silent auctions.

* Tie your product review, giveaway or product offerings in with advertising campaigns to optimize your exposure.


---
Editorial
Fancy Yourself as a Writer or Photographer! Every visitor has a story to tell, an experience (funny or weird) or a photo that you wish to show the world. Send us some stories and photos that you think our readers may enjoy and if we agree we will contact you about making a place on our site. (please include author name and if you wish to be anonymous). Submissions to:michelle@trellian.com

Suggested topics: Love, Relationships, Family, Lifestyle, School, Parenthood, Growing Pains.

*By Submitting an article, image or idea you give Girl.com.au the authority to edit & use material submitted.



---
Forum Authorization Code
Please enter this code on forum registration (Authorization Code field): hp37ejz0
---
Shopping, Shipping and Delivery Terms
Girl.com.au sources quality products that are only shipping from Australia, where stock permitting within 3 working days, usually by the next business day. A number of freight options with pricing are available and can be selected during the checkout process. Shipping times are estimated at between 3 - 7 business days depending on location. Girl ships Australia wide and internationally using Australia Post and other express courier services as detailed during the checkout process.
Shipping pricing is charged as a flat fee which is variable depending on product size and weight.
All pricing is listed in Australian (AUD) dollars and includes GST. Product prices are regularly updated when price changes are received from our suppliers.
We are commited to providing exceptional customer service and quality products. We endeavour to make sure that all products listed on our website are currently in stock and pricing is true and correct. In the event that an ordered item is not available or we are unable to fulfil your order we will notify you within 2 business days to arrange either a refund or an agreeable alternative time frame for delivery.
Please also see:
Returns Policy www.girl.com.au/return_policy_shopping.htm
Privacy Policy www.girl.com.au/privacypol.htm
---
Contact Girl.com.au

Girl.com.au is a Trellian Pty Ltd company.
Trellian Pty Ltd
ABN: 55 098 223 048
Address: 8 East Concourse, Beaumaris VIC 3193, Australia
Trellian Contact Details: www.trellian.com/contact.htm
Contact Girl.com.au directly: girl@girl.com.au Tel: +61 3 9589 7946