Weight loss a breeze with three daily dairy doses
Did you know that a balanced, calorie controlled diet containing three serves of dairy helps you burn fat and lose weight? And that calcium actually alters the way that fat cells work?
With this in mind, Australian Gold - sponsor of the Australian Institute of Sport (AIS) Triathlon team - has made dairy intake easy with recipes developed specially by the AIS nutrition department. As dairy is becoming increasingly important with more health benefits being revealed, the department has ensured that its Triathlon team is well equipped with recipes which help them reach their daily dairy intake.
The nutrition department plans meals for athletes at the AIS, which are easy to prepare, calcium rich and nutritionally balanced recipes that can now be enjoyed at home: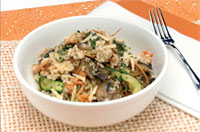 Cheese and vegetable risotto
Soften an onion, add 1 cup of sliced mushrooms, a small grated zucchini and a small grated carrot.
Add 1½ cups Arborio rice and 1 litre of chicken stock and cook.
Once rice is almost cooked, stir through ½ cup grated Australian Gold Gouda Cheese, pepper and parsley to taste.
Serve with salad.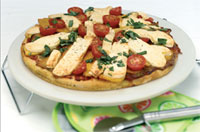 Pumpkin and feta pizza
Spread pre-made pizza base and/or pita bread with tomato paste and/or pesto.
Top with thin slices of pumpkin (pre-cooked in microwave until just soft), halved cherry tomatoes, cubes of Australian Gold Reduced Fat Feta Cheese.
When cooked sprinkle with coarsely chopped basil.