Enter for your chance to win one of 3 x Glee Packs valued at $109.95 each including:

* Karaoke Revolution Glee Volume 3 Game
* Glee The 3D Concert on DVD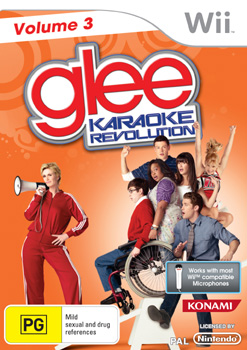 Karaoke Revolution Glee Volume 3
Packed with all-new exclusive content from Fox's hit musical comedy series Konami Digital Entertainment GmbH and Twentieth Century Fox Consumer Products announce a new title, Karaoke Revolution Glee Volume 3!
Glee fans can keep the Karaoke party going with the McKinley High GLEE club, when the pop culture phenomenon returns to Wii® this summer. Today, Konami Digital Entertainment GmbH and Twentieth Century Fox Consumer Karaoke Revolution Glee: Volume 3 has up to 35 more chart-topping hits and exclusive footage from Season 2 of the hit television show, Glee.
Filled with the show's most popular characters, memorable scenes, and unforgettable songs, players of all ages will experience Glee like never before. Karaoke Revolution Glee: Volume 3 allows players to take centre stage with their favourite GLEE characters from Season 2 and compete in multiplayer singing games including an all-new party mode for up to six players.
"GLEE songs have shown mass market appeal, with over 30 million downloads and counting on the iTunes music store," said Martin Schneider, General Manager of Konami Digital Entertainment GmbH. "Karaoke Revolution Glee: Volume 3 features a unique selection of top influential hits from every generation spanning various genres giving players a chance to really hone their singing skills."
"The GLEE fans are getting to live out their GLEE dreams through Karaoke Revolution and this next installment is taking it to the next level," said Gary Rosenfeld, Senior Vice President, New Media for Fox Consumer Products. "With all new songs and the show's most popular stars, this version is sure to hit high notes with Gleeks everywhere."
Karaoke Revolution Glee: Volume 3 includes all time favourite hits songs such as 'Just The Way You Are', 'Lucky', 'Loser Like Me', 'Billionaire', 'Only the Good Die Young' and 'The Time Warp'. Karaoke Revolution Glee utilises KONAMI's proprietary voice recognition technology, which accurately recognises and scores vocal pitch and rhythm, helping gamers reach those hard-hitting notes and perfect their harmonies to their favourite tunes.
Karaoke Revolution Glee: Volume 3
will be available as a standalone game ($59.95) or bundled with one microphone ($79.95).
For more information on the game, please visit:
www.konami.com/krglee
.
Follow KONAMI on Twitter
www.twitter.com/konami
or visit us on Facebook
www.Facebook.com/karaokerevolutionglee
.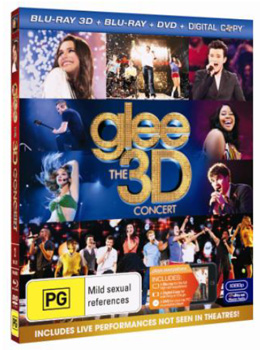 GLEE the 3D Concert Movie
Arrives on 3D Blu-ray, 2D Blu-ray and DVD December 7 2011
BRING THE ULTIMATE GLEE CONCERT EXPERIENCE INTO YOUR HOME ON 3D


GLEE, the cultural phenomenon that has inspired millions to embrace their inner-Gleek, arrives onto 3D Blu-ray and DVD from Twentieth Century Fox Home Entertainment. Fans who weren't able to catch the sold out concerts this summer, now have the chance see the explosive on-stage performances and an intimate behind-the-scenes look at their favorite characters, in the comfort of their own home. Glee the 3D Concert Movie Blu-ray and DVD boasts exclusive footage including, two never-before-seen full length performances, Warblers footage and two introductions from Sue Sylvester, not seen in theaters.
Glee the 3D Concert Movie features live performances of the smash hits "I'm a Slave 4 U," "Raise Your Glass," "Teenage Dream," and "Lucky," as well as the original songs that became chart-toppers such as "Loser Like Me," and of course, the show's anthem, "Don't Stop Believin".Glee is produced by Ryan Murphy Television in association with 20th Century Fox Television. Ryan Murphy, Brad Falchuk and Ian Brennan are co-creators of the series. Murphy, Falchuk, Brennan and Dante Di Loreto serve as executive producers.
GLEE THE 3D CONCERT MOVIE DVD:
2D Theatrical Feature
Special Features
o Unseen Performances:
- Dog Days Are Over
- Friday
o Extended Performances
- Ain't No Way
- Happy Days Are Here Again/Get Happy
o On Stage With the Cast
- Sue Sylvester Introductions
- Kurt's Proposal
Backstage with the Cast
GLEE THE 3D CONCERT MOVIE Blu-ray Disc Extras:
3D Theatrical Feature
DVD 2D Theatrical Feature
Digital Copy
Glee The 3D Concert Movie

RRP: $43.99