THE WORLD'S MOST POPULAR DOLL STARS IN A CAPTIVATING NEW MAGICAL FAIRY ADVENTURE FULL OF MUSIC, MYSTIQUE AND ENCHANTMENT
A magical new tale, "Barbie™ Fairytopia™: Magic of the Rainbow™" follows Elina™ as she discovers the secrets of the mysterious Crystal Palace. The third Barbie™ adventure set in the luminously magical world of Fairytopia™, "Barbie™ Fairytopia™: Magic of the Rainbow™" is a shimmering blend of music, dance, colour and mystery.

Fun, fantasy and friendship bring together a group of fairies in a quest to learn the Flight of Spring and create the season's first rainbow. The cast features more fairies than any previous "Barbie™ Fairytopia™" story, including new friends Glee™, a sweet wood nymph, Lumina™, a blue-violet fairy with wings shaped like moons, and a spunky sparkle fairy named Sunburst™. Elina™ fairy's cuddly puffball Bibble™ joins the adventure making his own new friends with a new puffball named Dizzle™.

Join Elina and puffball Bibble as they travel to Fairy School at the magnificant Crystal Palace. There, she meets the other fairy apprentices, chosen to learn the annual Flight of Spring and magically create the first rainbow of the season.

But when the evil Laverna tries to stop the flight, threatening to plunge Fairytopia into ten years of bitter winter, Elina and her new friends must learn that 'together we are strong'. But are they strong enough to defeat Laverna and bring the rainbow to life?

A must-own addition for every Barbie™ DVD collection, "Barbie™ Fairytopia™: Magic of the Rainbow™" is sure to capture fans' hearts with its inspiring story of teamwork, as well as entertaining bonus features.

Barbie™ Fairytopia™: Magic of the Rainbow™ is available to own on DVD on July 4 and will be supported by a range of dolls, toys and other consumer products by Mattel.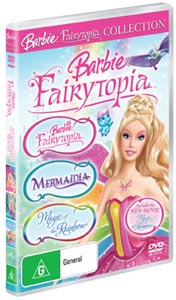 Special features:


Rainbow Adventure™ Mini-Games - Explore the remarkable land of Fairytopia™ with two interactive DVD games from Mattel's "Fairytopia™ Rainbow Adventure™ Elina™ Doll and DVD Game."


Groovy Memory Moves with Bibble™ - Elina™ fairy's puffball Bibble™ sure has some of the coolest dance steps in Fairytopia™. After he demonstrates his style for players, they try to repeat the order of his moves. If they get them all right, Bibble™ will perform a delightful congratulatory dance.


PLUS Downloadable Extras including interactive coloring pages and enough printable fun pages to keep kids happy for hours.

www.universalpictures.com.au
Classification: G
Duration: 74 mins approx
Price: RRP $29.95

Available to own or rent on DVD - 4th July

Review: The enchanting tale continues for Elina when she is invited to become an apprentice in the first flight of spring ritual. Elina finds it hard to fit in, but after being tricked by Laverna, Elina unites the apprentices to save Fairytopia. A beautiful story that portrays the struggles of friendship, courage and letting your inner light glow.